Emergency Management
Oct 20, 2022
7 Essential Winter Safety Tips for Employees in 2023 [+ Checklist]
The winter season and its extreme weather can present unique challenges for businesses, but our seven tips will help you and your people prepare for safe and resilient operations.
Winter Weather Checklist
Get the actionable advice you need to prepare for, respond to, and recover from winter's critical events.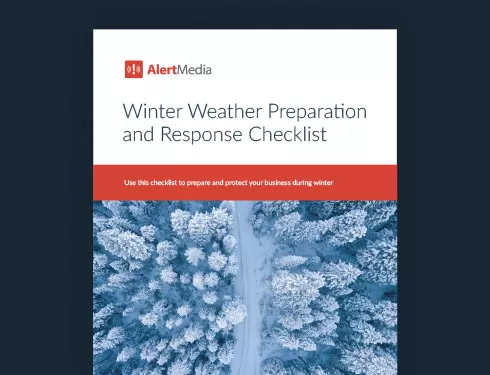 For many, the winter season heralds time with family and friends, hot cocoa, and warm hearths. But for safety leaders, the cold, gloomy weather and icy precipitation bring unique challenges and risks to employees and business operations that must be addressed.
Over the past few years, teleworking has become the new norm. This might decrease the impact of certain threats—like winter driving—for those working remotely, but a distributed workforce also introduces new problems, such as an increased risk of mental health issues and a more complicated cybersecurity landscape.
Meanwhile, people are commuting to work in greater numbers as the pandemic winds down. Employers are in a position to help keep them safe en route, avoiding treacherous. driving conditions, slick sidewalks, and icy gridlock—made worse when they arrive to find the office closed.
In this blog post, we'll share steps you can take to ensure your workplace is safe from the hazards of winter weather. Whether your employees are working from home, in the office, or on the road, these winter safety tips for employees will prevent cold-weather hazards from catching you off-guard.
Download Our Winter Weather Checklist
Get the actionable advice you need to prepare for, respond to, and recover from winter's critical events.
Winter Threats to Employee Safety
When snow and ice strike, driving conditions can quickly deteriorate. According to the Federal Highway Administration, over 1,300 people are killed and more than 116,800 are injured in vehicle crashes due to winter weather conditions each year. And it's not just icy roads and snow accumulation businesses need to worry about.
Many winter hazards affect businesses even in areas that don't experience snow. An increased likelihood of dangerous fire activity, slip and fall injuries, and the flu and other seasonal illnesses are just a few risks most businesses, regardless of location, face when winter arrives. Even before the pandemic hit, workplace-related illnesses like the flu cost employers billions annually in lost productivity.
Most common cold-weather hazards
According to OSHA's winter safety precautions, there are a variety of weather-related hazards employees may be exposed to during winter, from dangerous driving conditions to the risks that come with shoveling snow and working outdoors in the elements.
While the specific hazards vary by location, industry, and the nature of your business activities, threats your people may face this winter can include:
COVID-19
Unsafe driving conditions
Road closures
Slip and fall injuries
Snow shoveling health risks
Hypothermia and frostbite
Flu and other seasonal illnesses
Flight delays and cancellations
Local school delays and closures
Structural stress and damage
Fire activity
Power outages
Ensure you're prepared for winter weather hazards with our detailed checklist.
7 Winter Safety Tips to Keep Employees Out of Harm's Way
Fortunately, it's not all gloom and doom once the snow and ice arrive. Since you can typically foresee the risks associated with winter weather, you can take steps now to mitigate or even eliminate the impact on your employees and your business.
Here are seven ways you can prevent cold-weather hazards from endangering employee safety and wreaking havoc on your business:
1. Use technology to monitor winter threats
From storm-related outages to local COVID-19 outbreaks, it's vital to keep a pulse on all potential threats that could impact your people or locations. But trying to monitor road closures, fires, icy conditions, temperatures, and weather forecasts all at once is more than a full-time job. It gets more difficult when you have multiple office locations to account for, traveling employees, or a large remote workforce. It's simply not feasible to manually track all of the threats winter weather brings.
To address this problem, companies are turning to specialized threat intelligence solutions. These systems pull verified threat data from hundreds of sources around the world to help you identify the most pertinent information without spending your own time sifting through endless information. Some systems can also cross-reference your employees' real-time locations so you can quickly ascertain who is threatened by specific events, whether people are on-site or on the road.
2. Safeguard mobile and outdoor employees
Employees who must travel or work outdoors are particularly vulnerable to weather conditions. You have a duty of care to properly train them on winter work safety precautions and provide them with appropriate equipment and tools. If you have personnel who must drive for their job, ensure they have proper tires and an emergency supply kit in their vehicles. For outdoor workers, prepare to halt their duties in the event of severe weather. Some workers (like electrical repair crews) are even busier during bad weather, and when they are exposed to the elements, they face a heightened danger of injuries and accidents.
Give these employees a way to call for immediate help, such as an emergency hotline or a lone worker safety app. Not only does this provide a safety net for employees who might encounter danger on the job or in the field, but it also gives them peace of mind to know that their company is looking out for their safety.
Emergency communication software that supports location-based alerts is also a must-have for companies with workers on-the-go. With real-time location tracking and geofencing capabilities you can instantly send notifications to all employees currently located within a specific geographical area. This ensures you send only relevant, targeted notifications and that your message gets to all the people who need to receive it.
3. Maintain a facility safe from winter hazards
Falls involving ice, sleet, or snow are one of the biggest risks people face during the winter months. In 2017 alone, there were more than 20,000 occupational injuries related to ice, sleet, and snow. And those are just the falls people reported!
Winter preparedness is essential to protecting your people and business, and steps must be taken to prepare your facilities. You can't prevent all falls, but you can salt the parking lot, sidewalks, and steps ahead of time. You can also place large, absorbent mats at every entrance to prevent slips once employees are inside the building.
Specific steps you can take to improve winter work safety include:
Inspecting your facilities (roof, plumbing, etc.)
Performing all required preventative maintenance and repairs
Keeping walkways well-lit and clearly marked
Ensuring you have a reliable contractor for snow removal
Maintaining an adequate supply of de-icing products
Providing employees with slip-resistant footwear
Familiarizing yourself with OSHA winter safety tips and resources
4. Develop an emergency response plan for extreme winter weather
The impacts of cold inclement weather can be mitigated to an extent; that's why you need to create an emergency response plan in case conditions become extreme. An emergency response plan is a documented series of steps your organization will take during a critical event to ensure employees' safety and to minimize the impact on critical operations.
If a winter storm in your area unexpectedly intensifies to the point that people at your office are unable to leave, your emergency response plan will cover what to do for the best safety outcomes. Here are the steps you can take to create your own winter weather emergency response plan.
Perform a risk assessment: Before you know how to plan, you first need to know what to plan for. A risk or threat assessment guides you to identify the most likely and impactful threats your business and employees might face.
Document contact info: Gather emergency contact information for every employee so you can keep in touch should anyone go unaccounted for or become injured during the emergency. Keep local EMS, fire department, and police numbers (both emergency and non-emergency) on record, just in case.
Assign roles and responsibilities: When an emergency occurs, employees will look to their leaders for reassurance and guidance. These same leaders should be in charge of activating your emergency response plan, answering important questions, and giving any orders.
Consider available supplies and resources: In a cold weather emergency, stock supplies such as food and water, battery-powered radios, blankets and other cold temperature gear, and first aid kits to treat cold stress injuries. Keep cold weather emergency kits prepped and available.
Create an evacuation plan: Because of certain situations, like being snowed in or unsafe roads, you might not be able to evacuate from a winter storm. But if possible, or once conditions lighten up, employees need to know how to get to safety.
Create paths of communication: When developing your plan, consider how to notify employees of a critical event, how the information will be delivered and received, and how effective communication channels will be at reaching every employee in harm's way. An emergency notification system is perfect for this application.
Create templates: Emergencies are incredibly stressful, and if you're trying to manage one as you simultaneously draft messages to your employees, you're likely to make mistakes. Instead, write message templates ahead of time and deploy them during an emergency so you can quickly and confidently communicate critical information in the heat of the moment.
(Pro tip: this process works for any potential emergencies, not just winter weather!)
The best time to plan for an emergency is during a time of calm. Don't wait to draw up your emergency response plan until a winter storm is upon you! This free emergency response plan template can guide you through the process.
5. Clearly communicate plans to employees
During severe winter storms, utility outages that knock out heat, power, and communication services can last for hours and sometimes even days. Have a plan for how employees are expected to continue to work in the event of an outage, as well as how you will stay in touch with employees—and be sure everybody is clear on those plans ahead of time. Your people are going to expect communication before, during, and after any big storm. Don't leave them hanging! Here are some of the things your employees are likely to wonder about in a winter emergency:
Commute options
Power outages or surge impacts
Emergency contact information
Delivery delays/statuses
Modifications to work hours and/or shifts
Access to updates
Remote/telework options
With a multi-channel emergency communication system, you can instantly send and receive messages across multiple channels simultaneously, including text message, email, phone call, and others. No matter where your employees are or what device they are using, they need to receive timely information relevant to their safety and business activities. A system with two-way messaging capabilities also enables employees to share helpful on-the-ground information about an event as it's taking place and request help if needed.
6. Encourage remote worker safety
With many employees now working remotely due to COVID-19, it's important to consider the heightened risks employees may face in and around their homes when winter weather arrives. Shoveling snow, for instance, sends over 11,000 people in the U.S. to the emergency room every year due to injuries and cardiac emergencies.
And winter doesn't just take a toll on employees' physical health but on their mental health as well. Many are more sedentary than they were before the pandemic, which directly impacts physical and mental well-being. Amid the ongoing pandemic, many employees—particularly remote workers—are also feeling the effects of isolation in the form of stress, anxiety, and depression. Roughly one quarter of American adults report struggling with mental health in a given year. Many people already experience seasonal affective disorder (SAD) during winter, and mental health experts warn the lingering pandemic could amplify the symptoms of seasonal depression.
Conducting regular employee wellness checks is critical to ensuring the physical safety and mental well-being of your workers. Using the survey functionality of an emergency notification solution, organizations can easily, proactively, and confidentially conduct employee wellness checks to determine which employees need additional support and connect them to resources.
7. Consider all possible hazards complicated by winter conditions
Bad winter weather isn't the only thing companies and employees must grapple with during the winter months. Consider what happens to your business when local schools are closed, an outbreak of COVID-19 affects employees and their families, or traveling employees are stranded in airports due to flight delays and cancellations. Meetings are postponed, emails are delayed, and normal business operations are disrupted. As employees' attention is directed away from the organization and onto the pressing needs of the day, productivity is bound to take a hit.
Instead of sending individual messages for every little update, you might consider using an event page to act as a hub for all related information and updates. This allows your organization to consolidate event-specific messages, Q&As, and resources on one page that employees can reference. Instead of having to send a new notification with every update on a developing event, you can send out a single link to a webpage that has all the latest updates. This keeps employees informed without risking notification fatigue.
Create the Shelter From the Storm
The most important thing you can do is let your employees know you have their best interests at heart. This means keeping them informed before, during, and after a weather event. The fortunate part about most winter weather storms is that they are predictable and, therefore, plannable. Do what you can now to prepare, and be sure you have a communication system that will help you get the word out fast.
Every business faces changing risks as winter approaches. Being prepared for the many hazards of winter weather can help you better manage the impact of such incidents on your employees, your customers, and your bottom line. With proper preparation and effective communication, you can make these cold winter months more tolerable for you and your employees.
Download Our Winter Weather Checklist
Get the actionable advice you need to prepare for, respond to, and recover from winter's critical events.