Communications
Nov 29, 2022
Using Location-Based Safety Alerts to Protect Employees Anywhere
Your team's distributed locations greatly expand safety variables and threats. Any measures that effectively increase your people's safety and security will hinge on solid communication.
Key Feature Guide
See how easy it is to identify potential risks, see who is impacted, and inform the right employees—all from a single platform.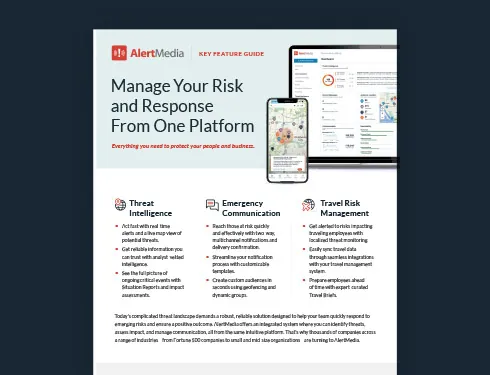 What Are Location-Based Alerts?
Location-based alerts are notifications that leverage location data to determine their audience. If you receive a hurricane evacuation order because you're in a city impacted by that storm, that's a location-based alert.
Mobile phone apps can determine a person's location using services like GPS and cellular signal technology. For example, popular map apps employ these services to show you where you are and where you're going for navigational purposes. There are also standalone GPS sensors you can buy and attach to objects for easy tracking—no smartphone required. Of course, you can also determine location with more low-tech methods, such as a simple list of employee addresses. But a static list will not suffice for traveling employees and nomadic remote employees, who also fall under your duty of care.
When you use different types of location data, it's possible to target your alerts to a much more specific and relevant audience. Modern emergency notification systems should be able to pull off all of these sophisticated techniques to help you keep your people safe and secure.
Why use location-based safety alerts in emergency situations
Many emergencies your business might face won't threaten your entire company. For example, say one of your satellite offices experiences a power outage. Your emergency response plan might indicate that all employees stationed at the affected office should work remotely for the day. If you took a location-blind approach to communicating these instructions, you might inadvertently send a message to the wrong office or people.. By using location-based alerts, you can carefully target your audience based on geographic location, avoid excess panic and worry, and maintain continuity of operations to the greatest extent possible.
And you can forget about manually contacting individual workers. Not only is that method prone to errors, it's going to take many, many times longer than a modern software-based system would. This makes options like the outdated phone tree a very bad idea in this day and age.
Using maps in an emergency
Perhaps the most obvious way to gather location data is through a map view. Maps are incredibly powerful because they can show you at-a-glance where problems are as well as the people and places they might impact. In the heat of the moment, you might have trouble remembering which office is where, and keeping track of your employees' locations in your head is impossible. But with a map, you can access all this information instantly.
Maps allow you to distribute alerts with surgical precision. Some emergencies, such as wildfires, affect locations unpredictably. Fires can meet barriers like roads or bodies of water and stop in their tracks. So one employee might live less than a mile from another, but the impacts they see could be very different. It's important to be able to match that unpredictability with accuracy. Using a map that synchronizes emergency information and employee locations allows you to see who's in danger without wasting time, so you can safety actions.
On an episode of The Employee Safety Podcast, Erica Reed, Business Resiliency Analyst at Macy's, explains how location data allows them to visualize the location, size, direction, and impact of wildfires in the vicinities of their stores, as well as the homes of employees. When combined with AlertMedia's mass notification abilities, Macy's safety leaders are empowered to help their people avoid danger and get to safety. Reed says this allows their emergency management team to "stay as far ahead of these incidents as we possibly can and take as proactive of an approach as possible."
Finally, maps are perfectly suited to include data on large events, such as weather and natural disasters. We already use maps to display how storms and other dangerous weather patterns move. Layering that on top of your existing location data can be extremely valuable. With this synergy, you can easily determine who is at risk of encountering bad weather and send location-based safety alerts accordingly. When researching which emergency alert system is right for you, be sure to look for products that include these essential map features.