Safety and Security
Nov 11, 2022
5 Cold-Weather Safety Tips for Employees and Business Leaders
Winter's harsh realities can motivate your strongest preparedness efforts to avert accidents, illnesses, and downtime. Find unique recommendations for safety leaders and employees.
Winter Weather Checklist
Get the actionable advice you need to prepare for, respond to, and recover from winter's critical events.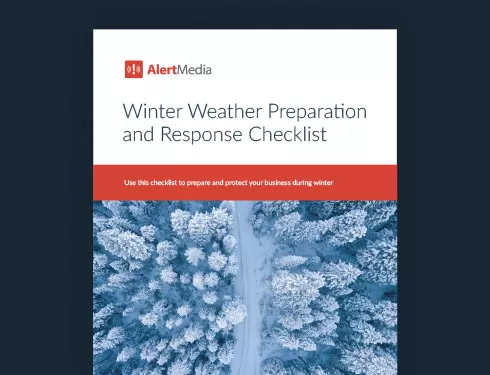 Dangers of Working in Cold Weather
Winter storms inflict high costs on businesses, from disrupted supply chains to road conditions that impede employees and customers from reaching your location. Additionally, extreme cold weather often leads to an increase in workplace injuries. Optimum Safety Management estimates that between direct and indirect costs, employers will spend $120,000 for a single workplace injury.
Slips, trips, and falls are already one of the most common workplace injuries, with 211,640 non-fatal cases in 2020 alone, according to the U.S. Bureau of Labor Statistics. These slip, trip, and fall hazards escalate during the winter months, along is a variety of other cold-weather hazards, including frostbite, hypothermia, trench foot, and other cold-related illnesses.
Depending on road conditions and your telework options, your business may enact a winter safety plan, reminding employees of winter driving safety policies or telling non-vital workers to stay home until it's safe to come to the office. But for many employees, work must go on, despite severe winter weather. For these employees, in particular, winter hazards abound. Workers who are most vulnerable to the dangers of cold weather include:
People who work outside most or all of the time, such as construction workers, lumber workers, utility line technicians, and agricultural workers
Essential workers who may have to navigate through the elements—including mail carriers, social workers, first responders, and those in the transportation industry
Service professionals who switch between working inside and outside during their shift, including plumbers, cable service technicians, and electricians
Workers who labor in poorly insulated or non-heated areas such as freezer storage
Older adults and individuals with diabetes, hypertension, hypothyroidism, and other pre-existing health problems
Are there OSHA regulations related to cold-weather safety?
While there is no OSHA standard specific to worker safety in cold-weather environments, employers have a duty to provide workers with a place of employment free from recognized hazards—and that includes cold stress. Also known as a duty of care, the safety of employees is the responsibility of employers according to OSHA's general duty clause.
This concerns some businesses: If they're told to prepare for cold weather but aren't given specific guidelines to do so, how can they prepare sufficiently? The reality is that cold weather can be an enormous danger, but the risks it presents are both manageable and foreseeable. Having a plan for cold-weather safety will help you avoid injuries and reduce worker's compensation claims, days lost, and other disruptions to business continuity.
With that in mind, here are five cold-weather safety topics with tips for employers and employees.
More Articles You May Be Interested In