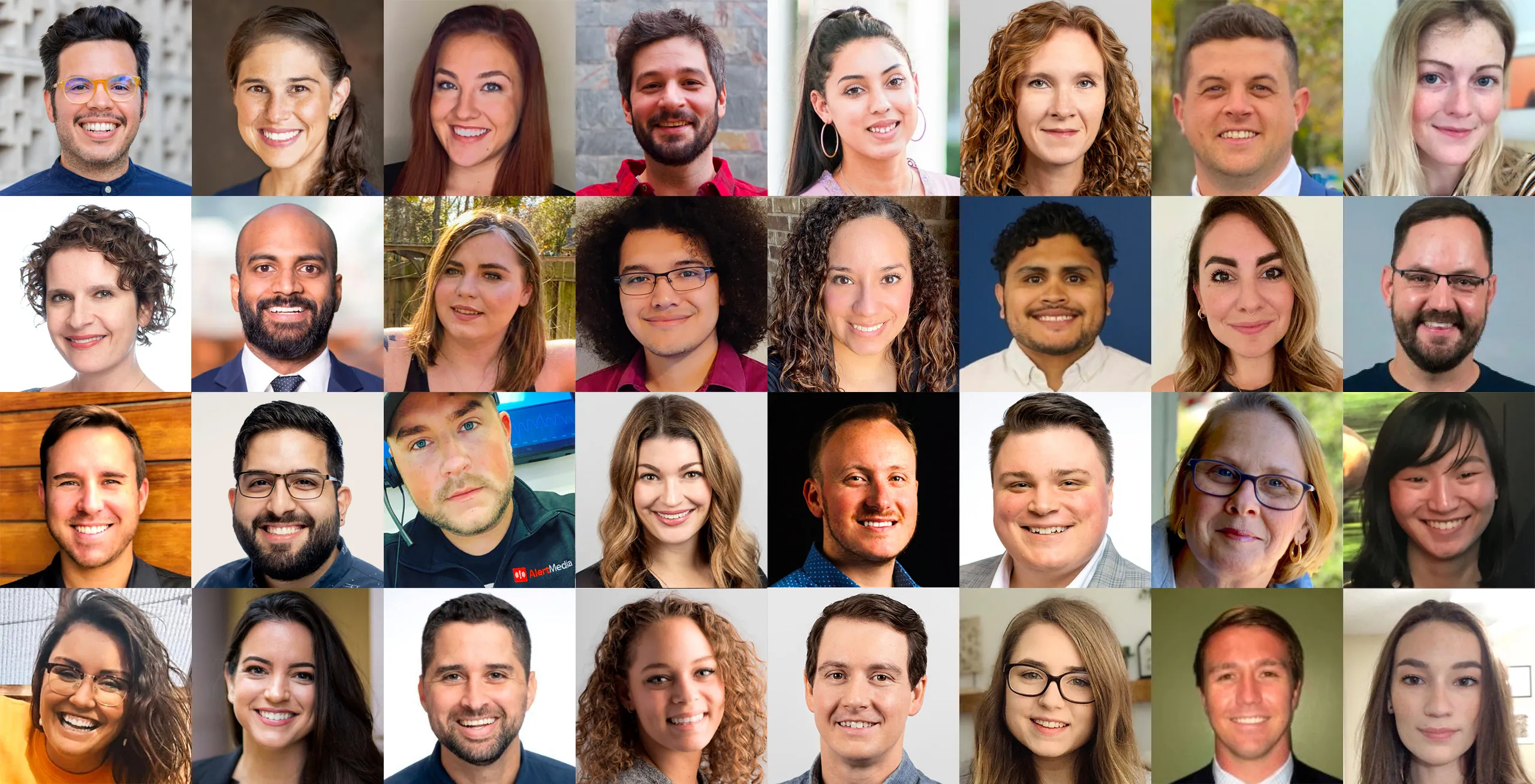 Careers
Do Work That Makes a Difference
Help organizations around the world keep their people safe, informed, and connected during critical events.
Join an Award-Winning Team
AlertMedia was recognized as one of Built In's 2022 Best Places to Work in Austin for the third year in a row.

The Austin Business Journal has recognized AlertMedia as a top workplace 6 years in a row.

AlertMedia is proud to be rated 5 stars by our employees.

AlertMedia was named one of Forbes' top 500 startup employers based on brand reputation, employee satisfaction, and growth.

The Best Place for Working Parents™ recognizes businesses that are truly innovating when it comes to supporting working parents.

Inc. magazine surveys employees from thousands of companies in the U.S. to determine its list of best workplaces.

The A-List celebrates innovative companies within the Austin community.

BuiltIn's "Best Midsize Companies" list ranks companies based on their benefit, compensation, and culture.
Customers Always Come First
We place customer needs ahead of everything else, always responding with care and urgency. Nothing is more important to us than helping organizations protect their people and business.
We're Humans, Not Robots
We believe in bringing a personal, human touch to every interaction. We care about people and do the right thing, regardless of what may be considered "by the book" or standard practice.
We Work Better Together
We believe in an open, collaborative environment where everyone has a voice and can learn from one another. There are no egos or pride of authorship, and we run our organization with complete transparency.
Simplicity Is Our Strength
We help customers save time, reduce stress, and eliminate confusion by keeping things simple whenever possible. We always operate with the mindset that the simplest option is usually the best one.
Our Reputation Is Priceless
Trust is earned, not given. We know that every interaction has an impact on how customers view AlertMedia, and we act accordingly.
Hard Work Pays Off
Hard work has always been the key to our success. Hard work demonstrates commitment, allows us to delight our customers, and sets us apart as a company.
<
Life at AlertMedia
We are a team of fun-loving, creative individuals striving to be the very best at everything we do.
<
Life at AlertMedia
We are a team of fun-loving, creative individuals striving to be the very best at everything we do.
<
Life at AlertMedia
We are a team of fun-loving, creative individuals striving to be the very best at everything we do.
Benefits
We're serious about the work we do and taking care of the people who do it. Here are some of the ways we support every employee that comes to work with us.
100% Paid Healthcare

Take advantage of fully paid medical, dental, vision, disability, and life insurance for employees and subsidized for dependents.​

Bonus

Participate in the company-wide annual bonus based on our collective success.​

Family Planning

Leverage our 100% paid parental and new child bonding leave—12 weeks off for primary caregivers and 4 weeks off for secondary caregivers.​

Paid Sabbatical

Pursue your interests with six weeks of paid sabbatical leave after six years of service.​

Tuesday Lunch

Get together for transparent company updates from leadership while enjoying a meal on us.​

PTO

Unplug, rest, and recharge with a flexible time off policy that encourages work-life balance without worrying about counting days!​

Give Back

Join your coworkers in giving back to the Austin community through quarterly volunteer opportunities.​

Team Building and Celebrations

Take part in company celebrations, team buildings, and peer-nominated value award recognition.​
Discover What It's Like Working at AlertMedia
"I have been able to grow so much in such a short amount of time; it's really incredible."
Anonymous Employee via Glassdoor
"If you want a place where you can make a real impact, AlertMedia is the place to be."
Anonymous Employee via Glassdoor
"We receive so much recognition for our hard work and commitment."
Anonymous Employee via Glassdoor
Creating an Inclusive Environment for Everyone
We believe in fostering an equitable, fair, and diverse work environment. Visit our Diversity & Inclusion page to learn more about our commitment to promote positive change.
What Employees Say About Working at AlertMedia
"I've never worked anywhere else with so many committed people who care so deeply about the company's mission."
John Yarbrough Sr. Director, Marketing Communications
"This company cares equally about its employees, its customers, and the community at large. I'm so proud to be a part of AlertMedia!"
Jake Palmer Digital Production Specialist
"The best way to describe what it's like to work at AlertMedia is, walking into a candy store. There's always something new happening, everyone is so excited to see you, and most of the time I don't want to leave!"
Jesse Morris Manager, Monitoring
"AlertMedia is a fast-paced, inclusive, and motivating place to work."
Julia Perry Account Executive
"Working at AlertMedia has been the most rewarding experience of my career. It's invigorating to go to work every day with such a dedicated team that strives for greatness."
Liel Navon Account Director
"AlertMedia values everyone who works here and demonstrates it often!"
Gerald Tilma Software Engineer
"At AlertMedia, we are all working together to make our users feel more safe!"
Roy Flores Monitoring Specialist
"At AlertMedia, they push us to be our best and support us to get there."
Jackie Laflamme Sr. Account Executive
"The team at AlertMedia is so collaborative! I love knowing I can bounce ideas off of anyone or get an extra set of hands from anyone at the company."
Amanda Hagley Web Manager
"Knowing that the contributions I make on a daily basis will help save lives inspires me to be my best everyday."
Tom Ridlehuber Technical Support Engineer
"I literally didn't think it was possible to love a job—but I love everything about it. #Alertie4Life"
Thomas Wilson Sr. Account Executive
"Working for a company that cares for its employees at the same exceptional level it cares for its customers is a magical feeling. I love working at AlertMedia!"
Raven Frazee HR Coordinator
"Helping AlertMedia grow has been an exciting journey. I love helping companies around the world keep their people safe and it's an extra bonus that I get to work with great teammates. This truly is a special place."
Zach Balod Senior Account Executive
"Being part of the AlertMedia team means working with a collaborative, fun, hard-working group that always puts customers first!"
Lindsey Draper Director, Customer Success
"From day one at AlertMedia, I felt like I was part of a warm, diverse, and welcoming family of employees."
Clovis Djiometsa Software Engineer
"The LaCroix fridge is great, but this company prioritizes what matters most—stellar leadership and a synergy across departments that is driven by a mission we all care deeply about."
Emily Rediker Sr. Product Marketing Manager
"AlertMedia has such a healthy atmosphere. Every single person, from the leadership to new employees, is extremely supportive and motivated to succeed as a team. It's very easy to love working here!"
Jordan Epton Account Executive
"Coming to work at AlertMedia was the best decision of my life."
Angie Julius Director, Learning and Development
"Being part of the AlertMedia team means getting to spend Monday-Friday with some of the smartest, kindest, and most hardworking people you'll ever meet. I feel grateful every day to be a part of this amazing team."
Alexia Gleysteen Senior Manager, Marketing Programs
"Being a part of the AlertMedia Team is the MOST delightful career connection of my life. When I walk through the door each morning, it's as if I have come home to a place with great purpose and big plans."
Virginia Davies Receptionist
"AlertMedia has found a way to keep all the pros of a startup–openness to change, creativity, and a casual work environment—while removing the cons. The team is supportive, collaborative, and there is real passion for the work being done."
Molly Buck Customer Success Manager
"I've never been a part of an organization that puts as much effort into making me feel welcomed and supported as AlertMedia."
Addison Leatherman Customer Success Manager
"Our culture boils down to three key words: transparency, dedication, and collaboration. Not only does everybody know what's going on at all times, we know what we need to do to help customers keep their people safe."
Ben Griffin Lead Writer
"I have been a developer for more than 18 years, and the last 7 at AlertMedia have been the best of my career."
Nico Di Fiore UX Developer
"AlertMedia continues to be the most collaborative work environment I've ever experienced. The amazing team spirit across all departments makes working at AlertMedia immensely fulfilling. I'm so proud to be an AlertMedia employee!"
Melissa Daniels Director, Customer Success
"I love working for a company that helps so many while having amazing people to work with!"
Rose Nichols Monitoring Specialist
"People come first at AlertMedia. The people we help take care of as well as the teams behind that work. It is always about the people."
Sofia Covarrubias Customer Success Manager
"I couldn't be happier working for AlertMedia. The software we provide keeps people safe at all times and puts a new perspective on 'what I do for a living.' The icing on the cake is how I was welcomed with open arms by everyone at the organization!"
Patrick Galligan Account Executive
"It's fulfilling to work for a company helping companies keep people safe. More than that, the company and leadership practices what they preach. I have never felt more valued or taken care of at an organization than I do working at AlertMedia."
Robyn Bergesen Customer Account Executive
"The people I work with every day inspire me to be my best and take risks! I'm never afraid to ask a question or go to someone when I need help because at AlertMedia I know they truly want me to grow as a developer, team member, and PERSON!"
Whitley Bone Web Developer
Work With Us
If you're ready to grow your career and help thousands of organizations keep their people and businesses safe, you've come to the right place.