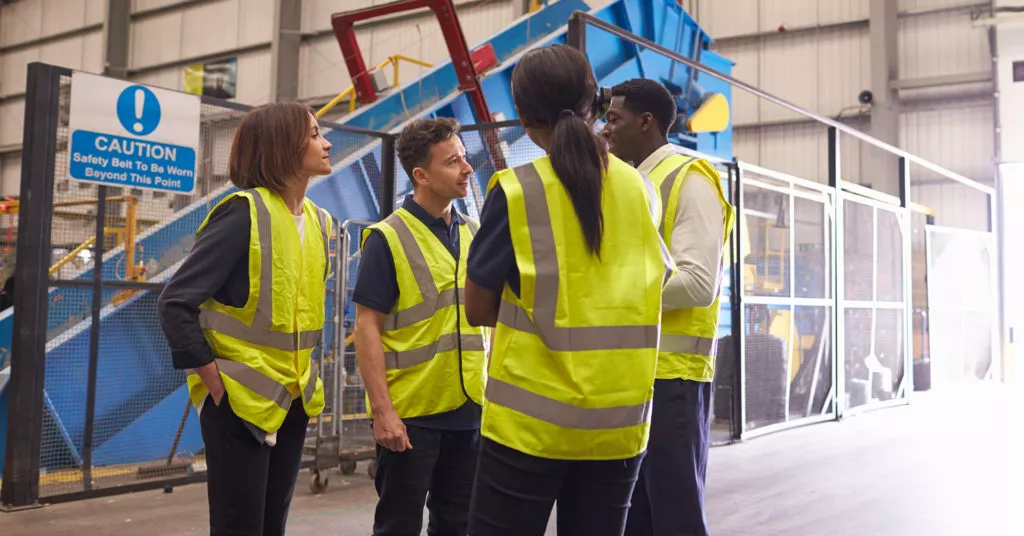 Safety and Security
Oct 25, 2022
Safety Moment Ideas: 24 Topics for a Strong Discussion
Prepare your company and your people for whatever risks they might face with these 24 ideas for "safety moment" meetings.
2023 Safety Calendar
Plan and track your key safety initiatives so you can stay organized all year long.
24 Safety Moment Ideas for 2023 and Beyond
To determine the most productive safety meeting topics for your workplace, first perform a business threat assessment. No two organizations—or even worksites within an organization—face the same risks. Offices, kitchens, factories, and construction sites all have unique conditions that can impact your employees' workplace safety. When you have a clear understanding of the hazards that might impact your people, you can plan for training sessions, including safety moments to address smaller safety topics or refreshers of more in-depth training.
Here are 24 safety moment ideas to improve general safety and inspire detailed presentations about the hazards in their work environments.
Universal safety moment topics
1. Situational awareness
One of the most important skills you can help your employees develop is situational awareness in the workplace. Spend a few minutes to emphasize the value of staying focused on the task at hand and being cognizant of your surroundings to reinforce your broader situational awareness training programs. You can give actionable tips for minimizing distractions or reviewing a short safety checklist before putting full attention on a potentially hazardous task.
2. Emergency exits and routes
Every workplace must have clearly marked emergency exits. While safety moments can't replace fire drills, they serve as a good reminder of where the nearest exit is and how to safely reach it. This brief check-in would also be a good time to make sure people are aware of where evacuation routes are posted for easy reference in various locations throughout the workplace.
3. Security and access control
Whether it's accidental or intentional, someone's presence where they shouldn't be creates a workplace risk. Cover the security policies for the group you're talking to, as well as protocols for reporting a breach.
4. Fire prevention and preparedness
Workplace fire prevention is a broad topic that you can break down into several fire safety moments. For example, you can discuss how to avoid fire hazards, where fire extinguishers are and how to use them, what each employee's role is in case of a fire, and where to meet after evacuating.
5. The importance of proper rest
What happens at home can indirectly influence workplace hazards. Employees who don't get enough rest can fatigue more easily and make mistakes, putting themselves and their coworkers at risk of injury. You can encourage sufficient rest for health and safety reasons and review workday break schedules to ensure people are taking advantage of chances to rest and recharge while on the job.
6. Parking lot safety
At the end of a workday, it can be tempting to stare at your phone, catching up on messages while you walk to the car. However, between trucks with poor visibility, distracted drivers, and potential threats lurking in dark corners, parking lots are full of hazards to be aware of. Review any risks particular to your parking areas and tips for staying aware, avoiding known hazards, and how to contact reliable assistance if needed.
7. Two-way communication with safety leaders
A two-way communication platform that includes mass notification and employee check-in functionality is key to any safety program. But it's effective only if your team uses it properly. Review how and when employees should expect to receive notifications, as well as how to check in and report threats.