Safety and Security
Jan 19, 2021
Winter Safety Stats and Resources to Keep Your Team Safe From Winter Threats
Whether your employees are working remotely or in the office, winter brings safety risks and operational challenges for which your organization should be prepared.
Key Feature Guide
See how easy it is to identify potential risks, see who is impacted, and inform the right employees—all from a single platform.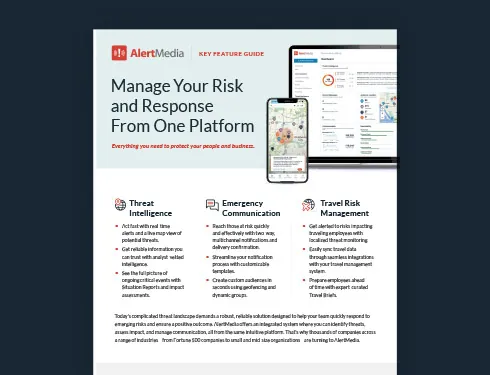 Safeguarding your people and business from winter threats starts with understanding the risks. And, unfortunately, this winter season will bring new threats for which businesses everywhere must be ready.
In this infographic blog post, we'll share some winter weather statistics to help you better understand the threats this uniquely challenging season poses to your people and business.
Quantifying the impact of winter hazards
Anyone that grew up in a colder climate will attest that severe winter weather can have serious implications for businesses and employees alike. While winter storms vary in size and intensity from year to year, the economic toll of snow, ice, freezing rain, and other winter storms is measured in the billions annually. Beyond the financial cost, severe winter weather is also known for causing significant disruptions to public transportation and business operations, wreaking havoc on employees' schedules and businesses' ability to function normally.
For example:
Understanding Winter Risks
Every year, roughly 2.8 million Americans pass away from various causes. While that equates to 7,671 per day, the data shows a noticeable variability depending on the time of year—and, more specifically, the season. In fact, people are far likelier to die during the winter than any other season. Data provided by the CDC, as illustrated in the graphic below, shows that the winter months—December, January, and February—are the deadliest months of the year. Furthermore, while heat waves typically generate more news coverage, winter weather causes more deaths and injuries.
Winter brings with it numerous threats to health and safety. And even for those that live in areas where heavy snowfall is a rarity, there are other hazards that should be considered when creating a winter safety plan.
The Most Common Winter Weather Hazards Include:
#1 Infectious diseases – COVID-19 is only one of many infectious diseases that thrive in cold, dry conditions.
#2 Unsafe driving conditions – Ice-covered roads and holiday travel can result in dangerous driving conditions.
#3 Winter storms (blizzards, snow, freezing rain, etc.) – Blizzards, freezing rain, and strong winds can wreak havoc on normal business operations.
#4 Winter injuries (slips, falls, etc.) – Icy sidewalks, stairs, and parking garages make for a dangerous working environment.
#5 Cold weather exposure – Freezing temperatures can cause hypothermia and abnormally low body temperature.
#6 Mental health and well-being – Seasonal Affective Disorder can result in fatigue, depression, hopelessness, and social withdrawal.
The Flu and COVID-19: A Double Threat
The overlap of the COVID-19 pandemic and influenza has epidemiologists concerned. The U.S. may soon face two epidemics at the same time and this combination could precipitate a crisis unlike any other. The graphic below shows the historical impact of the seasonal flu broken down by the number of times each month has been considered "peak flu season" as well as the number of new cases of COVID-19 reported from March 15, 2020, to December 4, 2020.
While the main concern with the flu is that of personal health and wellness, it also can affect commerce. According to SHRM, "each year as winter approaches, employers can count on at least one in every five of their employees calling in sick because he or she has the flu." This has a resounding effect on businesses all over the country.
Each year in the U.S., flu is responsible for:
200 million days of diminished productivity
75 million days of work absences
22 million visits to health care providers
Experts anticipate winter surge in COVID-19 cases
Additionally, earlier in the pandemic researchers predicted that COVID-19 cases would increase during winter months due to viruses typically favoring cold, dry conditions, particularly out of direct sunlight. Unfortunately, scientists believe the arrival of winter has contributed to the surge of new cases we're now seeing across much of the nation.
The anticipated costs for employee benefits due to COVID-19 illness is $23 billion.
Winter Risks to Mobile and Remote Workers
Employees who must travel or work outdoors are particularly vulnerable to weather conditions. Many times, outdoor workers will need to halt their duties until the weather clears. On the other hand, some (like electrical repair crews) are even busier during bad weather. When these workers are in the elements, they can have a heightened danger of injuries and accidents.
Each year in the U.S., icy and snowy roads cause:
156,000+ auto crashes
2,000 deaths
135,000 injuries
There are over 1,300 auto fatalities per year due to snowy or icy roads.
Severe Winter Weather and the Threats to Employee Safety
With many employees now working remotely due to COVID-19, it's important to consider the heightened risks employees may face in and around their homes when winter weather arrives. Shoveling snow, for instance, sends over 11,000 people in the U.S. to the emergency room every year due to injuries and cardiac emergencies. While La Nina winters are typically milder than other years, the graphic below shows that much of the country will experience colder than normal conditions.
Heightened Employee Anxiety and Decreased Productivity During an Unprecedented Winter
Winter doesn't just take a toll on employees' physical health. Amid the ongoing pandemic, many employees—particularly remote workers—are also feeling the effects of isolation in the form of stress, anxiety, and depression. According to a recent CDC survey, at least 40 percent of Americans report struggling with mental health. Many people already experience seasonal affective disorder (SAD) this time of year, and mental health experts warn the pandemic could amplify the symptoms of seasonal depression.
Safeguarding Your Business and Remote Employees From Winter Threats
Every business faces changing risks as winter approaches—whether winter brings snow, rain, or plummeting temperatures. But being prepared for the many hazards of winter weather can help you better manage the impact of such incidents on your employees, your customers, and your bottom line. With proper preparation and effective communication, you can make these cold winter months more tolerable for you and your employees.
Follow these steps to ensure the safety of your people and business this winter:
Use Technology to Your Advantage
Keep Contact Information Updated
Be Ready to Communicate During Every Scenario
Monitor the World Around You
Be Mindful of Timing
How a modern emergency communication solution can help
Using an emergency communication system is invaluable in helping organizations keep their workforce safe, informed, and connected during the winter.