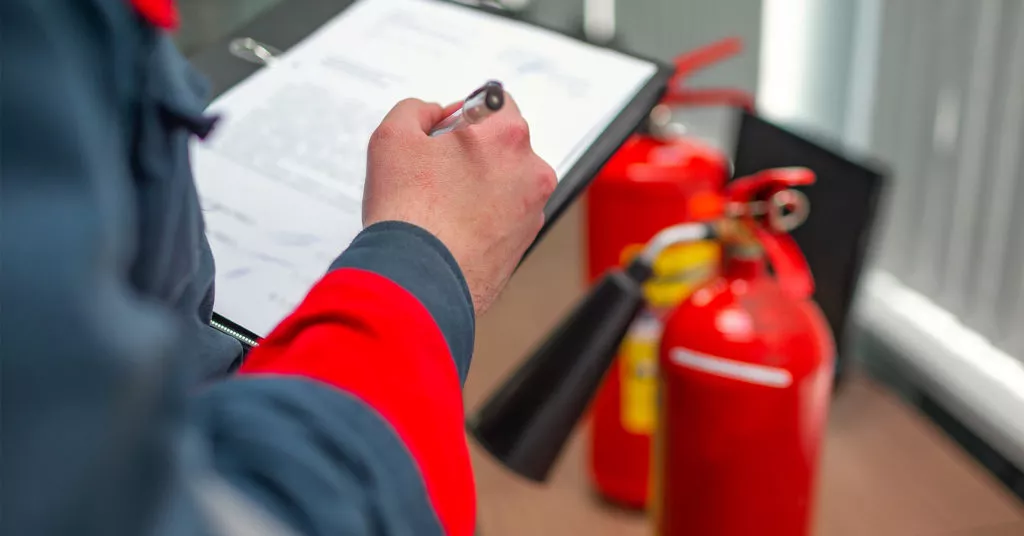 Safety and Security
Jan 25, 2022
10 Tips to Improve Your Workplace Safety
Ensuring workplace safety will prevent accidents and save your business time and money. Here are 10 workplace safety tips that will help you keep your people safe and your business running normally.
Workplace Safety Checklist
Use this checklist to identify potential risks and ensure your office, job site, or facility is safe at all times.
"The price of risk management and creating a safe environment will always prove to be cost-effective in the long run. 'Reactive' costs such as compensation, insurance premium increases, and possible fines will far outweigh 'Proactive' costs such as identification, analysis, and response to risk factors." — Brent Bousquet, Owner of IGH Health, Fire and Safety
"What I find is that most businesses don't even want to think about preparing for something bad to happen until it happens. Start with the buy-in from the top—those decision-makers that run the company need to find the value and importance of training and making their people aware of just what to do in an emergency." — Chris Marciano, CEO & Founder of Prepare to Act
4. Provide proper safety equipment and PPE
Personal protective equipment, also known as PPE, is equipment that minimizes the risk of injury or accident befalling a worker. PPE can include gear such as gloves, helmets, eye and hearing protection, face masks, harnesses, and more. Over the past few years we've all become acquainted with medical PPE such as masks, but don't forget that personal protective equipment is anything that your workers need to stay safe on the job.
Make sure everyone has equipment that is in good working order and fits them. If they are missing any particular piece of gear, you should provide them with an easy and fast way to request and receive replacement safety equipment.
5. Keep facility and equipment in good condition
When a large group of people collaborates in the same space, uses the same equipment, and walks the same floors, working conditions can deteriorate quickly. Everything from forklifts to alarms to the break room coffee maker must be maintained and kept in a safe and sanitary condition. This helps you prevent slips and falls due to wet or dirty floors, avoid accidents from poorly-maintained tools and machines, and overall keep your people safe and healthy.
6. Communicate about hazards
Despite your best efforts to support a safe working environment, accidents might still occur. That's why it's paramount that you have a way to communicate with everyone should such an event come to pass. Posted signage like wet floor signs and reminders on the bulletin board can be helpful in this case but is far from sufficient.
A two-way communication tool such as AlertMedia's mass notification system can help solve this problem. It enables your company to not only broadcast safety alerts to your employees, but it also allows your employees to respond with information or questions of their own, increasing the overall visibility of safety issues among your workers and administrators.
7. Celebrate safety over speed
You can tell the most about a company's culture by asking one question: what do they celebrate? That is, what does success look like in the company's eyes? Is it maximizing profits at all costs? Maybe producing a quality product or maintaining your beloved brand? Those goals are all well and good, but if you want to improve your workplace safety, your team should be encouraged and empowered to celebrate the prioritization of safety.
For example, if a worker comes to their supervisor with a safety concern of theirs, they should under no circumstances be made to feel like they did the wrong thing. If their supervisor responds with a roll of the eyes and an exasperated call to shut down the factory floor, then employees will be less likely to report such things in the future, which could lead to catastrophe. Instead, make sure that safety efforts on behalf of your team are celebrated and valued, despite the slowdowns they might cause.
8. Keep safety records
Any company with more than a handful of employees knows that record keeping is important for sales and staffing purposes, but some forget that the same should apply to safety recordkeeping as well. Maintain a record of all safety efforts like training sessions, as well as attendance for those sessions so you know who's been trained on what.
The most important things to record are all safety incidents and accidents so that you can learn from them. An after-action report can help your safety team identify what caused the issue and how it can be prevented and mitigated in the future.
9. Prioritize good ergonomics
One of the most common workplace-related injuries are musculoskeletal disorders. These health problems can manifest as damage to muscles, nerves, bones, blood vessels, ligaments, and tendons. They are most often found in jobs that require heavy lifting or similar repetitive tasks for long periods. The answer to these issues is good ergonomics.
Ergonomics is the practice of fitting a job to a person. That is, making sure that their equipment fits their body and their task so that they can work comfortably with a decreased risk of injury. Employers are required to provide workers with an ergonomic workspace, so be sure that management supports ergonomic efforts. Most importantly, listen to the workers who operate in said workspaces and learn from their on-the-job experiences.
10. Prioritize mental and psychological health as well as physical
Employers around the world have found that mental health has grown as a challenge ever since the start of the COVID-19 pandemic. As employees experienced greater stress due to world events, workers became acutely aware of feelings of burnout and dissatisfaction. This in turn led to a wave of people leaving their jobs that has been dubbed the "Great Resignation."
Burned-out workers can become less invested in their jobs, and there's concern that said burnout is contributing to safety violations. As an employer, it's your job to keep tabs on how your employees are feeling about their jobs and encourage them to take time off to avoid burning out. A happy workplace is more productive and safe than a burned-out one!