Safety and Security
Feb 09, 2022
6 Winter Storm Preparations Every Business Should Make
Winter storms can pose serious harm to your employees and business operations. Prepare to stay safe with these six steps.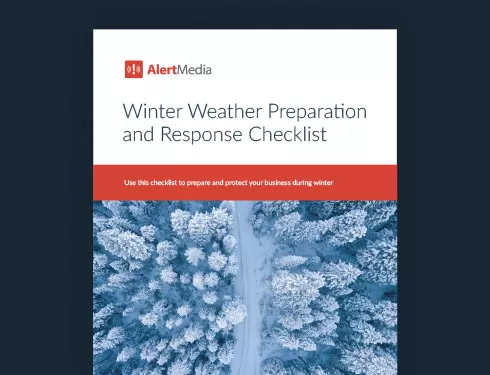 Winter Weather Checklist
Get the actionable advice you need to prepare for, respond to, and recover from winter's critical events.
Winter may conjure up imagery suitable for a Norman Rockwell painting: sitting by the fire with a hot drink in hand, watching through the window as snowflakes drift lazily through the air. But the business impact of winter weather is anything but idyllic.
AccuWeather estimates the total U.S. damage and economic loss due to the catastrophic winter storms of early 2021 reached more than $155 billion, but even an average winter storm can cost $3.9 billion per event. From lost wages of hourly workers to property damage to lost tax revenue to injuries and even loss of life from dangerous cold weather, winter weather can cause a devastating effect.
But it's not just companies in the path of those epic nor'easters that need to consider winter storm preparations. The prolonged record cold in February 2021 left nearly 10 million people without power as far south as Texas. While the characteristics of winter weather vary with location, every business faces changing threats as winter approaches. Snow, rain, plummeting temperatures, illness outbreaks, dangerous driving conditions, and increased fire dangers are just a few of the threats that may impact your people and business this winter.
Whether your organization is a small business or a large-scale enterprise, winter weather preparedness is key to mitigating potential disruptions. By preparing for the many hazards of winter weather, you can minimize the impact of such incidents on your employees, customers, and bottom line.
2021-2022 Winter Weather Predictions
This year, NOAA is predicting La Niña conditions for winter—meaning above-average temperatures in the South and West, and wetter-than-average conditions in the North and NorthWest similar to last year. But even businesses in those warmer and drier areas should take their winter weather preparation seriously. The forecasts for La Niña are very similar to the 2020-2021 season, which saw the worst winter storm on record for parts of the South, including Texas.
"Even if you're in an area that is forecast to be warmer and drier than average, that certainly doesn't rule out the possibility of significant winter weather impacts." —Jason Moreland, Senior Meteorologist at AlertMedia
From physical winter storm preparations to ensuring employees have access to all the information they need during a winter event, here are six steps you can take to protect your business all season long.
Step 1: Assess Your Risks
There are several hazards businesses need to watch out for when it comes to cold weather. It's not just icy roads and snow accumulation. An increased likelihood of structural stress and damage, dangerous fire activity, and slip and fall injuries are just a few of the risks that businesses face when winter arrives.
The first step to preparing your business for winter is to assess your organization's unique risks. Where your employees live, where your offices are located, what industry you operate in—even how your employees work—will all affect which threats pose the greatest danger to your people and your business.
Winter weather threats
Here are just a few potential winter hazards to consider as you evaluate your specific risks:
COVID-19, flu, and other seasonal illnesses
Unsafe driving conditions
Road closures
Slip and fall injuries
Hypothermia and frostbite
Flight delays and cancellations
Local school delays and closures
Structural stress and damage
Electrical fires and other hazards
Power/systems outages (both in the workplace and for employees working remotely)
A winter storm warning is typically issued 12-36 hours before a winter event is expected to start, so vigilantly checking local news and following travel safety recommendations can help you stay on top of regional threats. But the reality is, that's only half the battle.
What about traveling or field-based employees? Or offices in other cities? The rise in remote work also presents unique safety and preparedness challenges. With an increasingly dispersed workforce, it's not enough to track winter weather threats in one locale—you need to track the myriad of threats that could impact all of your employees, no matter where they are located.
Step 2: Determine Who's Responsible
When a snowstorm hits, who should ensure the office parking lot is safe and driveable? Who will track the storm and communicate weather-related updates to employees? The midst of a storm is not the time to figure out who is responsible for these tasks.
Your organization is accountable for your employees' overall safety and well-being. To fulfill your organization's duty of care, you must ensure all necessary safety precautions are taken—regardless of whether those precautionary measures are executed by your organization or a third party. As part of your winter storm preparations, review your contracts with vendors, insurance providers, property managers, and landlords. There should be specific callouts for weather-related events. If not, contact the contract owners directly to determine contractual obligations and responsibilities.
Aside from outlining the responsibilities of all external parties, it's equally important to take a similar approach internally. You should have processes and responsible parties laid out for internal functions such as keeping employees informed of rapidly developing situations, ensuring all employees are accounted for, and keeping facilities and equipment in safe operating condition.
Assemble a project team of involved stakeholders to clearly outline the roles and responsibilities of each function. This team should include departments such as HR, Facilities, Business Continuity, Emergency Operations, and IT. In a small business where functions often overlap, a clear, documented plan of who will do what during a winter storm is incredibly important. It will help avoid confusion, finger-pointing, and missteps when it matters most.
Ensure you're prepared for winter weather hazards with our detailed checklist.
Step 3: Make a Plan for Each Winter Storm Threat
Once you've identified your risks and determined who is responsible for completing each of the precautionary measures, create a specific action plan for each winter storm hazard you may encounter to eliminate ambiguity and keep everyone on the same page.
Sign up for relevant winter weather advisories and winter storm warnings. Outline clear triggers for when and how you will make important decisions, like when to close the office or tell employees to leave work early. You should also put together specific plans for different threats from severe winter weather, like extreme cold, freezing rain, heavy snow, carbon monoxide poisoning, and even blizzard warnings. You should also train your managers and employees how to keep an eye out for signs of hypothermia, frostbite, and other health threats like overexertion and heart attacks.
You can develop a winter storm preparation checklist that specifically lays out each step for what you will need to do from the moment the storm warning hits all the way through the recovery period. Include preparation items like filling gas tanks, dripping faucets, and buying extra supplies.
And remember that you should not be preparing for extreme weather conditions in a vacuum. It's great to have a plan—but even the best-laid plans fall short if your business leaders and employees aren't also prepared. At a minimum, you should rehearse various winter weather scenarios in drills with key leaders and people managers, and train employees on winter weather safety measures.
Step 4: Fortify Your Locations for Extreme Cold
Winterizing your business requires comprehensive planning and meticulous attention to detail. Don't wait until a storm is announced to fortify your facilities to withstand winter threats and hazards. As part of your winter storm preparations, be sure to conduct regular inspections and maintenance of your offices, supplies, and equipment. You should check carbon monoxide detectors, elevators to walkways, and evacuation routes. This will allow you to obtain any materials needed to maintain them before the storm is at your doorstep.
Here are a few winter storm preparations and precautions that can be made well in advance of a winter storm warning to protect your facilities:
Maintain all roofs and keep current with repairs
Check attics and weather stripping for leaks and add caulk as needed to gaps in insulation
Add pipe insulation to protect plumbing and prevent frozen pipes
Test your heaters, thermostats, and lighting systems
Ensure all smoke and carbon monoxide detectors are in working order
Check fuel lines and refill all necessary propane tanks as necessary
Develop a power outage backup plan
How businesses can prepare for winter storm power outages
One of the primary concerns during a winter storm is the loss of power. Winter storms often knock out power lines, and power outages and power surges can be disastrous for your people and business. A loss of power can hamper employee productivity, threaten employee safety, and impede vital business operations. And a power surge can lead to a devastating data loss if employees' work isn't automatically backed up.
While a power outage can be dangerous, there are a few winter storm preparations you can take to ensure your staff, space, and systems are ready for a power outage.
Before the storm hits, consider taking these preventative measures:
Keep a variety of portable chargers and battery banks on hand and charged
Install emergency lighting throughout the building, including all exit routes
Train employees on how to keep safe during a power outage
Get power surge protectors to protect expensive computer equipment
Invest in a backup generator
Implement a secure data backup solution to prevent data loss
Have a plan for communicating with employees across multiple channels (text, email, phone)
Step 5: Equip Your People
In addition to preparing your facilities for winter, you'll also need to properly prepare your employees and ensure they have the equipment and resources they need to stay safe.
Share tips for how employees can stay safe this winter, whether working from home or in the office. Review space heater and backup generator safety reminders. Make sure employees that work outdoors have adequate protective clothing and know how to recognize the warning signs of frostbite and hypothermia (e.g., lighter than normal skin on fingers, toes, cheeks, or earlobes). Any company vehicles should be serviced before the winter season to ensure the battery, tire tread, windshield wipers, and antifreeze levels are satisfactory. You'll also want to be sure employees have access to emergency supplies at home, at work, and while driving.
Keeping people informed
One of the most important aspects of winter weather preparedness is being informed and taking action as soon as it becomes apparent a weather event is going to impact your people. Fortunately, the National Weather Service provides ongoing, real-time information about weather events as they occur. You should know—and keep an eye out for—the three NWS severity distinctions for winter weather events.
Winter Weather Advisories are the least severe weather designation and suggest light wintery precipitation is expected, which could create slick conditions and impact travel.
A Winter Storm Watch is the National Weather Service's designation for storms anticipated to produce heavier precipitation resulting in snow, sleet, or ice.
A Winter Storm Warning is the highest severity designation and means there is a high level of certainty that a storm will produce snow, sleet, or ice.
Equipped with a modern threat intelligence solution, organizations can further bolster preparedness by leveraging real-time weather data in conjunction with location data and other sources to assess and predict the impact of weather events before they occur.
Stock up on winter safety essentials
When a severe winter storm hits, your people should be prepared to shelter in place for at least 72 hours. This means all employees should have access to an emergency supply kit at home and work with adequate provisions for three days.
Build an office winter weather safety kit and encourage employees to keep their own emergency supplies at home. At a minimum, these kits should include:
Flashlights and extra batteries
Battery-powered NOAA weather radio
Extra food and water
Extra prescription medicine
First-aid supplies
Emergency heat source (portable generator, fireplace, or space heater properly ventilated)
Fire extinguisher
Build a winter emergency kit for your vehicle
Of course, many employees don't sit at a desk and must travel for work—even during winter driving conditions. In addition to fully inspecting and servicing vehicles before the winter season begins, ensure employees who must drive as part of their job duties carry the following:
Blankets or sleeping bags
Sand or cat litter
Tow rope
Flashlight
Bottled water
Non-perishable food
Warm clothes (mittens, hats, boots, jackets)
Snow shovel, scraper, and brush
Cell phone charger
Defroster
Spare tire
Jumper cables
First-aid kit
Flares
Step 6: Keep Everyone Informed
Build a plan for how and with whom you will communicate when a winter storm hits. Have accurate contact information on hand for third parties you may need to contact. Depending on the various action plans you've identified, this may include clients, vendors, utility providers, your landlord, and your insurance company. Identify how you will disseminate storm-related information and maintain contact with employees during winter weather events. It's also important to consider how you will keep customers and suppliers informed of impacts to your business. They also need to know about things like office closures or delayed openings.
To communicate effectively, use technology to your advantage. Email alone isn't going to cut it, and phone trees are prone to human error and long delays. If you rely solely on these methods to communicate with employees, and a bad snowstorm causes a widespread service outage in your area—as is often the case—many employees may never get the message.
An emergency communication system—with features such as multichannel delivery, two-way messaging, pre-built communication templates, and easily updatable event pages—can help you ensure all employees receive the information they need, when they need it. Organizations can quickly and reliably disseminate information to employees about storm-related outages, closures, and safety information.
Winter Storm Preparedness Ensures Employee Safety and Business Continuity
Winter can have a chilling effect on employee safety, workforce productivity, and business operations. But it doesn't have to be that way. The good news is that you can predict and plan for the risks associated with winter weather. AlertMedia's modern emergency communication system and threat intelligence solutions make it easier than ever to respond immediately and effectively to the many hazards of winter storms. Doing so will help you mitigate or even eliminate the impact of those risks on your employees and your business. By taking these six steps to prepare your business, you can ensure employee safety and business continuity all season long.
Winter Weather Checklist
Get the actionable advice you need to prepare for, respond to, and recover from winter's critical events.