Safety and Security
Nov 02, 2021
Slips, Trips & Falls: Protecting Your Employees This Winter
Learn the steps every business should take to protect your employees and prevent dangerous and costly slips, trips, and falls at or around your workplace.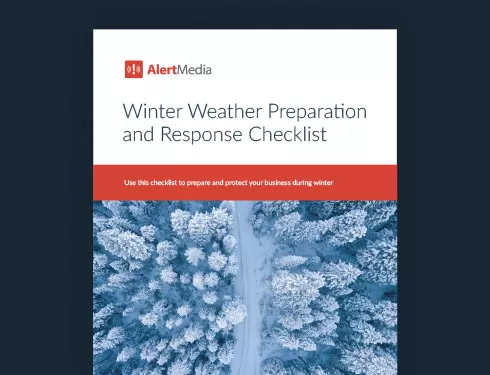 Winter Weather Checklist
Use this checklist to prepare and protect your business during winter weather.
Every year, many celebrate the return of cooler temperatures and snowy weather. However, as calendars turn from fall to winter, it also creates additional hazards in the workplace. Avoiding slips, trips, and falls caused by ice and snow is possible, but it does require proactive steps to ensure workplace safety. Even though these accidents are often preventable, they still account for a significant portion of workplace injuries.
According to the National Safety Council, slips, trips, and falls were the second most common workplace injury in 2019. They also accounted for 27.5 percent of occupational injuries requiring time off work. Typically, employees needed 13 days off work to recover. The most frequent type of injury associated with slips, trips, and falls were sprains, strains, and tears.
Injuries due to slips and fall incidents are the leading cause of ER visits in the U.S. And while slips, trips, and falls can happen at any time of year, winter weather conditions significantly increase the probability of these types of accidents. The latest statistics from the U.S. Bureau of Labor Statistics show that in 2017, over 20,000 workplace injuries linked to ice, sleet, or snow required employees to take at least one day off work.
Slips, trips, and falls are not only a significant issue when it comes to employee health and safety—these incidents are also very costly for businesses. For businesses, the costs of workers' compensation claims for workplace falls can average $47,681 per claim. Other impacts may include increased insurance premiums and a loss of productivity. Slips and falls are the main cause of compensation claims across all ages—and the number one cause of lost workdays.
This all adds up to mean that tackling the cause behind these accidents can have a tremendous impact on employee health, workplace safety, and the bottom line. In this blog post, we'll explore steps every business should take to prevent dangerous—and costly—slips, trips, and falls in the workplace.
What Are Slips, Trips, and Falls?
Accidents involving slips, trips, and falls are often collected into the same category, but there are key differences between the three:
Slips
When there's not enough traction between an employee's footwear and the surface they're walking on, their balance can be lost. Sometimes this loss of balance causes a fall.
Trips
If a worker hits an object with their lower leg, they can lose balance and trip. The momentum from their upper body, combined with the stationary lower body, can cause them to lose their balance. Trips can also occur when moving between two different levels.
Falls
These can be the result of a slip or trip. If the body's center of gravity isn't quickly corrected after a slip or trip, then the person will likely fall over. Falls are generally placed into one of two categories—same-level falls or elevated falls. Same-level falls are when someone falls onto the floor or against a nearby object, while elevated falls are when someone falls from above floor level, like from a ladder or scaffolding.
Slips and trips tend to be more common than falls, but their effects are usually less severe. While falls are less likely, they tend to come with more severe injuries. Once you've identified the most common causes of slips and trips within your business, you can put a plan in place to minimize the risks of both minor and major injuries.
Ensure your people and business are prepared for winter weather hazards with this downloadable checklist.
Most Common Causes of Slips, Trips, and Falls
In order to prevent slips, trips, and falls from occurring in the workplace, you first need to understand the common factors and hazards that contribute to these types of accidents.
Here are some of the most common causes of slips, trips, and falls:
Slips
Contamination from spills of wet or dry products
The cleaning process during removal of contaminants
Employees rushing, not looking where they're going, or carrying objects
Flooring (like marble) that is less slip-resistant
Poor lighting that makes identifying hazards more difficult
Inappropriate footwear without sufficient tread
The transition from one floor surface to another
Trips
Obstacles or obstructions in walkways
Cables, hoses, or extension cords
Unmarked steps and ramps
Unlevel floor surfaces
Irregular stairs or railings
Carpeting, rugs, or floor mats with wrinkles or lifted edges
Falls
If a slip or a trip is extreme enough, an employee can lose their balance and fall over. The risks of injuries like sprains, lacerations, fractures, and even fatalities can then increase.
Falls can also occur from elevated workstations or overhead platforms. The fatal injury rate of falls and slips is highest in the construction industry. Other industries with employees at a higher than average risk of fall hazards include first responders, disaster response, snow crews, tradespeople, and anyone else who works outside or at heights.
Winter-Specific Causes
Injuries are one of the most common winter weather hazards. While slips, trips, and falls can happen all year round, these accidents significantly increase when the cold and snow set in. Some of the specific contributors to the rise in slips, trips, and falls during winter include:
Snowmelt from wet footwear, creating a slip hazard inside
Icy or snowy surfaces outside
Employees slipping when rushing to get out of the cold
Falling when getting out of the car
How to Prevent Slips, Trips, and Falls
The most effective way to prevent slips, trips, and falls is to follow this three-step process:
Recognize the hazard
Some hazards can occur all year round while others may be specific to winter weather. Do your employees live or work in regions prone to severe weather? Are there icy walkways after a particularly cold night? Have employees walked into buildings with snowy footwear, leaving wet patches in passageways?
Evaluate the hazard
How severe is the hazard? How many employees will be exposed? Do any of your employees work outdoors or at heights? What's the likelihood of the hazard leading to slips, trips, and falls? Is the hazard made worse by bad weather?
Control the hazard
This can involve engineering controls, like adding barriers to isolate hazards. It may also include administrative controls like regular maintenance and cleaning or providing additional personal protective equipment (PPE). Additional fall prevention training may also be relevant for employees working on elevated platforms.
You may want to create a checklist with specific checks for each workplace area within your facility, including if any corrective actions to control hazards need to be taken.
Keeping Your Employees Safe
Before winter rolls around, make sure you and your employees are already prepared and aware of the extra risks that cold weather brings. You can minimize the risks of winter weather injuries by making sure your employees know how to work safely in cold weather. Implementing winter driving policies and lone worker safety monitoring also ensures everyone knows how to stay as safe as possible.
The prevention tasks below are great for preventing slips, trips, and falls all year round, but they also include winter-specific measures for when appropriate.
Footwear
Research shows that 24 percent of slips and falls are caused by incorrect footwear. Make sure your employees are wearing proper footwear with slip-resistant soles and good traction all year round. Insulated boots are recommended in winter. Rubber boots with a good tread pattern can also be useful.
Signage
At any time of year, it's important to put warning signs out. If floors are contaminated by spillages or dust—put a sign up. During winter, place signage around icy areas. Remember to remove signs once a hazard has been controlled. Otherwise, employees may ignore signs when it's clear there's no hazard, and then slip or trip the next time the hazard is present because they're not paying attention.
Good housekeeping
The majority of slips and falls happen on wet or contaminated floors. Make sure that any slippery surfaces are cleaned up swiftly. Place absorbent mats at entryways. Bear in mind these need to be inspected regularly so they don't become a trip hazard.
Walkways should always be kept free from clutter. Clean up any trip hazards immediately. Permanent passageways need to be clearly marked. Handrails should always be provided on stairways, as well as along open-sided walkways or platforms.
Winter maintenance
Walking surfaces should be checked for snow and ice and cleared frequently. Putting down ice melt or grit on icy surfaces should be done when necessary. Plan ahead for snow removal so that pathways are cleared ahead of time. If some pathways are consistently dangerous during cold weather, can you put a safer route in place?
Indoor surfaces may become wet as workers come inside wearing footwear that's covered in snow. You may need to increase the frequency of cleaning or add absorbent mats at entryways. For persistent issues, consider upgrading to a more slip-resistant flooring.
Lighting
Make sure pathways are well lit at all times, both indoors and outdoors. Lack of sufficient lighting can make it very difficult to identify winter hazards like black ice.
Awareness
Make sure your employees know how to navigate winter hazards safely. Remind them to take more care at this time of year. For example, the Occupational Safety and Health Administration (OSHA) recommends advising employees to take shorter steps at a slower pace when navigating surfaces covered in snow or ice.
Other winter safety tips include keeping an eye on the weather conditions, and halting any outdoor work if the conditions seem unsafe. This is especially important for work at elevated levels where there's a higher risk of falls during winter weather.
Fall prevention training can also be useful. This may include tips like tucking your chin to your chest, and not breaking a fall with your arms. Consider signing your employees up for a webinar on how to prepare for winter weather to help them feel fully prepared.
Don't Slip Up This Winter
By thinking ahead and considering which hazards employees may encounter and how you plan to control these, you can stay one step ahead of winter weather. Maintaining an open dialogue about workplace safety practices is also one of the best ways to prevent avoidable accidents over winter. Creating and implementing an emergency communication plan, for example, can help you rapidly notify workers of any winter weather that may increase the risk of accidents.
Using multichannel emergency communication software can help you quickly share critical, time-sensitive information—such as storm warnings or facilities issues. And by using a solution with two-way communication capabilities, you can also swiftly identify and communicate with any employees that may be injured or in need of assistance. By planning ahead and focusing on communication, you can keep your employees safe and steady on their feet, whatever the weather.
Download Our Winter Weather Checklist
Use this checklist to prepare and protect your business during winter weather.