Safety and Security
Jan 26, 2021
Winter Driving Safety Tips for Employees (+ Policy Examples)
In this blog post, we'll explore how organizations can protect employees driving in snow and inclement weather.
Key Feature Guide
See how easy it is to identify potential risks, see who is impacted, and inform the right employees—all from a single platform.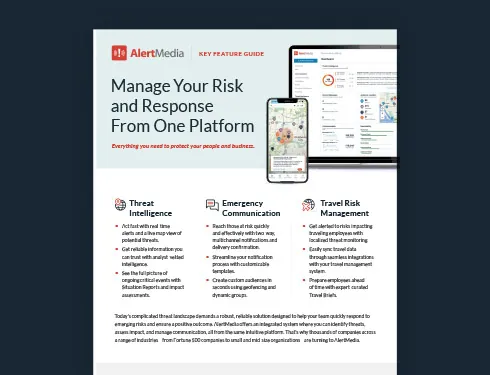 Winter is bringing with it unpredictable weather and hazardous road conditions that increase the risk of accidents, property damage, injuries, and fatalities. While organizations often meticulously prepare their facilities for winter weather, winter driving safety is commonly an afterthought. And yet, driving is one of the highest-risk activities that an employee can undertake. Snowy and icy conditions account for nearly 40% of weather-related vehicle crashes annually, injuring more than 100,000 people in the U.S. each year.
Employers have a duty of care to ensure employees are safe when driving for business, and treacherous winter road conditions call for a heightened duty of care. Even though fewer employees are commuting this winter due to the rise of remote work amid COVID-19, mobile, field-based employees and essential workers must still travel the roads for work. And while winter road conditions may be unavoidable, every employer can take certain precautions to minimize the risks and promote safe winter driving.
This blog post will explore how organizations can protect employees driving in snow and inclement weather. By proactively preparing your people and their vehicles for winter road conditions—as well as implementing a safe winter driving policy—you can keep employees safer when navigating wintry weather.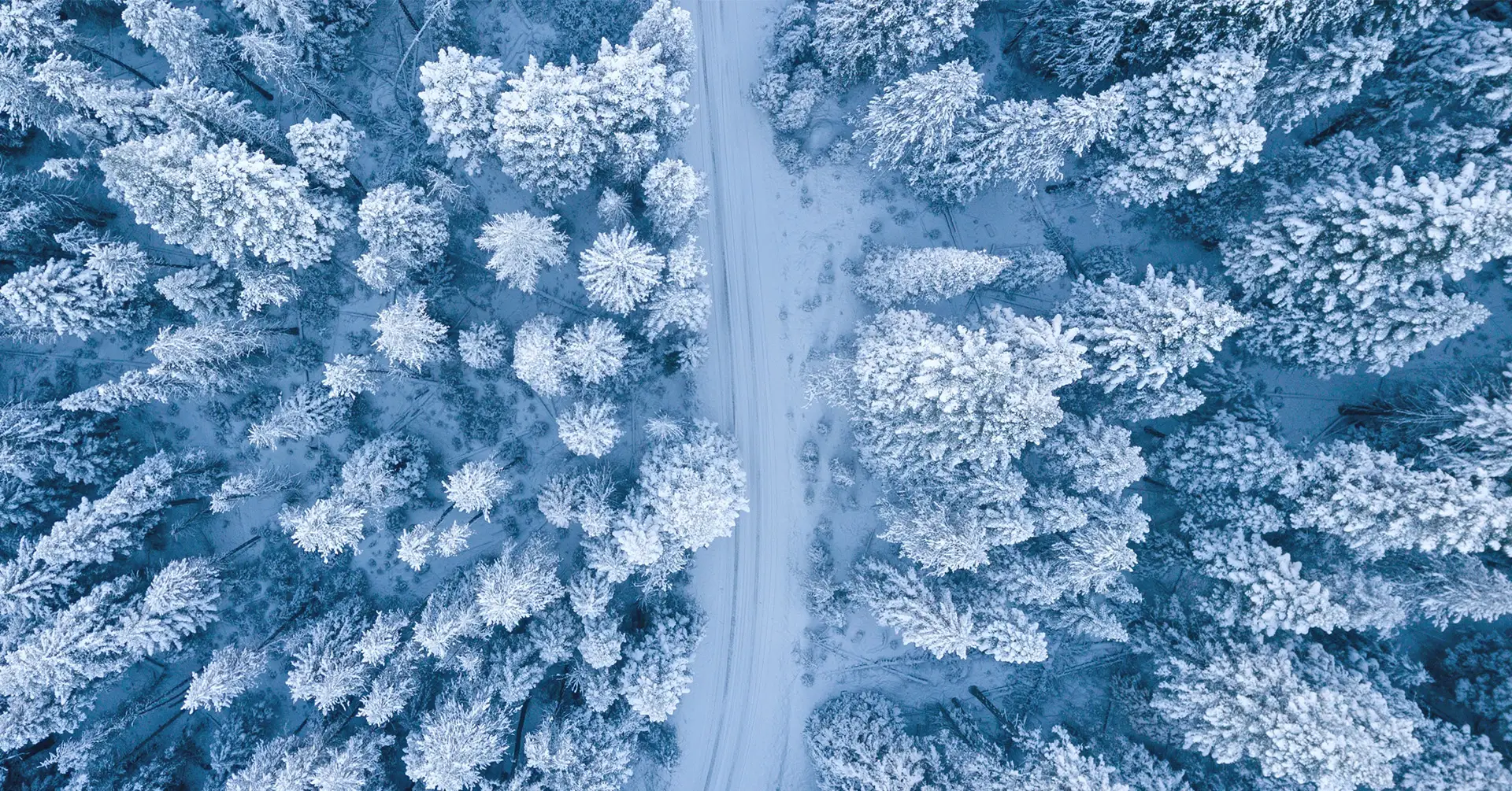 Winter Weather Preparation and Response Checklist
Learn How to Keep Your Business and People Safe With This Winter.
The Dangers of Winter Driving
Driving on ice and in snowy conditions can be challenging for even the most experienced drivers, but those aren't the only winter road hazards that can threaten employee safety. Snow, sleet, ice, rain, and plummeting temperatures all have a broad and significant impact on winter driving safety.
Most common threats to winter drivers
From car accidents to being stranded in the cold, winter weather amplifies the chances of something going wrong on the road.
In addition to the increased risk of slips, skids, and accidents that come with snow driving, some of the most common winter driving threats include:
Black ice: The thin, transparent layer of ice that forms on road surfaces is nearly impossible to see, making it extremely dangerous to drivers.
Human error: Overconfidence and inexperience can lead drivers to brake, accelerate, and drive too quickly for winter road conditions.
Poor visibility: Rain, hail, dense fog, snowstorms, and blizzards all can have a severe effect on road visibility, making drivers more prone to car accidents.
Low fuel: Aside from causing costly vehicle damage, driving on low fuel in winter can strand employees if severe weather snarls traffic.
Battery failure: When freezing temperatures hit, a dead battery can leave employees in the cold if they aren't equipped with the proper tools and knowledge.
No Region Is Immune to Winter Road Conditions
Nearly 70% of the U.S. population lives in regions that receive more than five inches of snow annually. But it's not just employees that live in these snowy regions that need to be concerned about winter driving safety.
One surprising study found that Southern states like South Carolina and Texas are actually more dangerous for winter driving than snowy New England states like Massachusetts, Rhode Island, and Connecticut. Even in locales where you're more likely to spot a unicorn than a snowflake, roads can be made extremely hazardous by rain, hail, and fog in the winter. In fact, more than 900,000 people are injured annually in crashes on wet pavement or during rainfall.
While an inch or two of snow in the Northern states may be considered a light dusting, it can wreak havoc and shut down entire cities in the South. Southern states don't typically have snow plows and salt trucks at the ready, and many Southerners simply aren't as prepared for snow driving. Drivers in snowier climates are more likely to invest in snow tires and all-wheel-drive vehicles and are often much more familiar with safe winter driving techniques.
4 Winter Driving Safety Tips to Protect Employees
Although employers can't control the weather or roadway conditions, there are steps they can take to promote safe winter driving among their employees. From ensuring vehicle readiness and educating employees to leverage emergency communication technology, appropriate precautions can greatly reduce the risks of winter driving.
1. Winterize employee vehicles
One of the first and most important steps employers can take to facilitate safe winter driving is ensuring employee vehicles are properly serviced and maintained before the winter season begins. Vehicles should receive a full tune-up and be checked for any manufacturer recalls. When serviced by a qualified mechanic, special attention should be paid to the car battery, windshield wipers, lights, cooling system, and tire tread.
In addition to preparing vehicles to handle the ice, snow, and cold, employees should also have emergency supplies in their vehicles should they find themselves stuck or stranded in winter weather.
What emergency supplies should employees carry in their cars?
At a minimum, a winter car emergency kit should include:
Snow shovel, broom, and ice scraper
Sand or kitty litter
Jumper cables
Flashlights, flares, and emergency markers
Blankets
Cell phone with charger
Extra food and water
2. Reduce distracted driving
Distracted driving has always been a safety concern, but paired with winter road conditions it is even more dangerous. And with so many things on our minds right now—the pandemic, a tumultuous political climate, and an economic fallout—we are more distracted as drivers than we think.
Even though we have fewer people on the road because of the COVID-19 pandemic, distracted driving is more of a safety threat than ever. In fact, a study by the National Safety Council found that although there were fewer cars on the road and 17% fewer miles being driven in the first six months of 2020, there was a staggering 20% increase in motor vehicle death rates.
Reducing distracted driving in your organization starts with building a safety culture rooted in employee education. Sending a text, picking up an object on the floorboard, or fitting in a quick bite on the road are all seemingly innocuous driver behaviors that can have deadly consequences. To help employees understand the true impact of distracted driving, consider asking a distracted driving victims' advocacy group to share their personal and moving stories with members of your organization.
While many states have laws against texting and talking on a cell phone while driving, employers should also reinforce this safe driving practice. Using a phone while driving causes 1.6 million crashes every year, and cell phone use is responsible for 14% of fatal crashes. A strong safety policy that includes a section on distracted driving—which mandates electronics-free driving—is critical. To incentivize safe winter driving, organizations can also use apps that reward drivers for not speeding or driving distracted.
3. Automate threat intelligence and monitoring
Winter driving safety hazards can be especially difficult for organizations to prepare for because they are typically hyper-local and emerge with little warning. Keeping track of the threats to your local office is one thing. But what about employees on the road, potentially traveling across a large geographic region? When employees must drive to carry out their duties, it's not enough to track winter weather threats in one location—you need to be able to track all of the threats your people may face, wherever they may be.
Unfortunately, manually tracking winter road conditions for every location employees may travel through is simply not feasible. For this reason, many companies turn to technology to automatically track winter driving threats. Using a specialized global threat intelligence solution allows organizations to monitor winter-driving threats that may impact employees, anywhere in the world. The software cross-references a constantly updating global database of threats against your employees' real-time locations. As soon as a threat emerges that could impact one or more of your employees—say, a blizzard starts to form that could impact your fleet drivers traveling through the Midwest—the software will immediately send you a warning, telling you which employees are impacted. You can even have the software automatically warn those drivers directly.
4. Communicate smarter
Email and phone trees are not enough to keep employees connected during winter months, especially when they are away from a desk. Emergency communication software enables the fast, reliable delivery of mass notifications to your people, regardless of where they are or what device they are using. A modern mass notification system—with features such as multichannel delivery, two-way messaging, and interactive maps—can help you more effectively communicate with employees about winter road conditions. It can also be used to share helpful winter driving safety reminders, such as reminding employees to reduce driving speeds during cold weather, avoid slamming on the brake pedal, keep their gas tank at least half full, and always remove all the snow from their vehicle before going anywhere.
As one example, Greyhound Lines uses mass communication software to stay connected with its entire fleet of bus drivers nationwide. Using multichannel message delivery—which includes phone calls, text messages, emails, and more—Greyhound can instantly reach all of its drivers with pertinent inclement weather notifications. Two-way messaging that includes audience communication features like read receipts, surveys, incoming messages, and notification replies also allows Greyhound to communicate more reliably with its dispersed, mobile workforce. And with dynamic groups based on region, Greyhound can even communicate with geographically targeted groups of drivers on an as-needed basis, so drivers may be quickly notified of relevant winter driving safety threats.
How to Create a Winter Driving Safety Policy
A safe winter driving policy is a formal document that defines how a company's employees should drive personal, company-owned, or rented vehicles to keep themselves and others safe on the road. By implementing an effective winter driving safety policy, you can build a strong safety culture and reduce the risk of accidents, injuries, and fatalities this winter.
What to include in a winter driving policy
All organizations with mobile or field-based employees should implement a winter driving safety policy that clearly outlines expectations for safe winter driving, and the consequences should employees violate the policy. The policy should also communicate safe winter driving procedures and what employees should do in the event of an emergency. Be sure to also share where employees can receive additional training should they feel inexperienced or unknowledgeable when it comes to driving in snow or ice.
Consider including the following in your winter driving safety policy:
Driver qualifications and training requirements
Vehicle maintenance and operation rules
Safe winter driving practices and behaviors
How to report an accident and receive assistance on the road
How compliance will be monitored or evaluated
Consequences of non-compliance (and incentives for compliance, if applicable)
Sample winter driving safety policies
Ready to get started writing your policy? Here are two free winter driving safety policy templates, ready to be downloaded and tailored to your company's needs:
Policy Template #1 — Shift Into Winter 
Don't Leave Your People Out in the Cold
Battling shorter daylight hours and adverse weather conditions, winter can be challenging for anyone—especially those employees that have to drive to, from, or for work. Ensuring your people are ready for dangerous winter road conditions by preparing their vehicles, providing real-time weather-related updates, and giving them a lifeline to help when they need it is every employer's responsibility. Even when employees work or travel alone, effective communication lets them know they're never really on their own. In winter, it can also mean the difference between an employee safely arriving at their destination and ending up stranded on the side of the road—or worse.
Winter can be cold, dreary, and socially isolating, but a mass notification solution with threat intelligence capabilities can keep the communication flowing between you and your employees. By leveraging emergency notification technology to share safe winter driving practices and communicate relevant safety threats, you can keep employees safe, informed, and connected all season long.