Communications
Nov 09, 2017
Introducing Event Pages: Why They'll Revolutionize Your Critical Communications
Event Pages significantly reduce the amount of time and energy required to provide important information during an ongoing critical event while simultaneously ensuring the right messaging gets to the right people at the right time.
Key Feature Guide
See how easy it is to identify potential risks, see who is impacted, and inform the right employees—all from a single platform.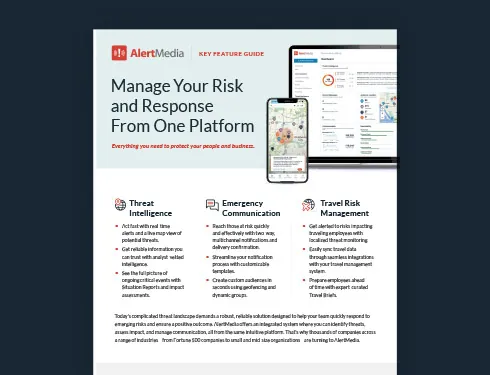 Event Pages Make Organizational Communications More Efficient
Whether it's an emergency or a non-critical event, ongoing communications with employees is often necessary. AlertMedia is known for mass notifications, but we also support efficient communications throughout the life of any event – from planning through resolution.
AlertMedia recently unveiled its newest feature – Event Pages. This new event information hub can be found on your AlertMedia dashboard and can be utilized as a powerful, real-time two-way communication tool for administrators and employees to share pertinent information. Event Pages provide a single place to find everything related to a specific situation, with current and archived updates, documents, videos and photos, and resolutions.
Here's How Event Pages Work:
In the event of an emergency or event where administrators will be continually providing updates, admins can create an Event Page with its own shareable link
Employees receive a notification with a link to the Event Page. This notification can be sent through any and all of the AlertMedia channels selected by the administrator, such as SMS text, email, and app push notification.
When employees visit the Event Page, they can see the latest updates relevant to the crisis or non-emergent situation.
Admins can choose whether or not to send employees instant notification of an update
Admins can direct notifications to segmented employee groups or the entire employee base
Here's What Admins Can Do on Your Event Page:
Provide specific, ongoing updates and details about the event
Post photos and videos, including weather radar loops, traffic maps, and approved employee-submitted images
Upload important documents, such as emergency evacuation routes and policies and procedures
Post selected employee comments and responses, similar to social media comment streams, in order to share information and frequently asked questions with employees
Transform Communications With AlertMedia Event Pages
Internal communications have evolved beyond phone and email. If your organization is relying on outdated channels that are slow, cumbersome, and manual, it's wasting time and introducing unnecessary risk that could impact the lives of every employee.
Whether a natural disaster, a power outage, or any large event with many moving parts, it's critical to streamline and centralize communications. Event Pages offers organizations the ideal platform to leverage the power of two-way communication in order to keep employees updated with up-to-the-minute information about any situation or event. Because administrators always have control over what is posted to the Event Page, the flow of information can be censored, if necessary, to ensure only what is relevant and helpful is posted for employees to see.
Instead of employees calling or emailing their organization or other employees for information, or worse, being left in the dark, they can continually visit the provided Event Page link for details or receive instant notifications of any updates to the Page. These notifications are automated, making it much easier and efficient for organizations to keep employees informed every step of the way.
Employees value such relevant and timely communications. They expect their employers will keep them updated, provide critical life-saving guidance, and give them instruction on what to do next – without having to jump through hoops to get it. Event Pages significantly reduces the amount of time and energy required to provide such information, while at the same time, ensuring the right messaging gets to the right people at the right time.
Want to Learn More?
We are excited to introduce Event Pages to our customers and illustrate to future customers just how powerful our mass communication software is. Of course, if you'd like to see it in action, we'd love to show you a demo.
No matter how mature your internal communications tools are, it's worth the time to see how much better they can be when they are automated, streamlined, centralized, instant, and multi-channel. AlertMedia and Event Pages make communications faster, easier, and more effective than anything else on the market.