Safety and Security
Jan 05, 2021
How to Keep Your Remote Employees Safe and Connected This Winter
Keep your remote employees safe, productive, and engaged this winter with these safety best practices.
Key Feature Guide
See how easy it is to identify potential risks, see who is impacted, and inform the right employees—all from a single platform.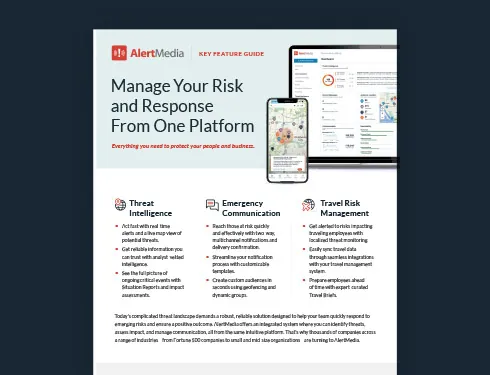 Winter Weather Preparedness Kit
Download this kit to prepare for every winter weather event your business may face.
For millions of employees around the world, the beginning and end of each workday are now less about the hours spent at home vs the office and more about how each person decides to balance time thinking about their personal or professional lives. The once familiar ritual of a morning and evening commute spent fighting against traffic congestion or jockeying for a seat on the subway has been condensed to a quick jaunt down the hallway to a kitchen table or converted bedroom with a makeshift desk. Welcome to the era of remote work.
With employees now dispersed across hundreds—if not thousands—of home offices, employers are wrestling with a new set of questions related to keeping people safe, establishing healthy work-life balance, and ensuring business continuity. Additionally, as portions of the country brace for typical winter challenges—from severe weather and power outages to seasonal affective disorder—people leaders are asking themselves how to best meet duty of care responsibilities and stay connected with employees during a winter unlike any other in history.
In this post, we'll further explore the rise of remote work, current sentiment from employees, and long-term implications for organizations and leaders responsible for the safety of their people as we navigate the winter season.
The Rapid Rise of Remote Work
Given the year we've just experienced, it's easy to forget that in the not-so-distant past, fully-remote employees were an anomaly. In fact, before the pandemic, fully-remote jobs were typically reserved for self-employed individuals, gig economy workers, and a few forward-thinking companies built around the concept of 'work from anywhere' distributed teams.
As recently as 2018, research conducted by Global Workplace Analytics found that only 5 million employees—or roughly 3.6 percent of the U.S. workforce—worked from home more than half of the time. While remote work has grown in recent years and the study also found that 43 percent of employees worked remotely at least some of the time, it's clear that the vast majority of employees were ill-prepared for the overnight transition to a fully-remote workplace.
Nearly a year after the pandemic forced employers to shut down non-essential facilities in order to keep people safe from the virus, remote work now looks like it's here to stay with some companies appointing chief "remote working officers" to manage remote workers full time.
For evidence, look no further than new research by Upwork that found:
1 in 4 Americans will be working remotely in 2021
By 2025, 36.2 million Americans will be working remotely—an 87 percent increase compared to pre-pandemic figures
62 percent of hiring managers say they expect their employees will work remotely more often moving forward
The report's findings underline a broader shift in employees' desire for more work flexibility and increasing comfort level with working remotely.
Image Source: Harvard Business Review
Unfortunately, remote work has also introduced a slew of new challenges for both employers and their people. In the next section, we'll delve into some of the most common issues impacting remote employees this winter.
Winter Business Challenges for Remote Employees
For many businesses, winter storm preparation is part of an annual planning process designed to keep the business and employees aware of major weather events with the potential to impact operations or personal safety. Additionally, businesses are accustomed to an uptick in employee illnesses during cold, winter months as a result of flu season and more time spent inside near others.
But with the pandemic altering normal movements and employees now working from home offices and other remote locations, businesses must now account for a slew of new challenges and winter-related safety concerns to keep people safe.
Heightened risk of illness
While the availability of a COVID-19 vaccine provides a glimmer of hope, employers are bracing for several more months of remote work before employees can safely return to work. Unfortunately, like the seasonal flu, research indicates that the arrival of winter is likely to accelerate the rate of transmission due to the virus' ability to survive longer in cold, dry air and low humidity. In a recent article, Dr. Rossi Hassad, epidemiologist and professor at Mercy College, identified another factor that could contribute to a heightened risk of contracting COVID-19 during winter: lack of sunlight.
"Vitamin D is produced in the skin during exposure to sunlight and has been shown to have a protective effect against respiratory tract infections by being positively correlated with immune health. The level of vitamin D may be depleted during this COVID-19 pandemic and the winter due to increased indoor activity and reduced exposure to sunlight." — Dr. Rossi Hassad, epidemiologist and professor at Mercy College
Mental health concerns
After a tumultuous year marked by economic uncertainty, civil unrest, and unexpected work-life pressures, new research also shows that a larger than normal percentage of employees are experiencing heightened levels of stress, anxiety, and fear about what 2021 may have in store.
According to a recent survey by the Kaiser Family Foundation, 51 percent of respondents said their mental health has deteriorated because of the pandemic. Additionally, the survey found:
More than half of U.S. adults believe the worst of the coronavirus outbreak is yet to come—up from 38 percent in September.
68 percent of respondents are somewhat or very worried that they, or a family member, will get sick from the virus.
As a result, organizations are increasingly investing in new tools and techniques to better equip managers to support employees' mental health and overall well-being.
Productivity and connectivity issues
Finally, while employees have embraced the additional flexibility—and lax dress codes—of working from home, many have also noted the stark contrast between the high-speed, reliable connectivity of the office and the technologically inferior, distraction-rich home office environment.
In its 2020 Future of Remote Work report, Upwork found that technical issues and increased distractions were the most cited issues by remote employees during the pandemic.
Ways Employers Can Keep Remote Employees Safe This Winter
For all of the reasons above, winter can be a daunting time for employees and employers alike. Luckily, there are several things you can do to proactively keep your remote workers safe and connected during the colder months ahead.
Stay ahead of potential risks with real-time threat intelligence
Keeping employees safe and informed during emergencies and other critical events is difficult under any circumstances, but it's exponentially more difficult when you're unprepared and reactive.
Real-time threat intelligence and monitoring allow you better track events with the potential to impact your people by automatically telling you what's happening at any given moment in all the locations where your people are working. With remote employees spread across hundreds of different locations and many choosing to work from alternative locations during the pandemic, robust threat intelligence helps employers identify and communicate relevant threats to employees based on their current location, not a static address.
Ensure critical messages are seen with multichannel notifications
For many employees, staying on top of the onslaught of incoming emails and notifications can feel like a job in and of itself. Campaign Monitor estimates the average office worker receives 120 emails every day which is still only a small fraction of the estimated 124 billion business emails sent or received daily. With email accounting for only a portion of the messages employees receive, it's increasingly unreliable as a communication channel—especially for the most critical information.
A multichannel emergency notification system enables safety leaders to reach people through a variety of communication channels—including voice, text, Slack, mobile push notifications, and more—ensuring that information is received quickly during emergencies and other critical events.
In situations impacting employee safety (e.g. an approaching winter storm) or when email access is limited (e.g. network or power outages), the ability to communicate over multiple channels is vital to keeping employees safe and informed.
Engage remote employees using two-way communication tools
During fast-developing winter storms and other critical events, reliably delivering information to impacted employees is vital. But, once they receive it, it's just as important that organizations be able to determine who is at risk or in need of additional assistance.
Any modern mass communication software should offer real-time, two-way communication tools like read receipt confirmations and surveys that provide a feedback loop after messages are sent. By providing employees the ability to quickly signal for help from any device, organizations can dramatically accelerate response times, account for employees' whereabouts and safety, and more effectively direct resources to those in need.
Accelerate communication during critical events with communication templates
While winter weather can create a wide range of business disruptions and risks to employee safety, many winter-related scenarios that impact remote employees can be anticipated—and prepared for—in advance.
Long before the calendar turns from fall to winter, organizations can assume one or more of the following scenarios will occur once colder weather arrives:
Winter storms requiring proactive communication about safety risks
Changes to business hours due to icy roads or other unsafe conditions
School closures that may require additional accommodations for working parents
Power outages that disrupt remote worker productivity
Network disruptions caused by internet service provider (ISP) outages during winter events
An increase in COVID-19 or flu cases resulting in workforce shortages or the need for additional safety measures
Leveraging communication templates is a great way to improve your organization's preparedness and response times to any of these scenarios. Not only can emergency notification templates help you communicate faster if and when an event occurs—they are an essential component of planning, helping safety leaders think in advance about what, how, and to whom messages should be shared.
How AlertMedia Customers Keep Remote Employees Connected
Franklin Mint
Prior to switching to AlertMedia, Franklin Mint Federal Credit Union (FMFCU) used an antiquated emergency mass notification system to alert employees of critical events, including winter weather advisories. Unfortunately, the system was often unreliable—leading to employees never receiving critical communications from the company, putting them at unnecessary risk.
Within hours of migrating to AlertMedia, FMFCU was able to leverage AlertMedia's two-way communication capabilities and multichannel delivery options to provide updates to employees on any device while also allowing them to ask questions and subscribe to updates about ongoing weather-related events.
Rockland Trust
Similarly, leaders at commercial banking institution Rockland Trust have found success using AlertMedia to more easily and effectively communicate with impacted employees in advance of winter storms.
When inclement weather forces Rockland Trust to alter its branch hours, or in situations where employees require additional assistance, leaders leverage AlertMedia's ready-to-use, pre-built notification templates and segmentation capabilities to direct targeted messages to employees in the impacted area.
During one recent major storm, many of Rockland Trust's retail branches had no power or internet connectivity, and remote employees' residential power was in question as well. With AlertMedia's multi-channel, two-way communication capabilities, the organization was able to ensure message deliverability, keeping employees safe and up to date.
Don't Leave Remote Employees Out in the Cold
With employees likely to continue working remotely for months—if not years—to come now is the perfect opportunity to evaluate your employee communication process and assess how your organization can better prepare and respond to whatever winter has in store.
Your employees will appreciate your investment in their safety, and your organization will be better off having a plan instead of merely hoping you aren't left out in the cold the next time there's a critical event.