Emergency Management
Dec 17, 2020
Business Resiliency in 2021 [Webinar Recap]
On December 16th, AlertMedia hosted a live webinar about how organizations can prepare for a new year of unpredictability and change. Read the recap and watch the on-demand version of the webinar to learn the steps that your business can take to remain resilient in 2021.
Key Feature Guide
See how easy it is to identify potential risks, see who is impacted, and inform the right employees—all from a single platform.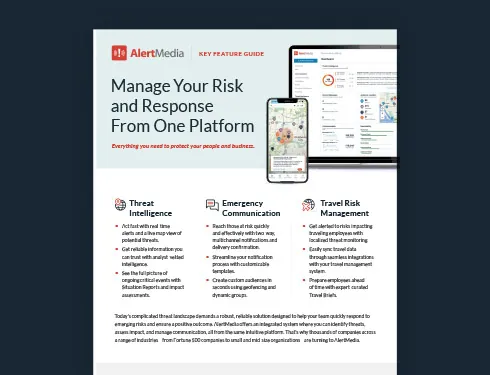 On December 16th, AlertMedia hosted a live webinar on preparing organizations for the new year. The webinar was led by Larry Delfiner, Director of Facilities and Business Resiliency for States Title, and Peter Steinfeld,  SVP of Safety Solutions at AlertMedia. Larry is an expert in leading business continuity and disaster recovery initiatives for both startups and global enterprises and Peter has helped countless organizations improve their emergency preparedness during his two decades working in the emergency communication industry.
Larry and Peter began the discussion by reflecting on the past year and going over what organizations learned about emergency management after dealing with the many curveballs of 2020 from the COVID-19 pandemic and civil unrest to severe weather events and economic uncertainty.
If you missed the webinar, you can access the recording here.
Recapping 2020 Challenges and Lessons Learned
While we are all hopeful 2021 will bring fewer challenges than 2020, this year has made it clear that preparing for worst-case scenarios must also include preparing for concurrent events.
Challenges impacting employees 
COVID-19:

With over 60 million cases worldwide and 1.5 million deaths, the impact of the pandemic will be felt for many years to come. In addition, COVID-19 fundamentally altered the way businesses think about work, ushering in a new era of

remote work

.

Severe Weather:

Historically active wildfire and hurricane seasons in 2020 presented unique challenges for organizations and posed threats to their property and people, highlighting the importance of emergency preparedness.

Civil Unrest:

Protests, riots, and lootings across the United States created risks to employee safety and business continuity this year. Because civil unrest can be unpredictable, creating a response plan ahead of time is essential, even if it seems unlikely in your area.

Economic Uncertainty:

2020 saw an economic downturn among the world's largest economies. In the United States, specifically, consumer confidence declined due to concerns about the pandemic and the labor market. Industries like travel, entertainment, and hospitality are some of the hardest-hit and will likely take years to recover. 

Mental Health:

Often overlooked, mental health has been steadily worsening across all demographics in the United States, with the pandemic causing a spike across the board. According to

Mental Health America

, the rates of moderate-to-high anxiety and depression are higher than ever. Loneliness and isolation are the two most impactful triggers of these findings, and organizations have responded by finding

ways to ease employee anxiety.
Challenges impacting operations
Supply Chain Disruptions:

Organizations are facing altered supply chains with the potential to disrupt their ability to deliver goods and services and maintain productivity. In a recent survey, over 80% of businesses reported that demand for their products has decreased during 2020. Additionally, manufacturers have experienced longer lead times to source materials and parts. 

Communication Challenges:

Remote working has altered company communication, making it harder but more important than ever to effectively collaborate with team members despite not being in the same room.
Looking Ahead: What to Expect in 2021
Larry's advice for 2021 is to adopt a proactive mindset by focusing on what your organization can control (such as complacency, communication, and resources) to plan for the events that are out of your control. Although no organization can predict the weather, government policies, or the spread of diseases, Larry stressed that every company should put plans in place that mitigate the impacts of unforeseen events. He also recommends sending mass communication quarterly to keep employees informed about safety training, potential threats, and to collect feedback via surveys or direct responses.
"In 2021, we need to stay vigilant. It's how we prepare for threats and how we direct our resources that will ensure the safety of our people."

- Larry Delfiner
Director of Facilities and Business Resiliency for States Title
Exercises and advice to improve business resiliency in 2021
When it comes to business resiliency and emergency planning, the priority is employee health and safety. While conversations about business continuity often revolve around financial impacts, planning and preparedness have a direct impact on a business and can save lives during emergency events. 
Here's another way to think about the importance of preparation and how it relates to business resiliency. When you have a plan you: 
Are better able to keep your people safe

:  This is the single most important thing anyone can offer their organization.​

Help reduce the number of potential threats to your business:

By thinking through various points of exposure and risk, then documenting policies and procedures to address them, you can reduce the overall risk profile of your organization.

Prevent financial losses:

Want to endear yourself to the CFO? There is no better way to do so than helping to reduce financial risk to the business.​

Ensure your organization can recover quickly:

This also includes making sure you have a reliable way to communicate so that your people are informed and know what they need to do during every phase of the event.​

Create a great reputation:

A resilient organization with solid response and recovery plans has happier customers and can retain clients through a major event.​
Re-evaluate your business resiliency plan
The first thing Larry recommends organizations to do as 2020 comes to a close is re-evaluate their existing program. He suggests every plan should account for the "Five D's."
Denial of people:

Prior to COVID, most companies were ill-prepared to support a remote workforce. While many have drastically improved their technical infrastructure since March, communication remains a challenge and there are a number of safety and

duty of care considerations

that employers are still working to resolve. Whether it's the pandemic or any other critical event, it's important to understand what scenarios could impact employees' ability to perform their duties and which job functions are most vital to delivering goods and services to customers.​

Denial of partners:

Organizations are inherently complex, so it's easy to overlook partners when thinking about the potential risk. That said, a partner experiencing disruption to its business is often just as detrimental to yours as anything you can control and plan for. Supply chain constraints earlier this year had a sizable impact on the manufacturing sector, for example. For that reason, as a best practice, you should understand who each of your partners is and what role they play in your ability to serve customers.

Denial of facility:

One of the biggest unknowns for 2021 is if and when employees will return to the office and what accommodations will be necessary to keep them safe. This will require coordination among leaders across the business to make sure those that are required to be in the office can do so safely while also providing remote workers the support they need to be productive.​ To prepare for events like power outages and earthquakes, businesses should identify potentially vulnerable worksites and create backup plans in case a site or region goes offline.

Denial of technology:

 No one knows exactly what 2021 will look like, but what we can anticipate is the need to communicate early and often about a wide range of events. From IT outages to cyberattacks,

​

preparing for technological issues across your team can prevent business disruptions and keep your workforce productive wherever they are located. To do this effectively, company leaders must have a mechanism to reach people during a crisis. A modern emergency communication platform like AlertMedia is built for those scenarios

.

Denial of brand reputation:

It takes years to build a reputation and only minutes to tarnish it. How your organization reacts to a crisis directly influences how your employees, customers, and partners perceive your brand. If you take this seriously and lead by example, they will notice.​
Once you've gone through the process of re-evaluating your business resiliency plan, take your results and apply them to the year ahead. Analyze what risks will affect your business and create a proactive business resiliency plan instead of reacting to crises. Planning in advance will allow you to reassess your current plans, get buy-in from leadership, allocate resources, and schedule training before people get swamped with the day-to-day after the new year.
How Effective Communication Supports Business Resiliency
Larry noted that continuity plans should always include how your company is going to communicate with employees during stressful events. Being able to do so across multiple channels while targeting specific employees can be critical in times of emergency. For example, when Kawasaki Motors faced wildfires in Southern California, they relied on AlertMedia's geofencing capabilities to isolate impacted employees and quickly communicate with them via texts and emails. From the time Kawasaki received news of local evacuations, it only took minutes to identify employees within evacuation zones, and just seconds to deploy a notification letting those employees know they should leave work immediately.
With accurate employee data, you can use a modern emergency communication solution like AlertMedia to send employee notifications quickly across multiple communication channels—including voice calls, text messages, emails, and mobile app push notifications. This level of data accuracy allows you to segment your population to send messages only to the employees who need to receive them—such as those traveling in a certain region or based out of a specific office.​
During a critical event, you don't want to use the precious minutes after an incident to custom-craft each message and build segmented employee lists. This can and should be done in advance.​ Consider the most likely situations that may occur throughout the year—office closures due to COVID, a power outage, inclement weather—and what you need to convey to your audience during each scenario. 
Access the Webinar
For more tips and actionable insights, access the webinar here.
Developing pre-built notification templates that address each of the situations you've identified will help you save time and ensure no important information is forgotten. ​Communication templates will also help you ensure the messaging is consistent; the last thing you want to do is send mixed messages that confuse an already chaotic situation.​
Finally, once you have a plan in place, and everyone knows what to do, you need to keep an eye on the world around you. Your organization is responsible for maintaining situational awareness around unfolding events that impact any physical locations still operating as well as your remote workers' home offices. 
Snowstorms, acts of violence, road closures, civil unrest—there are hundreds of threats occurring around the world that can pose risks to your people's safety and ability to keep your business running smoothly. Your business doesn't exist in a vacuum. For example, you also need to stay informed on situations that may pose operational risks based on your partners' locations.​
AlertMedia's threat monitoring solution can help you keep track of all threats that affect your employees and business. The system delivers actionable intelligence in real-time, identifies impacted individuals based on their location, and automates the task of warning you and your people with an effective multi-channel notification strategy.