Communications
Aug 06, 2020
How to Ease Employee Anxiety During a Pandemic
As an employer, there are important steps you can take to combat employee anxiety. Here are six ways you can ease employee anxiety during the pandemic.
Key Feature Guide
See how easy it is to identify potential risks, see who is impacted, and inform the right employees—all from a single platform.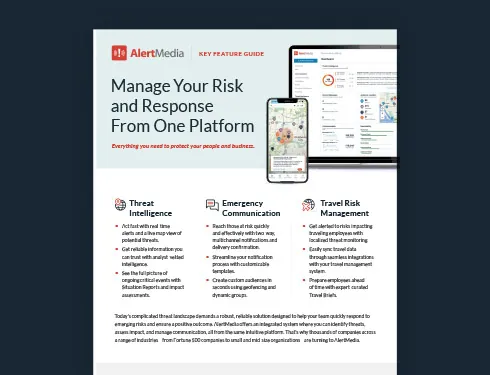 6 Ways to Ease Employee Anxiety During the Pandemic
1. Create reopening plans with employee interests in mind.
Deciding how and when to reopen is difficult. The current situation is unprecedented, and there are compelling interests on both sides.
As you make these tough decisions, make sure to put your employees' interests front and center. Ask yourself these questions:
Is working from home a viable option for most employees?
How many employees want to return to the office?
How many employees would feel comfortable returning to the office?
Do some employees have an unhealthy home environment?
How much notice would employees need before returning to the office?
Will employees have child care needs if they return to the office?
Or, even better, ask your employees these questions. A simple survey will give you great insight into how your employees feel.
This doesn't just apply to your initial reopening plan. As you go forward—potentially bringing back more employees, or scaling back a reopening-in-progress—always put employees first.
How to communicate
The key to easing employee anxiety during the reopening process is transparency. There is nothing worse than feeling left in the dark about what your employer is planning and what will be expected of you.
Some simple ways you can boost transparency:
Tell employees when you are starting to discuss reopening (or scaling back reopening)
Be explicit about dates (when you will announce official plans, the earliest date a return to the office could occur, etc.)
Be honest about what you do and do not know (e.g. "We are still figuring _____ out.")
Conduct surveys before major decisions
Implement periodic check-ins to gauge employee sentiment over time
Transparency will go a long way towards easing employee anxiety about the many unknowns that the pandemic has created.
2. Prepare a safe working environment for those who return to the office
One of the core questions swirling in your employees' minds and contributing to anxiety is simply: "Will I be safe?"
It is your responsibility to ensure that your employees feel as safe as possible while on the job. Leverage resources from OSHA and the CDC on how to create a safe working environment. The most important measures to take include:
Enable social distancing whenever possible
Require the use of face masks in public areas
Set up hand sanitizer stations around the office
Disinfect common areas regularly
Limit the number of people in the workplace at the same time, if possible
All of these measures will give your people peace of mind as they return to the physical workplace.
How to communicate
Tell your employees everything that you are doing to prepare your workplace to reopen—well ahead of the reopening date itself. That will give them peace of mind as they prepare for the return.
Plus, emphasize that you will be handling everything necessary to create a safe workplace. Employees will not be expected to move their desks, bring their own hand sanitizer, or manage the number of people in the office at once. Provide masks to employees, and consider whether it even makes sense to offer periodic COVID testing. But most importantly, tell your employees (over multiple channels—email and text message at the very least) what you will be providing, so that they know what is off of their plate.
If you have already reopened, continue to communicate the measures you are taking and will continue to take. Post signs on the walls, keep sanitizing stations around the office, and remind your employees in written correspondence as well.
3. Stay responsive to local conditions
Staying responsive to local conditions is a critical piece of the puzzle. It can be stressful to feel like everything is falling apart around you, but no one is reacting accordingly. You do not want your employees to feel that way about your organization if cases start to surge in your area.
The pandemic has hit the country in waves. In the early months, states in the northeast were hit particularly hard—especially New York, New Jersey, Connecticut, and Pennsylvania. Now, states that largely avoided an initial wave—such as California, Arizona, Florida, and Texas—are seeing a surge in cases.
This reality has complicated reopening, and it will continue until the pandemic is over. Waves will come and go, and new hotspots will emerge as others subside. Your organization cannot view reopening the office as a once-for-all-time event—never to be rolled back. When conditions allow, reopen. But keep in mind that the situation on the ground may change such that a reversal becomes necessary.
Prepare for how you could roll back your reopening if necessary, and take cues from other organizations and local officials. If your state begins to roll back its reopening measures, ask yourself if it makes sense for your organization to do the same. The solution may not be a complete shutdown or a return to work-from-home. Intermediate measures, like cutting back the number of people working in the office, limiting the size of in-person meetings, or making face masks mandatory if they weren't already, may suffice.
How to communicate
Even before you act, acknowledge the situation—that your organization is aware and monitoring it, and will announce a course of action soon. This can be a brief message, best delivered over SMS or in an official Slack channel.
Even if you are not ready to announce a specific course of action, you can still indicate the direction of the communication. For example, "We are monitoring the recent surge in cases in the area, and are evaluating how it impacts our planned reopening next week."
This will help employees see that you are not blind to what is happening, and you are committed to taking action to protect your people. When it comes time to communicate changes to employees, explain the rationale behind your decisions. Understanding why changes are happening is a critical aspect of accepting them.
4. Monitor the health of employees and visitors
Almost every state either requires or recommends daily symptom screening for your in-person employees and visitors. Accomplish this with a simple one-question survey using your mass notification system. If possible, automate the survey so that it goes out to employees every day, or automatically before their shift.
This periodic health monitoring will diminish both the real and perceived risk of an outbreak at your office—easing anxiety and keeping your employees healthy.
Supplement this symptom screening with accommodating paid sick leave policies. This will ensure that if your employees are sick, they will not try to "push through it" and come to the office anyways.
How to communicate
Make sure your employees understand that they should not come into work if they feel sick in any way. The symptoms of COVID-19 can vary widely, and at a time like this, your organization does not want to risk any illness making its way through your office.
Create an environment where employees feel comfortable speaking up and taking time off if they feel sick. This will relieve employee anxiety for anyone who does start to feel under the weather.
5. Watch for red flags that signal emotional distress
All managers should be trained to watch out for the signs of employee anxiety if they haven't already. Managers are not trained therapists or mental health professionals, but they should know the major red flags when it comes to employee anxiety/depression. Watch out for:
Persistent sad/anxious mood
Reduced appetite and/or weight loss, or increased appetite and weight gain
Restlessness, irritability
Difficulty concentrating or making decisions
Impaired judgment
Fatigue or low energy
Decreased productivity
Low morale
Absenteeism
Frequent statements about being tired all the time
Complaints of unexplained aches and pains
Alcohol and/or drug abuse
Sleeping too little, or sleeping too much
If an employee is exhibiting several of the above red flags, check in and ask how they are doing. There may be something your organization can do to remove stressors or make accommodations for them. Make sure you have a protocol in place for managers to report their concerns.
You should also consider implementing periodic automated wellness checks using your emergency notification system.
How to communicate
Checking in with employees—both by managers in person, and on an organizational level using wellness checks—communicates an important message: that you care.
Most experts recommend proactive check-ins with employees. These can be simple questions, such as, "How is your mental health?" or "Do you have everything you need?". Asking them is the important thing.
This is a stressful time for many of us. With so much changing, it is more important than ever to stay connected to employees and identify when specific employees are struggling.
6. Offer flexible working plans
One surefire way to ease employee anxiety is to offer flexible working plans—especially when you first reopen. Although you do not want to offer too many options (because having to choose between tons of options can be stress-inducing in and of itself), offering some flexibility will let employees choose the option that is best for them.
This could be as simple as offering two plans: 1) continuing remote work, or 2) returning to the office when it reopens. It may also make sense to add some sort of third option: such as a hybrid model, where employees only come in a few times a week. With many kids staying home during hours they would otherwise be in school, flexibility in hours worked may also be appreciated.
Although the types of plans that make sense for your organization will vary by industry and company size, put yourself in your employees' shoes—or ask them directly. What type of flexibility is most valuable for them?
How to communicate
Clearly spell out the work options available to employees. Make sure there is no confusion about what is being offered, and what is not. Invest time in the presentation of the different options. Employees should be able to easily interpret which one makes the most sense for them.
Also, be explicit about the timeline associated with each option. By what date should employees make their decisions? Will there be opportunities to reevaluate, and if so, when? These are questions your employees will inevitably have, so make sure to answer them upfront.