EMERGENCY PREPAREDNESS
Be Ready for Any Scenario
Use AlertMedia to quickly identify threats and communicate with your employees faster during emergencies and other critical events.
Request a Personalized Demo
Prepare Your Business to Face Any Emergency
Today's organizations face an increasing number of threats to their people and assets. A modern emergency communication solution is essential to ensuring your organization can react quickly to threats to prevent loss and reduce the impact on employee safety, company assets, and business continuity.
Two-Way Communication
Elicit Valuable Feedback From Your Employees
Empower employees to easily report safety incidents, provide real-time feedback from the field, or ask for assistance with powerful, two-way communication features like read receipts and multichannel surveys.
Threat Monitoring
Identify Threats In Advance
Get up-to-date, verified information about critical events before they impact your people. Leverage location-based alerts to quickly notify employees about nearby threats—including severe weather, political upheaval, disease outbreak, and more.
Event Pages
Communicate Critical Information More Efficiently
Keep employees informed while avoiding notification fatigue with a single, centralized hub for all information related to a specific incident that your people can access on demand.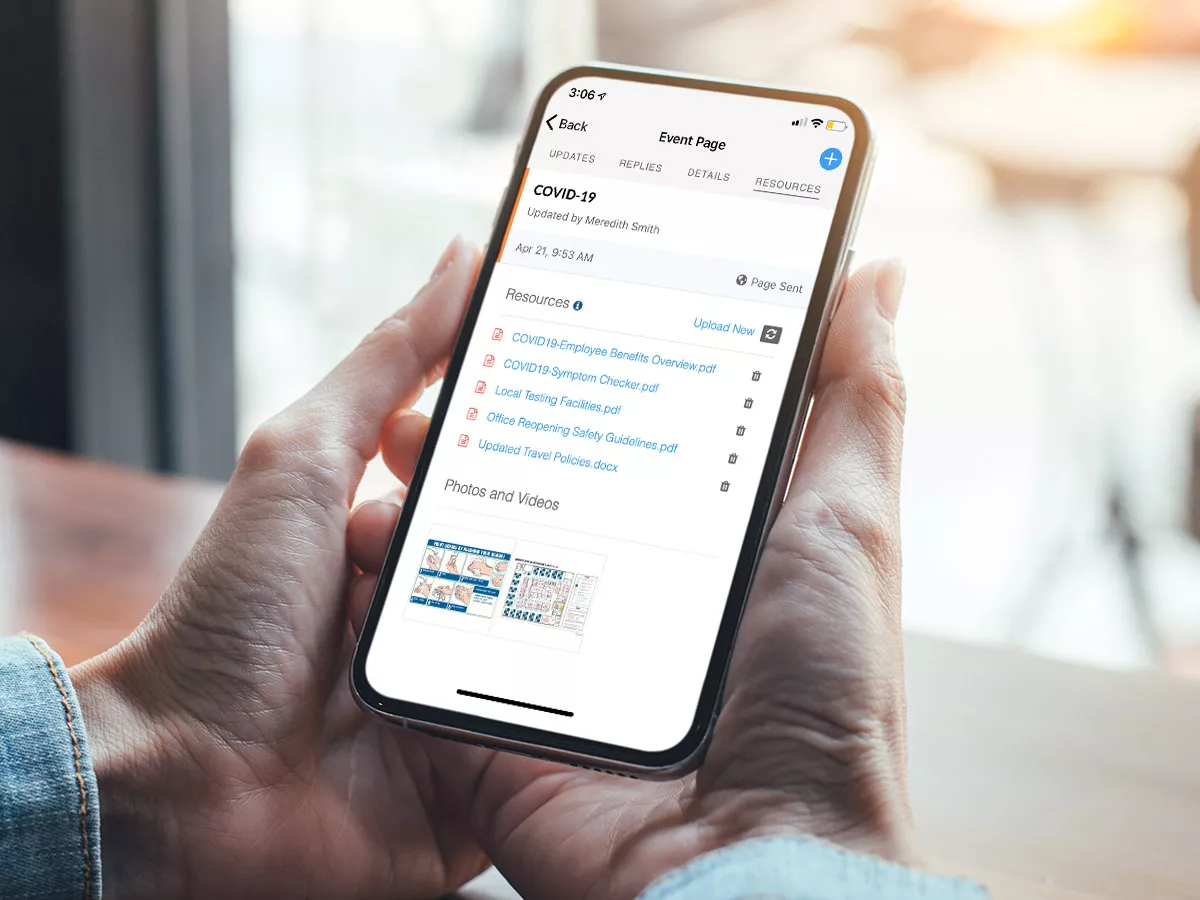 Messaging Templates
Accelerate Response Times
Respond faster to critical events and ensure nothing is forgotten with configurable communication templates tailored to any scenario your organization may face.
Your All-in-One Preparedness Solution
Communicate quickly and effectively with employees about critical events
Intuitive Design

Send messages in seconds from any device with the industry's most intuitive emergency communication solution.

Multichannel Notifications

Ensure messages are received with multichannel messaging across text, email, voice, mobile app, desktop, Slack, and more.

Two-Way Communication

Facilitate instant feedback and confirm employees' safety during critical events with two-way messaging from any device.

Location-Aware Groups

Integrate your HRIS to automatically create and update groups based on employees' location, role, or custom filters so messages reach the right recipients.

Event Pages

Create a centralized hub for any incident in order to provide ongoing updates and improve access to critical resources across your organization.

Threat Intelligence

Get alerted immediately of emerging threats and severe weather near your people, assets, and locations with 24/7 verified threat intelligence.
What AlertMedia Customers Are Saying
"AlertMedia allows us to feel prepared and confident during an emergency so we can be proactive rather than reactive."
John Muller Director of Talent,
Gehring Group
"Communication is the backbone of any emergency preparedness plan, and AlertMedia helps us put structure to our plan."
Jennifer DeSchepper Human Resources Manager,
Cartwright Companies
"AlertMedia helps us make sure employees know we consider their safety a top priority and are prepared to protect them through any emergency."
Sandra Stolte VP of People Operations & Facilities,
Healthgrades
Thousands of World-Class Organizations Trust AlertMedia