Safety and Security
Nov 16, 2023
Safety Change Management: 8-Step Process for Leading Successful Change
Keep your employees safe and engaged as they navigate organizational changes.
Risk Mitigation Plan Template
Build a comprehensive plan that helps reduce the negative effects of critical events on your business.
It's a Thursday night in mid-December and your distribution team is rushing to get trucks on their way before a winter storm hits. Mid-shift, the main forklift breaks down. You have another decommissioned forklift in a corner of the warehouse, but you've told employees not to use it.
In the rush, your team ignores your instructions. What they don't know is that the old forklift hasn't been fully maintained and can't bear as much weight. They get it fully loaded, start moving, and—sure enough—several pallets of inventory go tumbling.
Making organizational changes of any kind without clarifying the reasons and consequences can lead to devastating outcomes, from losing money and assets to injury or death. In this scenario, your team got lucky—all that happened was some lost time and broken inventory. But if someone had been standing in the wrong place, it could've just as easily gone far worse. To keep your team safe and operations moving, you need to fully map out the effects of a change before making it. That's where safety change management comes in.
Download Our Risk Mitigation Plan Template
Build a comprehensive plan that helps reduce the negative effects of critical events on your business.
Read on to learn more about how to implement change management, best practices, and why it's vital to your company's safety culture.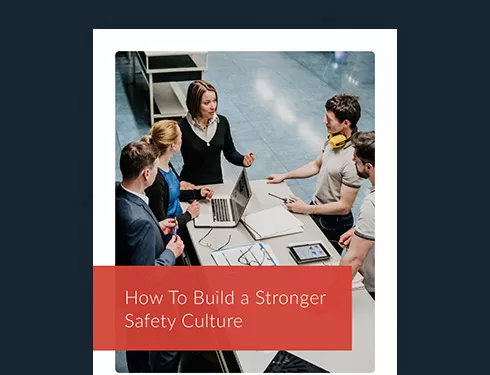 How to Build a Stronger Safety Culture
Explore what it means to have a company culture where employees feel protected and empowered to do their best work.
What Is Safety Change Management?
Safety change management—also known as management of change (MoC)—is a process for dealing with organizational change. It focuses on making sure changes are safe to implement and working to control any new safety risks that arise.
While any organization can benefit from a systematic approach to change management, it's most common in industrial settings. MoC is particularly important in workplaces with heavy machinery or toxic substances, where unvetted changes can lead to serious injury or death.
Types of change to manage
Change is a constant for most companies. And in many cases, you can safely make a change without a rigorous approval process. For example, switching from Pepsi to Coca-Cola in the break room fridge is a low-risk change—as long as none of your employees have fervent feelings about soda.
Types of change that require active management vary by industry, but these are some of the most common:
Equipment changes, such as new machinery, upgrades, or different replacement parts
Hazardous substances, whether it's new chemicals in the work environment or a change in operations
Adjusted operating procedures or new processes
Personnel changes, including new hires, departures, or re-assigned duties
Facilities changes, like new or renovated buildings
It's also critical to remember you need to manage temporary changes, even if you intend them to be short-lived. As the tragic Flixborough disaster showed, temporary equipment changes can have devastating effects if you don't properly vet them.
The Flixborough explosion of 1974
In late March 1974, employees at a chemical plant in Flixborough, England, discovered a crack in the number 5 reactor at the site. Rather than shut the plant down until they could fully repair the reactor, personnel decided to install a bypass.
Unfortunately, they didn't have any of the necessary 28-inch piping available, so they opted to use a 20-inch pipe to construct the bypass. The temporary fix worked at normal pressure and temperature and they declared it safe to continue operations.
In late May, the plant paused operations to repair leaks elsewhere, which included fully depressurizing the system. On June 1, when they brought the plant back up to normal pressure, a massive explosion enveloped the site, killing 28 people and injuring 36 more.
The ensuing court inquiry found the temporary 20-inch pipe to be the likely cause of the explosion. The unfortunate and avoidable accident serves as one of the industry's clearest cautionary tales about hasty and unmanaged changes.
Build a comprehensive plan that helps reduce the negative effects of critical events on your business.
Understanding the risks of change
Humans are creatures of habit. Whether it's muscle memory in using equipment or the habit of an old process, change is hard. According to research from Gartner, 73% of change-affected employees report moderate to high stress levels and perform 5% worse than an average employee.
Change can create all sorts of risks, including
Heavy equipment or chemicals causing injuries
Changes not going as planned and hurting your business continuity and resilience
Damage to facilities, inventory, or other assets
Disruptions leading to lost money or time
Fines or penalties due to regulatory non-compliance or legal exposure
Why Is Management of Change Important?
For some companies, change management safety isn't just nice to have—it's a necessity. Companies handling hazardous substances or using heavy equipment have to follow industry-specific regulations:
But whether you have to comply with change management rules or not, it's critical to promoting workplace safety.
"It's not just about complying. It's about thriving," according to Mark French, Senior Health, Safety, and Environmental Manager at Dalkia Energy Solutions. "When we protect our team, we are protecting our organizations, we're protecting our communities, we're doing a lot more than just following a law. We are creating a sustainable system that helps keep fulfilling itself with that safety idea."
In this on-demand webinar, Mark French—Senior Health, Safety, and Environmental Manager at Dalkia Solutions—outlines how safety leaders can reimagine safety programs for the current landscape.
The 8-Step Change Management Process
The mechanics of implementing changes can vary widely, from quick software patches to complex equipment retrofits. However, you can use this eight-step framework to manage any type of change.
1. Identify changes
Some changes might seem simple on the surface. But most workplace equipment and processes are parts of complex systems—change one piece and it can have a series of rippling effects.
For example, say your warehouse upgrades from a pallet jack to a forklift. The change in equipment is obvious, but there are other changes to consider:
Do you need to update SOPs for how many pallets employees can safely transport at once?
Will you need to adjust personnel requirements to account for spotters?
Can your facility accommodate the forklift or will you need to reorganize certain areas?
By identifying all of the related changes, you can ensure you're considering every consequence throughout the rest of the process.
2. Perform a risk assessment
Next, identify risks the changes create. Perform a hazard identification—also known as a threat assessment—and analyze the risks based on two factors:
How likely they are to occur
What the impact would be if the risk materializes
From there, prioritize the risks. Likely scenarios with high impact are the highest priority. For example, if a change introduces a fragile part whose failure would destroy a factory, that's a high priority. Risks unlikely to occur or with meaningless consequences are safe to ignore.
3. Form a plan to reduce risks
Once you've identified new hazards, you can work on risk mitigation. At this stage, it's important to understand your risk tolerance—that is, how much potential damage you'll accept. Sometimes, you can mitigate risk to varying degrees, and partial mitigation might make the most sense.
For example, running business operations in war-torn countries is inherently risky. But in some fields like the energy sector, it's a necessity. You'll need to weigh your tolerance for risk against how much it costs to fully eliminate hazards.
4. Decide if the change is feasible
After going through risk management scenarios, your team needs to decide whether to go ahead with the change. For many changes, this will simply be a chance for leadership to review and approve plans.
Sometimes, your team will decide a change can't move forward. Usually, because the risks involved outweigh the benefits. At this point, you can either abandon the change or adjust the proposed change and restart the MoC process.
5. Conduct a safety review
Before you make the change, you'll want to perform a pre-startup safety review (PSSR). A PSSR is a thorough review of all equipment and procedures before you actually hit go. It's most common in fields using toxic chemicals, but a dry run can benefit any business.
After the PSSR, you should draft a change management safety report. Document exactly what you tested, what the outcomes were, and what changes you consider safe to make. These records are critical for improving your internal review processes.
6. Implement the change
If you've deemed a change safe, move ahead with implementing it. Even though you've performed risk assessments and reviews, treat this step with caution:
Thoroughly review the change with everyone involved in the implementation
Have any necessary health and safety resources on hand and briefed on potential risks
Watch the implementation carefully and proceed slowly and deliberately
Most importantly, empower the people involved to stop and revert the change until it's impossible to do so. You're better off taking a step back and double-checking your plans than forging ahead hastily and regretting it later.
7. Train impacted employees
In tandem with implementation, you'll want to provide updated training to impacted employees. Depending on the scope of the change, this could be anything from a management of change safety moment to a week-long seminar.
Make sure that all training materials are clear and easily understood. And place special focus on the impact of the change—reiterating old information can be valuable, but conveying new procedures is critical.
8. Monitor the change
Once the change is in place, monitor the impact. Organizational KPIs will drive the details, but some common items to watch for include:
Did the implementation reveal any surprises?
Is your team experiencing more risk than you expected?
Can you make any further changes to improve safety and security?
Change is frequently an iterative process. Monitoring and documenting your findings will help you protect employees' health and safety and improve your MoC efforts.
Best Practices for Effective MoC
Use these three strategies to elevate your MoC efforts.
Leverage third-party resources
Most businesses deal with established hazards and risks. Using industry standards and third-party software can help build a more efficient MoC process:
OSHA isn't just an enforcement agency—they also provide educational resources to help develop your change management program
An employee safety monitoring platform yields empirical data to base your risk assessments on and helps keep track of new and ongoing changes
Utilizing safety management software can help centralize and standardize your MoC efforts, especially across larger organizations
Secure buy-in from all stakeholders
Organizational changes rarely fit neatly into one department. What seems like a simple facilities issue could also impact operations, IT, and others.
To maximize safety engagement throughout the company, keep stakeholders involved in proposed changes. You'll build organizational trust in the MoC process. And by keeping everyone involved, you'll prevent siloed risks from derailing implementing changes.
Allocate sufficient resources
Establishing an MoC process is great. But it's critical to make it a sustainable part of your company's operations. Make sure leadership provides the resources you need:
Funding: Budgets for changes shouldn't just include the actual cost of materials and labor. Factor in training fees, any new protective equipment, and other ancillary costs.
Time: Don't rush the MoC process with artificial or impossible deadlines. Build calendars around what's safe, not what's convenient.
Labor: You'll need people to handle planning, testing, and reporting on top of their normal tasks. Consider MoC needs when establishing staffing plans.
Building a Safety Culture That Embraces Organizational Change
In most fast-paced businesses, change is both frequent and inevitable. That can not only create stress for employees but also increase their risk of injury. And a vicious cycle can emerge as stress-induced performance lapses create more hazards.
Embedding management of change in a strong safety culture reverses this trend. By focusing on ways to support your employees and keep them safe, you're giving them the confidence to embrace change and keep your company's operations running.
Download Our Risk Mitigation Plan Template
Build a comprehensive plan that helps reduce the negative effects of critical events on your business.