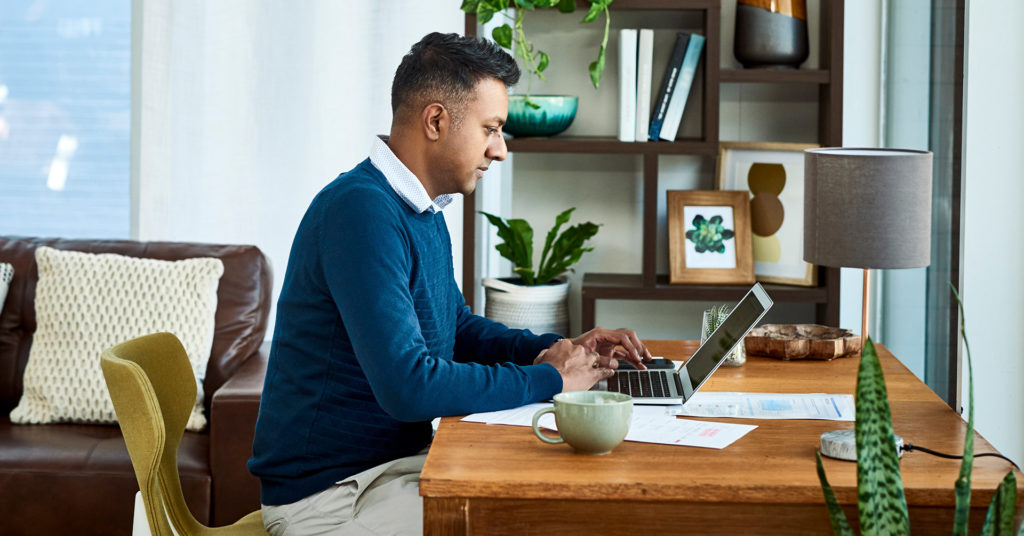 Safety and Security
Oct 27, 2022
5 Work-From-Home Safety Tips for 2023
An employer's duty of care extends to remote employees, and it's necessary to bridge the gaps of a distributed workforce. Protect your remote employees from harm with these work-from-home safety tips.
Remote Worker Safety Guide
Discover the challenges associated with keeping a remote workforce safe and the steps you can take to address those challenges.
The COVID-19 pandemic instigated a huge shift in how businesses operate, specifically when it comes to employees working from home. A recent study estimates that 58% of employees work from home at least one day a week. This trend has forced many businesses to think critically about their remote workers and consider how to navigate this shifting dynamic, both for the employees and for the business.
Primarily, the conversation has been focused on productivity—how managers can ensure their employees are focused and on track instead of watching TV or getting distracted by home chores. But there is an entire facet of the work-from-home experience that many businesses have overlooked: safety.
Organizations have a responsibility to keep their employees safe and free from avoidable harm while at work. This is known as your duty of care. And the vast majority of employees think that duty of care extends to remote employees, wherever they are based.
Employees value their safety no matter where they are working, and it's up to you to protect your employees however possible. Even when they are out of sight, your people's safety shouldn't be out of mind. In this article, we lay out five work-from-home safety tips you can implement for your employees so they know you're taking their concerns, and their well-being, seriously.
Work-From-Home Safety Tips for Distributed Teams
Download Our Remote Worker Safety Guide
Discover the challenges associated with keeping a remote workforce safe and the steps you can take to address those challenges.
1. Invest in ergonomics
For most employees working from home, the biggest workplace safety threat is actually their own workspace. A bad chair, poorly placed monitor, or ill-fitting equipment can actually be a major risk for injury for all employees, but especially those working from home without the use of their in-office desk setups.
Ergonomics is all about preventing soft-tissue injuries due to posture, repetitive motions, force, or other impacts on the job. Most offices have invested in the right furniture and equipment to help prevent these kinds of illnesses. But many remote employees find themselves working from new, less ergonomic workspaces like couches, kitchen tables, or other shared spaces.
As a result, many employees are finding themselves in pain and at risk for serious injury. In fact, a 2020 study by Hinge Health found that 45% of employees are experiencing some level of back or joint pain while working from home, with 71% saying it is new or worsening pain.
Investing in ergonomics—whether by offering home office stipends or allowing employees to take their office equipment home if they need it—can go a long way to preventing injury and ensuring your employees are comfortable enough to do their jobs well.
Here's how to create a safe and ergonomic workstation:
Place screens at eye level to avoid neck problems
Set screens to use "night shift" (which lowers blue light) to avoid eye strain
Add a footrest if needed to alleviate hip/leg pain
Set chairs to an appropriate height
Remove any electrical equipment or extension cords that might be tripping hazards
Use a wrist rest while typing to prevent joint pain
Learn 7 proven strategies for protecting your remote workforce.
2. Train for remote cybersecurity
When your employees are away from the office, that means they are away from many of the built-in cybersecurity protections on the office network. This puts these employees and your business at risk of attack. But with a few security measures and the right training, your employees can stay cyber-safe at home and wherever they work. Here are a few things you should encourage your employees to do.
Check security/protections of at-home wi-fi
Use a VPN if they are unable to find a secure connection
Do not use public wi-fi at places like coffee shops
Do not let family members or other household members use their company computer
Use two-factor authentication for all devices
Lock computer when they get up
Stay aware of who is nearby and able to view the screen, especially in public spaces like coffee shops
You can set up regular training for these cybersecurity best practices to keep them top of mind. And you can also set up easy ways for your employees to surface questions or concerns to your IT team. That way, your employees can stay safe and aware of their cyber risk.
3. Conduct regular mental health check-ins
Safety for remote-work employees is about more than just physical hazards. In fact, employees working from home can often face significant mental health risks. But like with physical threats, mental health concerns can be addressed and even prevented with proactive interventions. All it takes is a commitment to prioritizing mental health in the workplace.
"It's easy to forget that there are people suffering in lots and lots of different ways right now. And they're very often doing that silently. Employers, managers, and leaders need to recognize and acknowledge the ongoing impacts of this unrelenting stress and develop clear strategies for normalizing and accommodating wherever they can."
—Mari Anne Snow, CEO & Founder of Sophaya
Employees who are working from home, especially those who do so regularly, are at a higher risk of isolation and loneliness, which can lead to increased rates of depression. There is also a risk of burnout from employees who are working long hours at home. Combined with the ongoing mental health repercussions of the coronavirus pandemic, employees are facing a challenging landscape for psychological safety. Conducting regular mental health check-ins, whether through managers or directly with employees, can go a long way to ensuring they feel supported and cared for, rather than alone without a network.
Here are a few other ways your business can help support your employees mentally:
Train managers on how to spot struggling employees
Encourage a good work-life balance
Remind employees about company mental health resources
Create a virtual coffee or team-building program to help employees connect
Encourage employees to take breaks, both throughout the day and via PTO and days off
Foster a positive and open work environment
Include mental health and wellness in your everyday communications
"Employees' emotional and physical safety will be a top challenge for employers moving forward. Only 70% of HRs felt prepared to handle these issues, the lowest percentage of all issues [included in the GoCo survey]. Emotional well-being has become a hot topic in the HR community recently. It's essential to have a conversation about what can be done to prepare HR professionals for these experiences."
4. Use active threat monitoring
It's hard to protect your remote workers if you don't know they are at risk. But it's also a significant ask to track every employee in their specific location when you have a dispersed workforce. That's where an active threat monitoring or threat intelligence system comes into play.
The right software solution will give you active alerts about any threats or ongoing events in locations where your workers may be at risk. You can set up geofencing so you know as soon as something happens in your specified location. It's like having a dedicated security member keeping an eye on each of your employees.
But this isn't useful only for tracking threats around your employees' homes. You can also use your threat intelligence system to track threats around employees who are traveling for work using in-app GPS tracking, so employees can feel safe even when they are far from home and the office.
Some systems, like AlertMedia's, come with live access to the analysts who are tracking threats, so you can get better information and increased context about an event. For example, if you get notified about a tornado near a group of remote workers, you can connect directly with experts to learn if their houses are in the destructive path. This helps you better notify and support your telecommuting employees.
Safety Leadership for the Hybrid Workforce
Learn how great safety leaders are adapting to ensure a physically and psychologically safe work environment for their people.
5. Establish solid communication protocols
The most effective tool you have to keep your employees safe when they work from home is communication. Good communication means your workers know what's going on, understand any threats they might be facing, and know what to do to protect themselves when they are away from safety leaders at the office. That's why you need to set up consistent and comprehensive communication procedures.
Establishing good communication comes down to four things: consistency, predictability, technology, and ease. You should be communicating with your remote team consistently about important news, events, or even just to check in. This communication should also be predictable. Employees should expect when to hear from you, and vice versa. You should be receiving regular communication from your employees, and making note of any inconsistencies or abnormalities that might indicate an underlying/unseen mental health concern. The right technology, like a mass notification system, will make things smoother and easier, both for you and your remote workers.
But remember, this isn't about tracking productivity. You don't need to hear from your employees every hour to make sure they are working. Setting up these communication protocols can help identify certain risks—like an employee struggling with mental health—and it will ensure you have reliable channels of communication when an emergency does occur.
Protecting Employees During Remote Work
Protecting your employees can no longer be limited to following office safety standards. The changing work landscape is forcing companies to think about safety in broader and more comprehensive ways, and employees are going to be better for it. And finding a comprehensive emergency notification system with integrated threat intelligence can make protecting your remote workers easier by keeping track of potential threats and enabling reliable multichannel two-way communication. No matter where your employees are working from, they will be as safe as if they were right there with you.
Download Our Remote Worker Safety Guide
Discover the challenges associated with keeping a remote workforce safe and the steps you can take to address those challenges.