Company News
Mar 10, 2021
Accelerating AlertMedia's Growth With Vista Equity Partners
In this post, AlertMedia Founder and CEO Brian Cruver discusses the impact of our recent investment from Vista Equity Partners.
Key Feature Guide
See how easy it is to identify potential risks, see who is impacted, and inform the right employees—all from a single platform.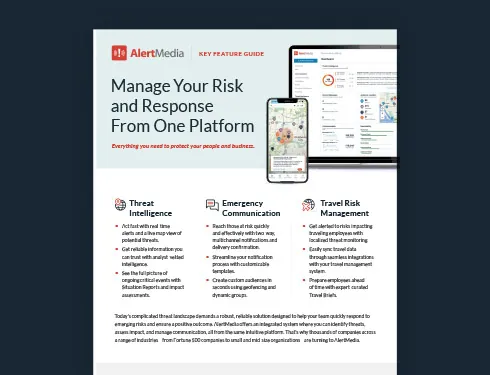 By Brian Cruver, Founder and CEO of AlertMedia
Today, I'm excited to share that AlertMedia has signed an agreement to receive a significant strategic growth investment from Vista Equity Partners (Vista), a leading global investment firm that specializes in growing enterprise software, data, and technology-enabled companies. In addition to being an exciting milestone for our business, the investment from Vista Equity Partners further validates our mission to save lives and improve outcomes by helping organizations improve communication during emergencies and other critical events.
Our Partnership With Vista Equity Partners
I'm thrilled to work with the Vista team for a few reasons. First, they share our passion for employee safety and believe, like I do, that the future of work will be led by companies that invest in the well-being of their employees.
Secondly, Vista's extensive expertise and desire to invest in R&D and global expansion will help us expand our presence, enter new markets faster, and reach even greater scale—all while establishing a new industry standard for emergency communication. Additionally, the Vista team provides both financial and operational support to continue our work building the world's best emergency communication solution for our customers.
About Vista Equity Partners
Delivering Even More Value to Customers
Every day, we see the impact our software makes helping our customers stay connected with employees before, during, and after critical events ranging from the global pandemic to hurricanes, active shooter situations, terror threats, wildfires, and more.
Everything we do at AlertMedia centers around helping organizations identify potential threats to their business and people faster, delivering more timely and accurate information, and overall minimizing response times during critical events.
Here are a few key areas that I'm incredibly excited about for this year and beyond:
Delivering the world's most accurate and fastest human-verified intelligence
Organizations face a wide range of threats with the potential to impact their people and business. In the past year, we've seen how these events create issues for every business—no matter the size—taxing resources, testing emergency preparedness, and disrupting operations. Our goal is to ensure our customers can effectively navigate any situation by providing them the means to communicate when these events occur along with the context about what is happening.
Through our Global Threat Intelligence solution, we're now providing around-the-clock coverage of critical events happening anywhere in the world. And in the coming weeks, I look forward to sharing more about how we are taking our intelligence to the next level to ensure our customers are getting the best quality information about any nearby incident.
Delivering the industry's best mobile experience for the new work from anywhere era
One of the harsh realities of emergencies is that we don't get to control how, when, or where they happen. There's no better reminder of this than 2020, a year marked by countless tragedies and a seismic disruption of societal norms.
While many organizations embraced remote work years ago, the pandemic accelerated its adoption in ways no one expected. As a result, businesses must now consider the long-term implications of employees working from anywhere, at any time.
One of the things that our customers tell us they love about AlertMedia the most is the ability to communicate and stay connected during an emergency using our mobile app. As the workforce becomes increasingly mobile, dispersed, and transient, we will continue to enhance our products to help both safety leaders and employees stay informed and engaged.
We are excited to introduce new capabilities to help you communicate with employees during critical events. While we will continue to provide new solutions for safety leaders, we also believe AlertMedia can do more to empower employees directly. In the coming months, we will release a solution that provides employees with better visibility into what's happening around their location (or new places they intend to visit), so they can better understand emerging events that may impact their safety.
Our Vision for a Safer Workplace
In the past year, virtually every business around the world faced near-constant change. AlertMedia is no exception.
Employee safety has taken on even greater meaning and importance as employers have learned to embrace their newfound responsibilities keeping their distributed teams safe from a wide range of threats—including a global pandemic, wildfires, hurricanes, severe winter storms, an economic crisis, and more.
As a result, many organizations have turned to AlertMedia for help, using our emergency communication software to provide relevant, precise, and up-to-date information to employees throughout a tumultuous year unlike any other in recent history. Over the past 12 months, our customer base nearly doubled—as did usage among existing customers—to more than 2,500 organizations spanning 130 different countries. To support this demand, we also grew our team, adding more than 100 new employees—all hired, onboarded, and trained remotely without ever having stepped foot in our offices.
""I firmly believe every business benefits from the ability to rapidly identify threats nearby its people and locations, communicate effectively to those impacted, and accelerate its response.""

Brian Cruver AlertMedia Founder & CEO
We've proven we can build a great product, we're solving real problems for the world's leading enterprises, and we're putting our heads down and continuing to execute against our mission to save lives and prevent loss. We are proud of the work we've done to help our customers improve employee safety, and I firmly believe every business benefits from the ability to rapidly identify threats nearby its people and locations, communicate effectively to those impacted, and accelerate its response.
AlertMedia is changing the way organizations communicate during emergencies, enabling them to not only survive and recover from severe incidents but prevent the loss of their most important asset: their people. As I reflect on the last eight years and look ahead to the next few, I want to express my sincere gratitude to our customers who continue to support us and our employees who remain committed to our purpose. I'm inspired by what we've been able to accomplish so far, and this is only the beginning.