Company News
Jan 11, 2021
AlertMedia Again Named One of Austin's Best Places to Work
AlertMedia is recognized as one of Austin's top employers for 2021 by leading tech and business publications.
Key Feature Guide
See how easy it is to identify potential risks, see who is impacted, and inform the right employees—all from a single platform.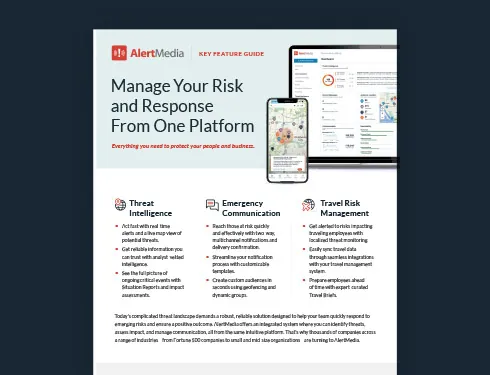 AlertMedia Honored as One of Austin's Top Employers
We're honored to share that AlertMedia was once again recognized as one of Austin's Best Places To Work by the team at Built In. Overall, AlertMedia came in at #39 out of all employers and #9 among companies with more than 100 employees across the greater Austin metro area.
Now in its third year, Built In's Best Places to Work Awards are determined based on an algorithm that assesses a variety of employer attributes, ranging from benefits and company culture to diversity, equity, and inclusion programs. In a statement, Built In's Chief Marketing Officer Sheridan Orr explained what was required to qualify for this year's list.
"These companies raise the bar for cultural excellence and the ability to adapt to meet the changing needs of employees. The 2021 winners show a commitment not just to creating meaningful cultures but to delivering talent needs as they change in a dynamic landscape."
— Sheridan Orr, Chief Marketing Officer, Built In
An Award-Winning Team and Culture
The recognition from Built In is one of several recent awards AlertMedia has received that highlight the company's culture and team, which nearly doubled in size during the past year.
Earlier this year, the Austin Business Journal recognized AlertMedia as one of the city's top employers—marking the fourth consecutive year the company has been selected.
2020: AlertMedia received the 2nd place award in the Medium Business category
2019: AlertMedia received the 3rd place award in the Medium Business category for the second year in a row
2018: After a year of rapid growth, AlertMedia received the 3rd place award in the Medium Business category
2017: AlertMedia received the 5th place award in the Small Business category
The rankings and awards are determined by the results of confidential surveys facilitated by the Austin Business Journal which provide employees the opportunity to share direct, anonymous feedback on six key dimensions: communication and resources, individual needs, manager effectiveness, personal engagement, team dynamics, and trust in leadership.
Earlier in 2020, leading business publication Inc. magazine also recognized AlertMedia as one of the Best Places to Work across the U.S. Inc's prestigious awards rank employers spanning a wide range of industries based on benefits and employee feedback.
""I'm proud of so much about this company, from our world-class product to the incredible people who work here and our amazing customers. But today I'm particularly proud that we're a place where so many people absolutely love to work.""

Brian Cruver AlertMedia CEO & Founder
Our Mission
A company is a reflection of the people who work for it. As we've been reminded throughout 2020, company culture has less to do with physical proximity to colleagues and more to do with a collective sense of purpose and a common commitment to a goal.
As many of our readers, we will remember 2020 as the year we learned what it meant to be a truly remote workforce while also continuing our mission to deliver the industry's most intuitive and powerful emergency communication solution. While the year didn't go according to anyone's plan, we're honored to have the opportunity to work with leading companies around the world to improve employee safety and their ability to respond to an ever-expanding number of threats.
We believe that being one of the best places to work is about more than nice offices and fringe benefits—although those aspects certainly contribute to making AlertMedia an incredible place to work. What sets the AlertMedia team apart is our mission and our team's passion for making a difference. Our mission drives our cohesive team with a sole focus: the opportunity to save lives and minimize loss by facilitating timely, accurate, and relevant communications when an emergency event threatens personal safety and business continuity.
Looking for your next opportunity? Check out our open roles!