Emergency Management
Jul 19, 2022
Common Fire Hazards in the Workplace and How to Avoid Them
While workplace fires are sometimes out of an organization's control, understanding risk will help dramatically reduce the likelihood a fire will occur.
Fire Safety Checklist
Use our fire safety checklist to ensure your bases are covered in advance of a fire.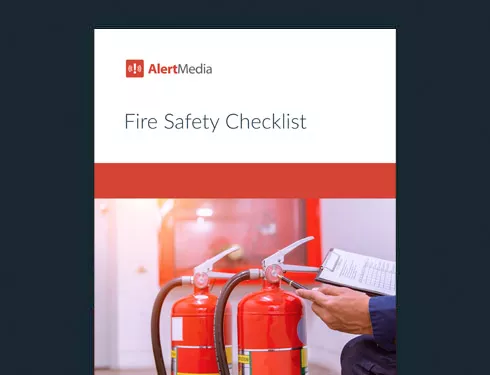 Office properties
The column structure of a high-rise property poses unique fire hazards for any workplace within. Office properties of any kind require fire prevention measures, including thorough risk assessments.
Electrical issues: Exposed or faulty wiring and overloaded outlets can lead to electrical fires. Conduct routine inspections to ensure power strips aren't overloaded, and prohibit or closely monitor personal space heaters. Regular electrical wiring inspections are also highly recommended.
Kitchen appliances: According to the U.S. Fire Administration (part of FEMA), over 30% of all workplace fires in 2019 began in an office kitchen. Ensure that fire extinguishers are located near kitchens and appliances are fully functional.
Loose papers: Fire needs fuel. Loose papers act as tinder and can exacerbate an already-dangerous fire. Conduct routine walk-throughs to remove or contain combustible materials.
Smoking: An improperly extinguished cigarette butt can ignite a fire, especially in drought conditions. Ensure properly installed ashtrays in designated smoking areas to reduce fire hazards.
Whether your office is located 20 stories high or in a single-level facility, a workplace fire can be dangerous, costly, and difficult to recover from. Identify and minimize workplace fire hazards to safeguard your business and protect your people.
Construction sites
Whether it's new construction or an existing building under renovation, construction sites are some of the most vulnerable structures when it comes to fire hazards. The NFPA lists the following risks specific to the construction industry:
Unprotected site: Because safety installations are late-phase projects, construction areas are often without fire protection systems—such as sprinklers, smoke detectors, and fire alarms—for extended periods of time. If you are the fire chief on-site, you should have a pre-fire plan ready and train all personnel.
Equipment: Where there's welding, cutting, and soldering, there is the potential for sparks that could lead to a fire if proper safety procedures are not in place. Establish extra precautions during all fire-prone activities.
Vandalism: Construction sites often have limited security measures in place, which makes them susceptible to trespassing, vandalism, and intentionally set fires (arson). Protective measures such as signage, fencing, and temporary security cameras can help deter criminal activity.
Regardless of your industry or the specific layout of your facility, conduct a thorough, regular risk assessment to protect employees and safeguard your business from fire hazards.
More Articles You May Be Interested In