Safety and Security
Jan 20, 2023
9 OSHA Safety Topics for 2024 Training
When OSHA regulations fade to the background, your business is more likely to see violations and even accidents. Keep compliance top of mind by integrating these 9 OSHA safety topics into your regular training or meetings.
2024 Safety Calendar
Plan and track your key safety initiatives so you can stay organized all year long.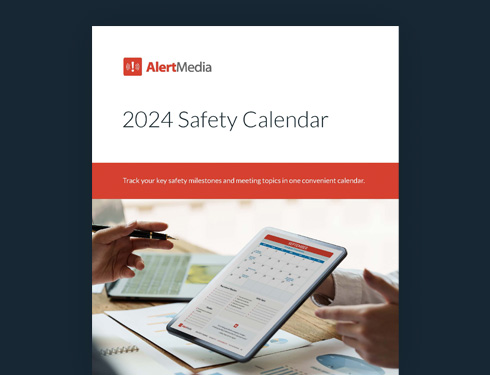 4. Exit routes
When employees are forced to evacuate due to an emergency, every second counts. They need to know where their nearest exit is, what other options they have, and what visual cues they can use in case smoke or other conditions are affecting their vision.
Guiding questions
How can employees locate their closest emergency exit?
Where are backup exits located?
Are team members aware of the need to keep exit routes free of obstructions?
5. Walking and working surfaces
Slips, trips, and falls are some of the most common workplace injuries—and also the most preventable. OSHA has thorough standards for keeping walking and working surfaces safe, and the training applies to nearly any environment. Offices with loose carpet or unruly cables can be just as dangerous as a rickety ladder at a construction site. Identifying fall hazards is the first step.
Guiding questions
What types of footwear are appropriate for the surfaces employees will be walking and working on?
Do workers need to wear protective harnesses or use fall-protection systems on the job site?
What conditions might make surfaces more hazardous than usual?
6. Medical and first aid
Workplace injuries are nearly inevitable, and preparing your employees to deal with them is critical. While you hope they'll never suffer anything more serious than a papercut, many work environments have hazards that could cause burns, broken bones, and worse. Medical and first aid training courses should cover available resources and offer guidance for how (and when) to seek help for more serious emergencies.
Guiding questions
Does your company offer first aid or CPR training to employees?
What medical supplies are on-site and where are they located?
Is there any specialized equipment such as defibrillators that employees need training for?
Who should workers contact in the event of a medical emergency?
7. Personal protective equipment
Personal protective equipment (PPE) is one of the best ways workers can safeguard themselves at a work site. Some types of PPE are required—such as respiratory protection and hard hats—while others are optional. Make sure to explain what types of PPE employees have access to, what injuries they prevent, and how to ensure they wear the equipment correctly.
Guiding questions
What types of PPE are appropriate for the employees' working conditions?
Do they need to take any steps to maintain their PPE?
How can they protect themselves if PPE fails while they're working?
8. Heavy machinery safety
Heavy machinery can present all sorts of risks if not used properly. But in the context of OSHA compliance, there are two primary topics:
Machine guarding: Misusing equipment with moving parts, like power saws or hydraulic presses, can lead to serious injuries or fatalities. Training on how to protect themselves from these hazards is critical for employees who work with these machines.
Lockout/tagout: For machines that release hazardous energy such as steam or electricity, you need to provide training on how to disable the equipment to safely service it.
Guiding questions
What types of risk do heavy equipment present at your worksite?
Who can work with the machinery?
How can the equipment be safely disabled?
9. Heat exposure and illness
OSHA put a focus on heat regulations in 2022, bringing the issue to the forefront of workplace safety training. It would be easy to think of it as a seasonal risk for warmer months, but workers in factories and confined spaces can experience heat stress in the dead of winter.
Guiding questions