Safety and Security
Jan 20, 2023
9 OSHA Safety Topics for 2023 Training
When OSHA regulations fade to the background, your business is more likely to see violations and even accidents. Keep compliance top of mind by integrating these 9 OSHA safety topics into your regular training or meetings.
2023 Safety Calendar
Plan and track your key safety initiatives so you can stay organized all year long.
Ask the average American what they associate with the Occupational Safety and Health Administration (OSHA) and they'll probably say "fines" or "violations." While the organization documents thousands of violations every year, it's not their primary goal.
Established in 1970 as a division of the Department of Labor, OSHA's mission is to ensure safe working conditions by setting standards and providing training, outreach, education, and assistance. Over the last five decades, they've developed rules and supporting resources for safety topics covering everything from fire safety to formaldehyde in hair-smoothing products.
As a safety leader, OSHA's body of work is one of your most valuable resources. It's a comprehensive guide to making sure your employees always feel safe at work—something that 97% of Americans believe is important. So how can you best leverage these resources?
Like any other aspect of workplace safety, repetition breeds success. Integrate OSHA compliance into your regular safety meetings to deliver timely and topical training reminders to your employees.
In this article, we'll cover some of the most common OSHA safety topics for meetings and why they're a critical component of your employee education programs.
Download Our 2023 Safety Calendar
Plan and track your key safety initiatives so you can stay organized all year long.
Why Lead Safety Meetings With OSHA Topics?
Safety training is critical to preventing workplace accidents. In many cases, OSHA standards and regulations support monthly safety topics that should already be a part of your preparedness programs. By integrating them into regular meetings, you're keeping the message relevant and actionable, ensuring regulatory compliance in a digestible format.
While OSHA mandates certain types of training, there are benefits to covering topics beyond general requirements:
Build safety engagement: You can explain safety until you're blue in the face, but if your people aren't processing the information, it's futile. Providing effective and timely education on OSHA training topics helps build safety engagement. This means employees aren't just sitting through training; they're actively processing information in a way that will help them promote safety and be accountable to your organization's safety performance.
Protect your employees: There are plenty of engineering solutions to improve safety, but having a team of employees who are properly trained and alert is the best way to prevent workplace injuries. According to Gallup, highly engaged employees experience 70% fewer safety incidents.
Reduce costs due to accidents: Research from the National Safety Council found that the total economic impact of workplace injuries in 2020 was nearly $164 billion. Promoting a safer workplace can reduce a variety of costs, including workers' compensation, insurance, and potential legal bills.
How to Run Safety Meetings to Support OSHA Compliance
Protecting your employees is the top priority when planning safety meetings. But compliance to avoid costly OSHA violations is important, too, and easy to integrate into the process with some planning. OSHA's website provides compliance resources to help get you started, but you can also request a free on-site consultation.
What is an OSHA consultation?
OSHA offers voluntary, no-cost consultations to assess your workplace. While the purpose is similar to an inspection—documenting potential hazards or unsafe conditions—the results are confidential. Your company must resolve any hazards in a timely manner, but there are no fines or enforcement measures. Along with making your work environment safer, the consultation also qualifies your company for a one-year exemption from OSHA inspections.
While you will need to keep certain records and documentation, most of OSHA's requirements relate to training for your team. There are four elements of a successful and impactful safety training presentation:
Accuracy: The information you provide needs to be correct and up-to-date, relative to both OSHA standards and your company's operations. Be sure to review materials on a periodic basis, ensuring that you've kept up with new information. OSHA's website also offers a comprehensive library of training resources you can integrate into your employee safety meetings.
Clarity: Presentations should always be clear and easy to understand for the intended audience. Avoid unnecessary technical jargon, superfluous data, and concepts that aren't relevant. If your team members aren't all fluent in English, provide translated resources with equally detailed information.
Credibility: Speakers should always have relevant experience and/or expertise pertinent to the subject. Beyond just reading a script, they should be able to answer questions and provide contextual details. In fields where certifications are necessary—such as powered industrial truck safety—make sure the presenter has up-to-date credentials and is knowledgeable on current standards.
Practicality: Workers will derive the most value from a safety meeting that's relevant to their job and has immediate applicability. Especially when it contains safety tips that are easy to understand and implement. For example, reviewing heat exposure guidelines during a toolbox talk with a construction team in June is practical. But going over forklift safety with your finance department would be wasting everyone's time.
Use this safety calendar to plan ahead and stay organized all year long.
9 OSHA Safety Topics and Ideas for Meetings
There's almost never a bad time to reinforce safety awareness and preparedness. Whether you're doing a deep training session or providing reminders during safety moments and toolbox talks, OSHA standards can help keep your employees safe.
Some fields have specialized topics, but many safety standards apply to job sites in any general industry. Here are nine OSHA safety topics for meetings, and key points to guide your presentations.
1. Emergency action plans
You might not be able to prevent emergencies, but you can—and should—adequately prepare for them. Whether your employees face a natural disaster, workplace violence, mechanical malfunctions, or other workplace hazards, they need to know what to do, how to report the incident, and the best way to keep themselves safe.
Guiding questions
What types of emergencies might occur at your work sites?
What are the emergency response procedures for each type of incident or disaster?
How should employees use the company's two-way communication platform in the event of an emergency?
2. Hazard communication
While it sounds broad on the surface, OSHA standards for hazard communication refer specifically to the risks surrounding hazardous chemicals. Employers must include clear labels on all hazardous substances, maintain clear documentation for the substances and their potential risks, and most importantly, train employees on how to safely use the chemicals.
Guiding questions
What hazardous materials are in your workplace?
Where does your company keep safety information on those materials?
What protective measures do employees need to take when handling certain materials?
3. Fire safety
Fires are one of the most common risks employees can face. Whether it's a faulty toaster oven in an office or a furnace in a factory, nearly every environment contains a fire hazard. Training on the topic should include how to identify fire hazards, fire prevention strategies, ways to mitigate the risks—including electrical safety—and what to do if a fire does happen.
Guiding questions
What are the evacuation procedures in the event of a fire?
Where are fire extinguishers located on the job site?
When should employees attempt to put out a fire rather than evacuate?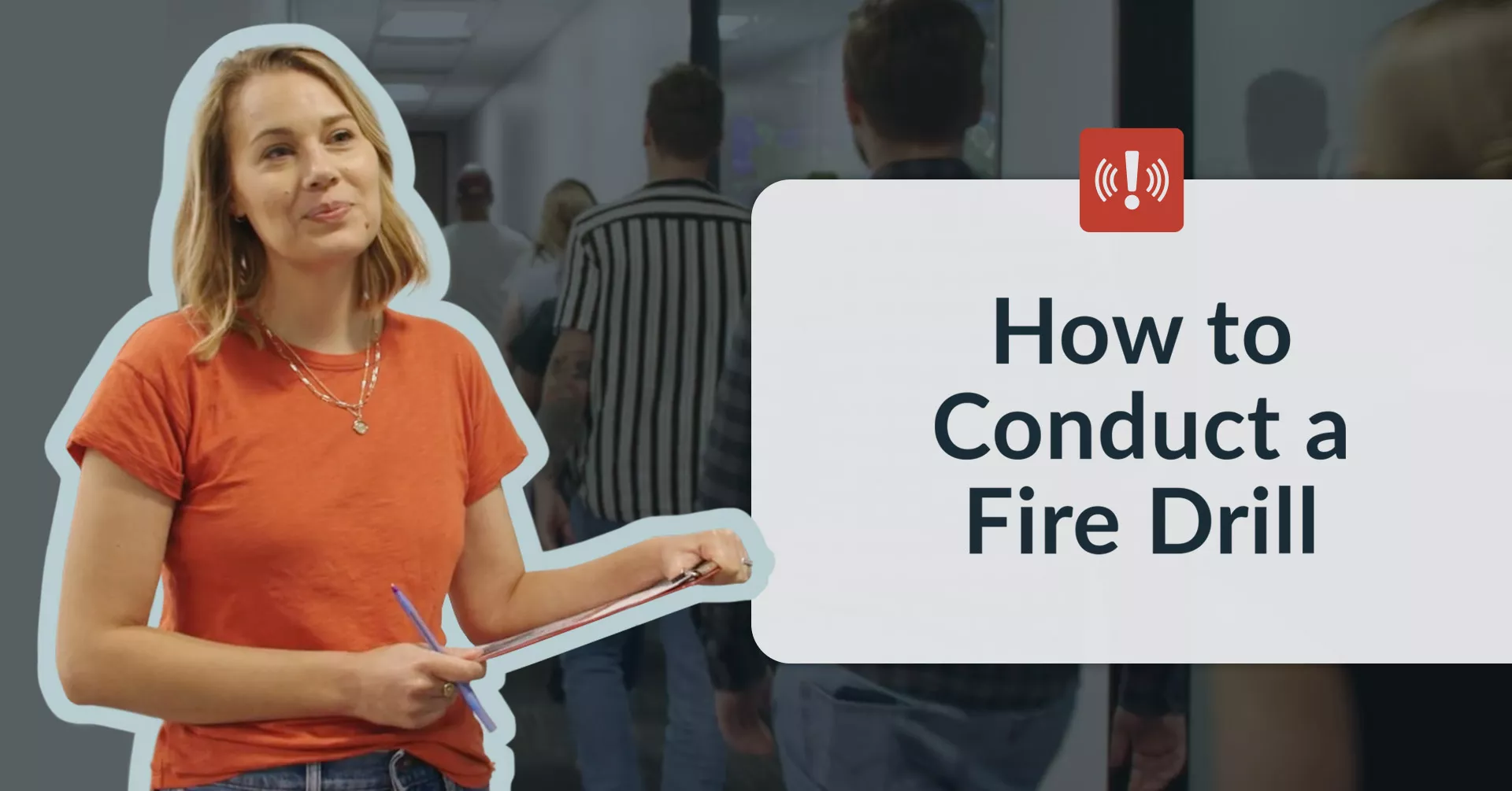 4. Exit routes
When employees are forced to evacuate due to an emergency, every second counts. They need to know where their nearest exit is, what other options they have, and what visual cues they can use in case smoke or other conditions are affecting their vision.
Guiding questions
How can employees locate their closest emergency exit?
Where are backup exits located?
Are team members aware of the need to keep exit routes free of obstructions?
5. Walking and working surfaces
Slips, trips, and falls are some of the most common workplace injuries—and also the most preventable. OSHA has thorough standards for keeping walking and working surfaces safe, and the training applies to nearly any environment. Offices with loose carpet or unruly cables can be just as dangerous as a rickety ladder at a construction site. Identifying fall hazards is the first step.
Guiding questions
What types of footwear are appropriate for the surfaces employees will be walking and working on?
Do workers need to wear protective harnesses or use fall-protection systems on the job site?
What conditions might make surfaces more hazardous than usual?
6. Medical and first aid
Workplace injuries are nearly inevitable, and preparing your employees to deal with them is critical. While you hope they'll never suffer anything more serious than a papercut, many work environments have hazards that could cause burns, broken bones, and worse. Medical and first aid training courses should cover available resources and offer guidance for how (and when) to seek help for more serious emergencies.
Guiding questions
Does your company offer first aid or CPR training to employees?
What medical supplies are on-site and where are they located?
Is there any specialized equipment such as defibrillators that employees need training for?
Who should workers contact in the event of a medical emergency?
7. Personal protective equipment
Personal protective equipment (PPE) is one of the best ways workers can safeguard themselves at a work site. Some types of PPE are required—such as respiratory protection and hard hats—while others are optional. Make sure to explain what types of PPE employees have access to, what injuries they prevent, and how to ensure they wear the equipment correctly.
Guiding questions
What types of PPE are appropriate for the employees' working conditions?
Do they need to take any steps to maintain their PPE?
How can they protect themselves if PPE fails while they're working?
8. Heavy machinery safety
Heavy machinery can present all sorts of risks if not used properly. But in the context of OSHA compliance, there are two primary topics:
Machine guarding: Misusing equipment with moving parts, like power saws or hydraulic presses, can lead to serious injuries or fatalities. Training on how to protect themselves from these hazards is critical for employees who work with these machines.
Lockout/tagout: For machines that release hazardous energy such as steam or electricity, you need to provide training on how to disable the equipment to safely service it.
Guiding questions
What types of risk do heavy equipment present at your worksite?
Who can work with the machinery?
How can the equipment be safely disabled?
9. Heat exposure and illness
OSHA put a focus on heat regulations in 2022, bringing the issue to the forefront of workplace safety training. It would be easy to think of it as a seasonal risk for warmer months, but workers in factories and confined spaces can experience heat stress in the dead of winter.
Guiding questions
Can job-site conditions exacerbate the risk of heat exposure and related illness?
What types of PPE can workers use to prevent heat stress?
What procedures should employees follow if they feel ill due to heat?
Focusing on the "Safety" in Safety Culture
Building a strong safety culture is a commitment, and providing proper training is one of the most important steps. Integrating OSHA safety meeting topics into your training doesn't just check a box for compliance. It also ensures that you're leveraging best practices to enhance employee safety.
By focusing on your safety program at every possible step, you're empowering your employees to protect themselves and their teammates. Hopefully, they'll never need to put their training into action. But if they do, you can rest easy knowing you've given them the tools to make the right choices.
Download Our 2023 Safety Calendar
Plan and track your key safety initiatives so you can stay organized all year long.