Company News
Dec 18, 2020
Employee Safety for All: Introducing Our New Website
Learn more about the newly enhanced AlertMedia website and how to find employee safety resources and educational content for your organization.
Key Feature Guide
See how easy it is to identify potential risks, see who is impacted, and inform the right employees—all from a single platform.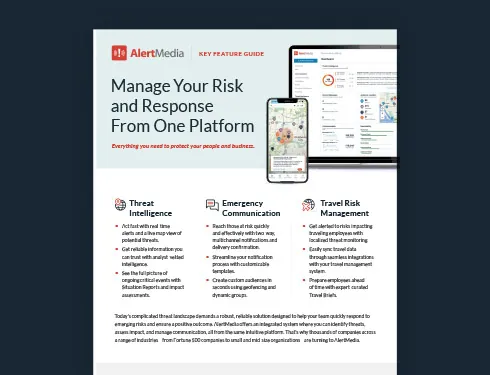 As we enter the new year full of newfound hope and a desire for a return to normalcy (or something approaching it), we wanted to share with you some of the work we've been doing behind the scenes to help you get a jump on 2021 with new resources and fresh insights.
With the pandemic altering how we work, live, and navigate our respective communities, this year has provided ample opportunity to reflect on our mission and why AlertMedia exists.
A New Website Designed Around Employee Safety Resources
After several months of work and testing, we're thrilled to share with you our new website, which is packed full of new features, resources, and opportunities to learn more about employee safety and emergency communication.
New features
In designing the new website, we thought to ourselves: how do we make this experience as fast and seamless as our product?
Just as we strive to build the industry's most intuitive and easy-to-use products and services, we challenged ourselves to build a website that reflected this same goal—making it as simple as possible for users to both learn about what our products offer while also serving relevant content and resources to help them be successful, regardless of their vendor choice.
Some of the new features website visitors will notice, include:
Speed enhancements: Our new website is now considerably faster, offering snappy load times and more intuitive navigation to help you move around the site quickly.
Improved device support: We've also updated the website for improved performance on mobile and tablet devices, including a new, responsive design to make browsing from any device easier and more enjoyable.
Advanced filtering: The AlertMedia blog and resource center now offer improved filtering, allowing you to more quickly navigate by category or topic to find the most appropriate content.
New content types: We're now surfacing more content types, including The Employee Safety Podcast, on-demand webinars, and other tools designed to help you get up to speed on relevant safety topics and incorporate best practices.
Every day, we are honored to work with thousands of organizations investing in the safety and well-being of their employees through better planning, improved communication, and a proactive approach to safety awareness. Because of this, AlertMedia is uniquely positioned to provide our customers and the broader safety community access to insights, best practices, and resources designed to help anyone responsible for employee safety at their organization better protect their people and business from a multitude of threats.
Expert Advice From Industry Leaders
In the past 12 months, more than 1,000 new organizations have chosen AlertMedia as their emergency communication solution, joining some of the world's most admired and respected businesses.
With the new website, we're further highlighting and shining a spotlight on their inspiring stories, making it easier for anyone to learn from their success.
Customer spotlights: Our customer spotlights can now be filtered by organization size, industry, and use case so you can quickly find examples relevant to your business.
Expert commentary: We've also improved the discoverability of our webinars and weekly podcast, expanding the types of content through which you can access expertise from industry experts spanning a wide range of organizations and industries.
As we embark on a new year, we look forward to continuing our partnership with customers and the broader industry to elevate employee engagement, emergency communication, and business continuity. If there are employee safety topics that you think warrant additional discussion or questions you would like to see explored more thoroughly, we want to hear from you. Fill out our reader survey to share your ideas and questions.