Safety and Security
Jun 28, 2022
6 Construction Site Safety Tips to Protect Your Team
Construction sites can quickly shift from efficient work zones to disaster areas if they aren't set up for safety. Here are some tips to keep your construction site safe and your workers protected.
Threat Assessment Template
Identify the threats that will have the biggest impact on your organization.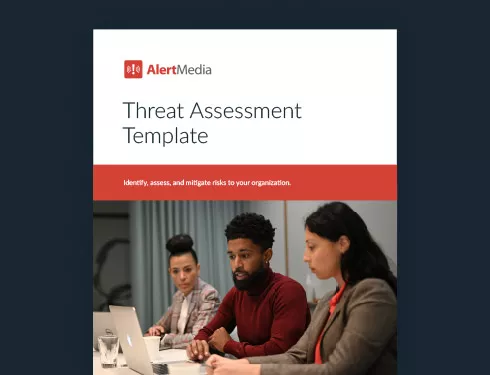 Most construction sites have all the markers of dangerous work environments: uneven working surfaces, fall risks from heights, heavy machinery, and even outdoor weather hazards like heat or ice. And these dangers are what account for roofing and construction ranking in spots four and five on the list of most dangerous jobs.
In fact, the Occupational Safety and Health Administration (OSHA) reports that around 20% of private industry worker fatalities in 2019 were in the construction industry. These employees face hazards every time they step onto the job site.
Understanding the risks to construction worker safety doesn't have to mean writing off injuries and accidents as "part of the job" or "what you signed up for." In fact, greater risk awareness is an active step in mitigating those same accidents the industry is known for. Read on for other ways to increase security and promote health and safety at construction worksites.
How to Keep Workers Safe on All of Your Construction Sites
Worker safety should be the top priority for construction companies, above speed, expense, and effort. But putting safety first shouldn't detract from your projects. On the contrary, when the setting is safe and secure, construction work often runs smoother. Employees can operate more quickly with the right equipment and training and without the delays of halting work after an accident. Increased safety protocols can also reduce the overall cost of a job by lowering fines from OSHA standard violations, workers' compensation, and insurance costs.
Keeping your construction site safe doesn't have to be complicated, but it should be thorough. That's where a safety culture comes into play. You can learn more about what a safety culture is and how to build one in your business here!
By integrating safety as a core value in your company, you ensure that no matter what work is being done and which employees are on shift, they are following safety procedures, and there will be fewer accidents and injuries. The following tips will support your company's cultural progress and safety performance at the same time.
Identify your business' most critical threats with this fill-in-the-blank template.
6 Construction Site Safety Tips
1. PPE
Provide appropriate personal protective equipment (PPE) to all your workers for any task or job that might pose a risk to health and safety. PPE can mean the difference between a near miss and a fatality, and it can even prevent an accident in the first place. OSHA requires that PPE be provided to employees at no cost and has specific standards for what should be available.
PPE items might include:
Hard hats or head protection
Harnesses for fall prevention
High-visibility clothing
Steel-toed boots
Safety goggles or glasses
Gloves
Hearing protection
And more…
The basic need for PPE may go without saying, but how often you are updating your equipment lists? Job sites and industry best practices have frequently changing needs, and staying up-to-date is a must. Have a regular schedule for revisiting the standard requirements, unique equipment needs for specific sites and occupations, as well as employee feedback to ensure people feel secure in the provided equipment.
Meanwhile, be sure to maintain the quality of the equipment and train all employees on proper use so that they can effectively protect themselves on the job.
2. Situational awareness
Teaching your employees to be situationally aware is one of the most impactful safety precautions you can take. When your employees are aware of what is going on around them, they can spot potential hazards and safety issues before they ever become an accident.
It starts with teaching your teams what to look out for and how they should respond. For example, an employee with good situational awareness who has been trained in hazard identification might spot a broken guardrail that would fail under pressure—while an untrained employee may never see the accident coming. Focus on encouraging your workers to slow down and pay attention to their surroundings at all times.
Quick exercise: Reading the situation
Imagine you have a crew building a new-construction house. You have some workers on ladders putting the roof frame together, and others are running electrical through the walls. One electrician begins work directly underneath where a beam is being installed. They place a tool bag down a few feet from them in the walkway and focus on their work.
What might happen if someone loses grip on a beam before it is secure?
What might happen if the ladder is jostled?
What might happen if someone carrying heavy lumber doesn't see the tool bag in the walkway?
How could situational awareness prevent an accident in this situation?
3. Safety training
Training programs are the best way to ready your employees to navigate their working conditions safely. Prioritize trainings for specific job functions, power tools or other equipment, first aid, and hazardous substance handling. On an ongoing basis, prepare your workers to respond to dangerous situations quickly and effectively. This goes for the common incidents as well the potential threats people don't often think about. Train employees to carry out emergency plans, such as a fire evacuation, inclement weather, or other response to hazards that threaten your sites.
These courses should be mandatory for all employees and should be assigned regularly throughout the year, such as biannually or even quarterly for some courses. You can also use incentives to get employees positively engaged.
4. Communication
Strong communication is critical to safety in any job, but it's especially important for navigating the many complexities involved with construction projects. Communication comes in many forms on these job sites. For example:
Hazard communication — Clear signs to mark fall hazards, electrocution risks, or other potentially harmful situations and equipment
Emergency communication — Contact with all relevant parties to facilitate evacuation or other emergency response on site
Regular communication — Day-to-day contact with all employees, stakeholders, and subcontractors to ensure work runs smoothly
Make sure you have up-to-date contact information for all your employees and relevant third parties, like vendors or contractors, so that you can reach out to them for any of these communication needs. You should also have a reliable way for your workers to reach you, such as a two-way mass notification system—after all, on a construction site, the workers are likely to encounter hazards first.
5. Strong leadership
A company's safety culture starts at the top and is adopted down the ranks of the business. So having a leadership team that is dedicated to safety is necessary for promoting workplace safety. But it's not just about creating more safety rules for people to follow (though that can be helpful). Strong leadership is about setting an example and creating a positive environment where employees feel empowered to make the safe choice.
Here are a few ways to strengthen your safety leadership:
Avoid throwing around blame when an accident occurs, and instead look for ways to learn and grow from these incidents
Communicate any changes to procedures or expected hazards immediately and clearly to all employees
Create an open and inviting space for employees to voice feedback, requests, and concerns
Address safety issues immediately when they arise
6. Risk assessments
Keeping your job site safe starts with knowing what specific safety hazards are possible. You want to be able to tailor your safety efforts to your specific risks rather than using generic safety plans that might not apply. For example, a construction crew working on the demolition of old buildings is going to have a much higher risk for something like asbestos than a roofing crew on a new construction who should be prioritizing fall protection.
Run a risk assessment on your site, and be sure to factor in all the different work going on as well as environmental risks like inclement weather, extreme heat, or natural disasters. You can put this together on your own or use a threat assessment template like this to easily plug in information about your risks. Then you can build plans for you are mitigating the risks and how your employees should respond to these threats.
Conclusion
Construction site safety is about more than just meeting OSHA safety standards or putting up caution tape. It's about instilling commitment and accountability to safety in all workers, creating a truly safe place to work in an industry prone to accidents and fatalities.
As you approach making your site safe, remember that by arming your employees with knowledge, training, and protective equipment, you are setting them up to succeed. And when you back all of that up with support from leadership and encouragement to act in the safest manner, you will reap the benefits in speed, efficiency, and cost.
Download Our Threat Assessment Template
Identify the threats that will have the biggest impact on your organization.