Safety and Security
Feb 25, 2021
How to Build a Stronger Safety Culture: Q&A with Scott Gerard of Moss Construction
In this Q&A, Scott Gerard, VP of Environmental Health and Safety at Moss Construction, shares how company leaders can make safety a value within their organization.
Key Feature Guide
See how easy it is to identify potential risks, see who is impacted, and inform the right employees—all from a single platform.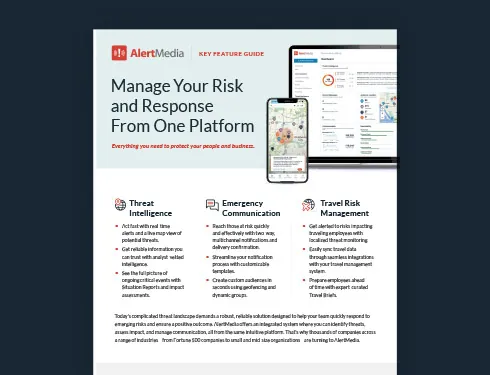 A company culture consists of shared practices and values that shape employee behavior and daily operations. In this era of dispersed teams, remote workers, and social distancing, it can be difficult for companies to create a culture that promotes togetherness and safety. Whether your team is together or apart, it remains crucial to maintain a strong safety culture to promote business continuity and provide direction and support to your people.
In a recent episode of The Employee Safety Podcast, Scott Gerard, VP of Environmental Health and Safety at Moss Construction, joined to discuss how company leaders can make safety a value within their organization, how to implement a lean emergency response plan, and why it's essential to communicate the end-goal of safety procedures.
Scott has developed and championed EHS programs across various industries, including aviation, maritime, public utilities, and construction. In his role at Moss, Scott provides strategic development and implementation of all environmental, health, safety, and security procedures for projects in the United States, Caribbean, and the Bahamas. Under Scott's leadership, Moss leverages platforms like AlertMedia to guide real-time operational decisions and create safe working environments for employees and business partners.
You can listen to the full episode below.
Q&A With Scott Gerard, VP of Environmental Health and Safety, Moss Construction
Scott, can you tell us about your background and your role at Moss Construction?
I'm the Vice President of Environmental Health and Safety for Moss and have about 20 years of experience as a safety practitioner. Previously, I worked in fire and EMS services. Moss is a 15-year-old family-owned business based in Fort Lauderdale, Florida. We work in various vertical markets, including high-rise commercial, hospitality, education, transportation, and solar. We're one of the only contractors certified as a great place to work, which is something I'm most proud of because it's indicative of our core value of honoring relationships. We have about 800 salary team members, 2,000 hourly workers, and 12,000 subcontractor teammates responsible for 60 to 80 projects at any given time.
How can companies go beyond compliance to improve their safety culture and carry out that mission in their day-to-day operations?
Involving our workforce in charting the course of our organization has been a key for us. We changed our way of thinking from safety to working safely and integrated it into our daily operations. To us, safety felt like a separate part of the process. In many cases, it's a stand-alone department. When we started thinking about working safely, it was a transformational moment for us.
""I think communication is the most important component of an emergency plan. Frankly, it's what's made Moss successful." "

Scott Gerard VP of Environmental Health and Safety, Moss Construction
What are some ways organizations can identify weaknesses in their safety culture?
That's easy—get frontline workers involved. They'll provide some of the best feedback and solutions because they're the ones doing it. They know where the risk is and what the challenges are. We also use a behavioral-based safety program that yields many suggestions and solutions from frontline folks.
After implementing new safety procedures, how do you evaluate and measure success?
Our safety and risk management departments work seamlessly together. In many organizations, safety, risk management, and insurance are spread out across separate departments and disconnected. At Moss, we share the same physical space and work together to ensure that we're asking the right questions at the right time. We're able to see results both in our leading and lagging indicators.
For example, our safety inspection system integrates into our construction schedules. As we're constructing a building, we can monitor hazards as they change, allowing safety leaders to focus on high-risk areas. By thinking 'safely' in our daily operations, we measure success by our metrics, which are pointing in the right direction.
It seems that employee safety is a priority for your entire organization. Was there a specific event that influenced how your leadership team thinks about safety?
At Moss, we think of safety as more than just a priority—we think of it as a value. That's a very important distinction. Priorities within an organization—or an individual—can change with external pressures.
For instance, if we fall behind on a schedule and add more staffing to work overtime, that might conflict with a financial priority. But a value is who you are all the time. Your values never change.
That mindset has been with the company since day one. The Moss family and all of our leaders believe that safety is more than compliance. Of course, it's important to comply with OSHA, EPA, and the other agencies, but it's really a moral imperative that we send people home safely to their loved ones every day.
We had a hurricane on the [Hawaiian] island of O'ahu once, where we had a few hundred team members working on solar and building projects. As the storm approached, we sent out a two-way alert to make sure everyone was prepared and safe. I had three workers respond to that alert who were questioning their safety and needed help. We were able to find their supervisors right away and get them—and their family members—into a high-rise hotel where we had booked a block of rooms. That moment alone paid for every bit of effort we put into emergency communications.
A value is who you are all the time. Your values never change.
Most of your organization's locations are beachfront. How does your organization prepare for natural disasters like hurricanes and flooding?
Our company roots are in Florida, so we've always had a robust tropical storm and hurricane preparedness program. As we've expanded our geography and market segments, however, we've had to modify that response plan accordingly. We've worked closely with our operational team to execute and tailor our plan to meet unique needs and exposures. We begin collaborating during the initial stages of response, keeping our plans as simple as possible. This gives us time to activate and deploy our safety professionals as an emergency is unfolding.
What best practices have you gathered when it comes to communicating with your employees in times of crisis?
I think communication is the most important component of an emergency plan. Frankly, it's what's made Moss successful.
All of our team members have access to a 24/7 safety hotline answered by our safety leadership team. We leverage AlertMedia to share appropriate information and resources about the next steps employees should take when responding to an emergency. We communicate that information to the right people at the right time to avoid overwhelming them.
It's kind of a twist on lean manufacturing. I spent several years working for Toyota in manufacturing facilities, so I took the lean manufacturing model and incorporated it into our emergency response plans. We give just the right information, at just the right time, to just the right people.
Every company should strive to prioritize the well-being of their employees. But when it comes to organizations like yours that employ contractors, how do you go about ensuring those individuals feel just as taken care of and a part of the core team?
Our contractors are part of our extended Moss family. We cannot be successful without them.
One of our core values is to honor relationships, which stresses we should care about every family and business partner's safety, well-being, and success. We use the same approach with contractors and show them that we care about them and getting them home to their loved ones. We want to make sure that we don't have to have or sacrifice somebody's health, safety, or livelihood to build one of our projects, so we just treat them as part of our family.
What's something people can take action on today to help them improve their company's safety culture?
This might not be what you were expecting me to share, but I recommend watching a motivational video called, "You can't send a duck to eagle school."
There's a quote at the end of the video that goes something like this, "Go to the people, live among them, learn from them, start with what they know, then build on what they have. And when the task is accomplished, the people will say we've done it ourselves."
The quote is so relevant to what we do as safety professionals because if you can instill a sense of responsibility among your team for their safety and their teammates' safety, it will create sustainable results beyond anything that one person could ever do for them.
Portions of this transcript were edited for clarity or brevity.