Communications
Jun 10, 2020
Using Surveys to Reopen Your Business
Getting feedback from employees is critical to reopening your business. In this article, we will discuss the three main ways your business should use surveys as it reopens: wellness checks, health screening, and coordination.
Key Feature Guide
See how easy it is to identify potential risks, see who is impacted, and inform the right employees—all from a single platform.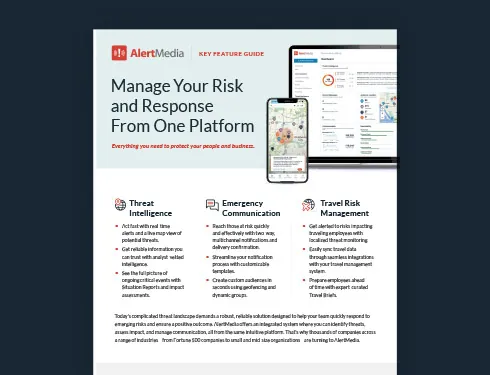 As businesses across the country move to reopen, one thing is becoming clear. This is a difficult and complicated process—and communication is critical.
One of the most useful types of communication that organizations are using to facilitate this process is surveys. Getting feedback from employees is absolutely necessary to plan and execute an effective reopening. Surveys—sent out using your organization's mass communication system over SMS, email, voice, or push notification—help you gather this feedback quickly and efficiently in mass.
In this article, we will discuss the three main ways your business should use surveys as it reopens: wellness checks, health screening, and coordination.
Health Screening
As companies start to bring employees back to the physical workplace, keeping employees healthy and safe needs to be the number one priority. Although the curve has flattened across the country, the risk of infection remains very real—all the more so as restrictions are eased and workplaces reopen.
With this in mind, nearly every state is requiring some form of regular health screening for employees who will be returning to work. Although employer health screenings like this are typically illegal, the pandemic has led to most of these restrictions being eased.
Surveys are the best way to conduct these mandatory health screenings—for employees and visitors.
For employees
The most common health screenings are temperature checks, but most state guidelines go further—requiring more comprehensive symptom checks. Although every state has its own specific guidelines (which you can find here), most symptom check surveys should look something like this:
Have you experienced any of the following in the past 24 hours? Reply with the number of your response.

Fever over 100.4 F
Cough
Shortness of breath
Exposure to COVID-19
Multiple of above
None of above
These symptom screenings should be conducted for any employee that will be working in person, every day before they come in for work. If you will be conducting these surveys at scale, you should create automated responses depending on your employees' responses.
One home decor retailer is using AlertMedia to accomplish this with all of its shift workers. Before each shift, the system sends out a message to all employees who are scheduled to come in to work. If they respond that they have experienced symptoms, then they are instructed not to come in to work and to contact their shift manager. Also, if an employee doesn't respond and their shift is approaching, the system will automatically resend the message to try to get a response—automating what would otherwise be a manual and time-consuming process.
For visitors
Health screening does not only apply to employees, however. If you have visitors who are scheduled to come into your office—for appointments or some other type of visit—you should also screen them for symptoms.
This survey should follow the same basic structure of your employee health screening, but you should also consider having questions regarding exposure. While most states do not require questions about potential exposure, many recommend it. Even if your employees have been quarantining before returning to work, you are putting them at risk if your office visitors have not been doing the same.
One large auto manufacturer is using AlertMedia to do just that—surveying visitors to their corporate office for both symptoms and exposure.
Wellness Checks
Whether your business has reopened or not—and whether your employees are remote or not—you should be conducting periodic wellness checks. But these check-ins should look different depending on where you are in the process of reopening.
For remote employees
Even though reopening has picked up steam in the last several weeks, many businesses have decided to hold off on bringing employees back to the physical workplace—and some have said they may never do so. Plus, most businesses that have reopened still have some percentage of their workforce working remotely.
For these employees, wellness checks should center on your employees' remote work experience Remote work can be an incredibly isolating experience—and has been shown to lead to spikes in stress and depression. These effects could become even more pronounced for employees that are still remote as friends and coworkers return to the physical office.
Likewise, remote work requires the right set of resources and optimal setup to maximize productivity. When the shift to remote work first happened, many employees did not anticipate that it would remain in place for so long. Your employees may just now be realizing that they need to find a better and more permanent setup to stay productive going forward.
Ask your remote employees how they are doing regularly. These check-ins should be in-person over teleconference when possible—but supplement these in-person check-ins with surveys for all remote employees, so that no one slips through the cracks. Ask if they would like to be connected to additional resources, or if they are in need of a mental health day off. Even if your employees don't decide to take advantage of these resources, they will appreciate knowing that your organization has not forgotten about them.
For in-person employees
Wellness checks with in-person employees should have a different emphasis. Surveying employees about their experience returning to the workplace will help you refine your back-to-work plan and ensure you are putting employees' safety first.
Here are some suggested questions you should consider asking your employees who have returned to the physical workplace:
Do you feel comfortable working in person?
Has [company name] has taken appropriate measures to create a safe workplace?
Do you feel more or less productive working in person compared to working remotely?
All of these questions can include follow-up responses or questions based on how your employees respond. If you use an emergency communication system like AlertMedia, you can automate this process. For example, you can have the system automatically follow up with employees who say that they don't believe that your company has taken appropriate measures, by asking: "What measures would you like to see [company name] implement?"
These responses will be invaluable as you refine your approach to reopening.
Coordinating Reopening
The final major use for surveys is to coordinate your reopening. The decision of when to reopen is a difficult one, and even once a business has decided to reopen, they need to determine who is going to return to the office. Surveys can help streamline this process.
Before deciding to reopen, you should consider surveying employees regarding:
Interest in returning to the physical workplace
How soon they would be able to return
Whether it would be safe for them to return (i.e. if they have a medical condition or are in a high-risk group)
The answers to these questions will give you a much better idea of how many employees you can expect to have available if you do decide to reopen. One AlertMedia customer that is a restaurant chain did this by surveying all their furloughed employees to find volunteers to return to work. This allowed them to quickly identify who was interested and available when they did reopen.
You can also use surveys to automatically fill shifts if an employee does not pass the health screening or calls in sick. If you just have one or two shifts to be filled, you can send out a mass survey asking who is available, and tell the system how many shifts need to be filled. Once you receive that set number of "Yes" responses, the system will automatically reply to any further "Yes" responses that the shift has already been filled. This is a crucial feature given the unpredictability that comes with daily health screenings.
Surveying employees has always been a good idea—but now, it's even required by law in some areas. Surveys will help you tie important employee feedback and real-time data into your reopening plans, keeping employee safety at the center of your decision-making.