Emergency Management
Jul 13, 2023
How NFPA 1600 Can Help Enhance Your Emergency Plans
Building an all-hazards plan for your business doesn't have to be hard. Learn how NFPA's 1600 standard can ensure your safety plans cover all the bases.
Threat Assessment Template
Identify the threats that will have the biggest impact on your organization.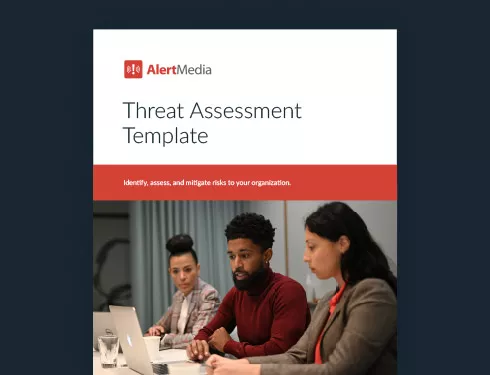 There's no time like the present to take a fresh look at your organization's emergency management program. That requires identifying opportunities for improvement and developing strategies to address them as soon as possible. But building a comprehensive emergency management plan that can be applied to the wide range of events organizations face—from IT outages to natural disasters to terrorism—is no small task.
Fortunately, the National Fire Protection Association (NFPA) has you covered. Their NFPA 1600 helps organizations of all sizes design and implement effective emergency management programs.
Let's unpack NFPA 1600 to see how organizations like yours can use and benefit from it. You'll learn why (and how) this standard can help you build a better emergency management program. You'll also learn how to evaluate your existing program to identify gaps and make improvements, leaving your business more resilient and able to protect its people from danger.
Download Our Threat Assessment Template
Identify the threats that will have the biggest impact on your organization.
What Is NFPA 1600?
Despite the name, NFPA 1600 isn't a fire-based standard. Rather, it's a universal standard that emergency management and business continuity professionals can use to prepare for disasters and ensure property protection, life safety, and business continuity. FEMA, the International Association of Emergency Managers (IAEM), and the National Emergency Managers Association (NEMA) all endorse NFPA 1600. In fact, these organizations work with the NFPA to develop the standard.
Anybody working in emergency management or business continuity should become very familiar with NFPA 1600—also known as the Standard on Continuity, Emergency, and Crisis Management. Since it was first published, NFPA 1600 has become the gold standard in emergency management. The U.S. Department of Homeland Security has adopted it as a voluntary consensus standard for emergency preparedness.
Widely used by organizations of all sizes and from all industries—both in the U.S. and around the world—the standard covers the key elements required for effective emergency management and business continuity programs. It addresses topics such as program planning, implementation, training and education, and execution. The 2019 edition also places greater emphasis on crisis management than years' past. The latest version highlights the importance of maintaining crisis communication capabilities, including the adoption of a reliable emergency communication system. Companies need to be able to disseminate information to both employees and external audiences when disaster strikes.
How does NFPA 1660 compare?
NFPA 1600 has been updated numerous times over the years, but the most significant one came in 2023 when it was combined with other NFPA standards 1616 and 1620 to create NFPA 1660. These standards deal with mass evacuation and pre-incident management respectively. You might notice that those subjects are already covered in 1600, but 1660 is meant to provide a closer look at the specifics of those tasks.
NFPA 1600 is still a great resource, it just has a slightly different scope from the newer 1660. The advice you find here will apply to either NFPA 1600 or 1660!
Identify your business' most critical threats with this fill-in-the-blank template
What Does NFPA 1600 Mean for My Organization?
When faced with an emergency, chaos can easily take over without a robust, well-designed, and well-practiced emergency plan. It's why emergency management standards are critical. As Don Schmidt, past chair of the technical committee that writes the NFPA 1600 notes, "The subject matter that we define as emergency management and business continuity/continuity of operations is very broad and deep. Standards bring together the collective expertise of numerous subject-matter experts and become valuable tools as they are used, refined with user input, and over time become widely accepted criteria."
Adhering to NFPA 1600 can help any organization, big or small, improve employee safety, protect their property, meet their duty of care obligations, and ensure business continuity when faced with any number of hazards. In fact, it's designed to be helpful in pretty much any adverse scenario, hence why many refer to it as an "all-hazards approach" program: It can improve customer satisfaction, reduce the risk of supply chain disruptions, and lower the incidence of injury. It can also make your company more attractive to investors and insurance underwriters. Finally, following NFPA 1600 when constructing an emergency management program is more efficient. Leveraging NFPA 1600 allows you to avoid starting from scratch, maximizing your efforts while covering all important elements.
5 key elements and benefits of NFPA 1600
The current edition of NFPA 1600 is detailed and lengthy, coming in at a hefty 97 pages. It's probably one of the most thorough collections of information on all-hazards prevention available to the public. But on the other hand, your eyelids might get a bit heavy if you try to plow through the whole thing in just a few hours. Here are the five most essential program elements from the NFPA 1600 and what they mean for your business and program coordinators.
1. Leadership (Chapter 4.1)
Any corporate initiative needs leadership buy-in to succeed. Otherwise, you're liable to spin your wheels trying to set up a safety program, train responders, and fulfill resource needs only for a C-suite executive to put the kibosh on your hard work. Chapter 4.1 recommends that you include leadership in the planning process as soon as possible so that they can support your efforts in preventing, anticipating, and executing your safety program.
It's important to emphasize that leaders shouldn't simply sign off on your safety program and then retreat from it; they need to continually participate, from the ideation stage to the after-action review.
2. Risk assessment (Chapter 5.1)
The risk assessment, AKA the business threat assessment or needs assessment, is akin to turning on your headlights before you set off on a night drive. Just as you can't see the bends in the road or approaching dangers without illumination, you can't defend your company from danger if you aren't aware of the threat landscape. This step in the process is all about asking, "What can hurt us, how often might that occur, and what impact would that have on our people and operations?"
You can then plot your findings on a threat matrix to help visualize your most common or impactful dangers.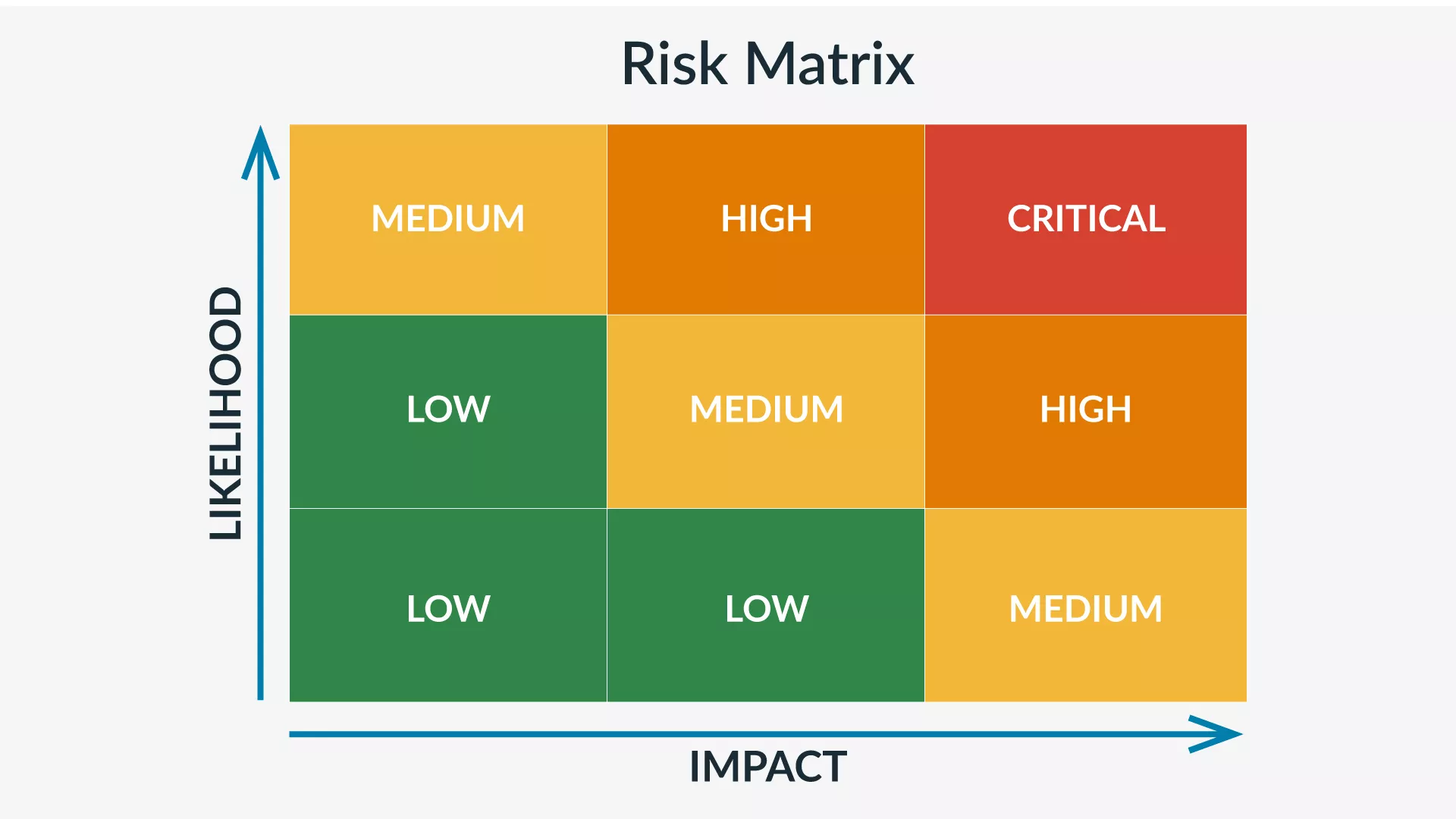 NFPA 1600 goes on to list numerous hazards that businesses need to consider among these five categories:
Geological
Meteorological
Biological
Accidental
Technological
You can then perform a business impact analysis (BIA) to see how these threats could impact your operational procedures.
3. Common plan requirements (Chapter 6.1)
While brief, this chapter is the heart of NFPA 1600. It sets forth general recommendations for planning and documenting your safety program. It stipulates that compliant safety plans include the following:
The findings of your planning and threat assessment
Emergency response team roles and backup alternates
Chain of command (hierarchy of authority)
Liaisons to external organizations
The infrastructure and resources needed to facilitate the plan
4. Emergency communications (Chapters 6.5–6.6 & 7.2)
Emergency mass communications save lives during crises, and the NFPA agrees. As soon as you detect an emergency, you need to quickly engage all stakeholders so that they can enact your plans.
The Association also recommends that companies set up reliable, redundant crisis communications and public information systems. They're used to issue consistent and helpful advice before, during, and after an incident. They also suggest using pre-written message templates to reduce uncertainty and ensure consistent messaging during hectic moments. These have the dual purpose of activating your team and keeping everyone else informed and away from danger.
5. Training and practice (Chapter 9.1–9.5)
The entirety of chapter 9 is all about practice and improvement. Returning AlertMedia blog readers know how keen we are on practice methods like tabletop exercises and emergency drills, and we're proud to be on the same page as the NFPA. They recommend familiar tools like after-action reports to uncover and crystallize the efficacy of a particular emergency response. With a standardized methodology, you can reflect on every accident, injury, and disaster uniformly, and use those lessons to fuel continuous improvement.
"The subject matter that we define as emergency management and business continuity/continuity of operations is very broad and deep. Standards bring together the collective expertise of numerous subject-matter experts and become valuable tools as they are used, refined with user input, and over time become widely accepted criteria." - Don Schmidt, former Chair member, NFPA Technical Committee
Annex index
There are many annexes found at the end of the NFPA 1600 document, but the first three are the most cited:
Annex A
This first annex is a portion dedicated to clarifying the myriad jargon found in the document. You'll find definitions of terms and acronyms like "access and functional needs" and "COOP" here.
Annex B
Annex B is a self-assessment for compliance with NFPA 1600. It includes a lengthy checklist that covers every single chapter and sub-chapter from the main document body.
Annex C
NFPA 1600 is meant for organizations of all sizes, and to emphasize this, Annex C is a "small business preparedness guide." It suggests ways to slightly pare down the number of steps for the whole standard while retaining its effectiveness for smaller companies.
How Are Other Organizations Using NFPA 1600?
Any organization can benefit from using NFPA 1600 to steer emergency management program development requirements. Leaders can easily adapt the standard to fit the unique needs of organizations in any industry, size, and location.
Colleges and universities, for example, are using NFPA 1600 to ensure campus safety and build progressive emergency management programs that cover everything from active shooter preparedness to wildfire evacuations. And in the years since the catastrophic 1994 Northridge earthquake that impacted access to critical patient care, Cedars-Sinai Medical Center in Los Angeles has applied the lessons learned to strengthen their emergency management program. Specifically, they have used NFPA 1600 to address the three essentials needed to ensure health care is available during emergencies: safeguarding human resources, building business continuity management programs, and protecting physical resources.
Organizations are not legally obligated to follow NFPA 1600, but its flexibility has led to rapid adoption. Even FEMA recommends that organizations—both public sector and private sector—voluntarily adopt the standard because they think it's the best available; there's hardly a better endorsement for the efficacy of the NFPA 1600 standard.
Since the standard is not prescriptive—it addresses emergency management program requirements, rather than how to achieve them,—the resources required to adhere to NFPA 1600 are unique to each organization's capabilities, characteristics, and objectives. This means NFPA is suitable for any organization—including those with constrained resources or where a single person performs the duties of disaster preparedness. Businesses can (and should) still use it as the model by which to develop their emergency operation plans.
Similar standards, such as CSA Group's Z1600, DRI International's (DRII) Professional Practices, and the International Standards Organization's (ISO) 292 series overlap NFPA's in many ways and differ in others. For example, DRII's focuses more on recovery plans in lieu of other elements that NFPA covers.
Revamping Your Emergency Management Plan
Every company, regardless of size, will face critical events that impact their employees and their operations. The difference between companies that can weather these events and those that cannot comes down to preparation and risk management. Efforts put into developing an effective, modern emergency management program can make all the difference.
By adhering to the expert guidelines set forth in NFPA 1600, organizations can develop a robust emergency management plan. This will help them keep employees safe, ensure good business continuity planning, and minimize customer impact in times of crisis.
Download Our Threat Assessment Template
Identify the threats that will have the biggest impact on your organization.