Communications
Feb 02, 2021
The Importance of Trust Before, During, and After an Emergency
In this blog post, we discuss the importance of emergency communication and establishing trust between employers and employees.
Key Feature Guide
See how easy it is to identify potential risks, see who is impacted, and inform the right employees—all from a single platform.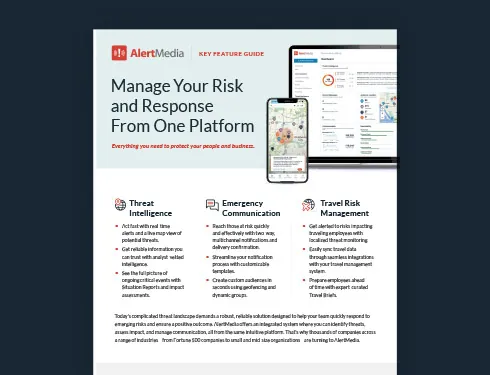 For 21 years, the Edelman Trust Barometer has measured trust and credibility across four social institutions—government, NGOs, media, and businesses. Over time, it has become the foremost authority on how everything from technology to politics affects public trust.
For many, it will come as no surprise that the most recent Barometer found institutional trust to be at an all-time low, with much of the world still dealing with the COVID-19 pandemic and reeling from near-constant discourse about "fake news" and where to turn for accurate information about a wide range of crises. Interestingly, the study found that one source remains the clear-cut leader of these institutions when it comes to credibility—businesses.
In fact, the study found businesses were the most trusted institution today, with 61 percent of respondents saying they trust businesses to do the right thing—significantly higher NGOs (57 percent), government (53 percent), and media companies (51 percent). Trust in businesses is also higher than trust in government in 18 out of 27 countries. Edelman credits this trust gap to employers' quick transition to remote work and the rapid development of COVID-19 vaccines led by the private sector.
Trust Amid the COVID-19 Pandemic
During emergencies and other crises, building trust is critical. At the start of the pandemic, people around the globe eagerly awaited answers regarding what to do and how to stay safe. Yet, misinformation, confusion, and conflicting advice made it nearly impossible for many to understand what steps they should take and how to navigate everyday life safely.
Circumstances forced employers to not only take charge and make decisions for the safety of their employees—often without advice from state and local leaders—they were expected to do so. More than half of Barometer respondents said they expect business leaders to fill in when the media and government fail in their duties, with 66 percent saying CEOs should specifically take the lead on change.
The Relationship Between Employee Trust and Safety
Employers have a legal and ethical responsibility to protect employees from unnecessary risk of harm when working—it's their duty of care. But those who put their employees first also benefit from increased employee morale, trust, and retention, as well as improvements to their bottom line. Studies have found that companies that offer exemplary safety, health, and environmental programs outperform the S&P 500 by between 3 and 5 percent.
The pandemic put an even greater spotlight on employers who prioritized employee safety. The Edelman Trust Barometer reported a 49 percent net increase from last year in respondents ranking the importance of businesses keeping customers and workers safe, and 50 percent said they'd be more likely now than a year ago to voice their objections to management if those needs aren't met.
As businesses look to return to the office sometime this year amid the COVID-19 vaccine rollout, employer trust will once again be put to the test. Employee buy-in will be essential, as will the confidence in their employers' ability to prioritize their safety. Of the 48 percent of respondents who said they would choose to return to the office this year, 34 percent said it is because their employer made them feel safe. Establishing trust starts with employee safety.
Why Regular and Effective Communication Is Paramount
One of the most significant ways a business can demonstrate its commitment to safety is through regular and effective employee communication. One California-based designer and manufacturer of a range of products for the medical industry prioritized employee communication at the height of the COVID-19 crisis. An essential business, all of its employees had to continue to work on-site throughout the pandemic, which meant the company had to frequently use its emergency communication system to share ongoing COVID-19 updates. However, few workers in the company's manufacturing facility had regular access to email. If that weren't challenging enough, one employee also tested positive for COVID-19 on Easter weekend in 2020.
Therefore, leadership immediately began communicating critical, time-sensitive information to employees across multiple channels, including email, voice call, and text message. The company also used two-way communication to give employees a direct, immediate line to HR to ask questions, share concerns, or get help. The multichannel approach ensured everybody received the messages they needed when they needed them. These efforts resulted in improved confidence and peace of mind for employees. Months later, the company still sends regular COVID-19 updates to keep its workforce updated on changing conditions and guidance, such as county face mask requirements, self-isolation procedures, and company health and safety measures.
The Impact of Trust
In our current health and economic crisis, poor employee communication can cause unnecessary anxiety, confusion, and stress. According to the Edelman Trust Barometer, regular employee communication saw a 44 percent net increase in importance, but it's not just frequency that matters. When asked how many times they need to see information repeated to believe it, 61 percent said they believe information from their employer automatically or after seeing it once or twice. In contrast, only 39 percent of respondents said they automatically believe information from social media or after seeing it twice or less.
Communicating accurate information is easier said than done, especially in an era that CEO Richard Edelman calls "information bankruptcy." It's no secret that both public and private organizations have been combatting the spread of misinformation for several years now. This year's Edelman Trust Barometer suggests businesses' biggest opportunity to increase trust is to fill the information void. More than half of respondents agree, with 53 percent saying corporations have a responsibility to provide quality information when the news media is absent. It's also likely a contributing factor to the finding that businesses today are the only institution seen as both competent and ethical.
Building Trust Together
AlertMedia has helped organizations communicate with their employees in times of crisis since 2013. When your people's health and safety are at stake, you need an enterprise emergency communication system that will help you communicate quickly, reliably, and in a way that elevates. With AlertMedia, organizations can enable the fast, reliable delivery of mass notifications to any size audience, on any device, over any communication channel, anywhere in the world. The result is not only an increase in trust in your organization but better business outcomes and a stronger reputation.