Communications
Mar 09, 2020
Coronavirus Business Preparation: 5 Do's and Don'ts
In the sea of information regarding Coronavirus, though, it can be hard to identify what your organization can do to prepare for the spread of the disease. In this post, we will discuss the practical steps you can take today to prepare your business for the Coronavirus.
Key Feature Guide
See how easy it is to identify potential risks, see who is impacted, and inform the right employees—all from a single platform.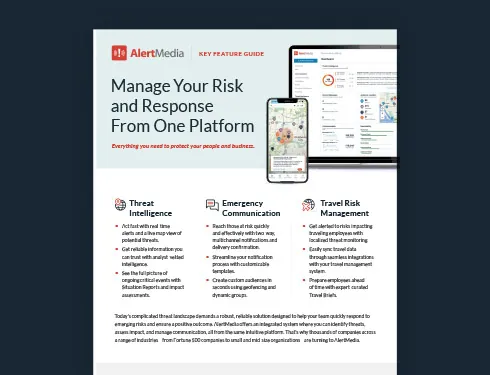 Do: Inform Employees How They Can Prevent the Spread of the Disease
The most important information regarding Coronavirus isn't the mortality rate or the number of new cases since yesterday—it's how the disease spreads. Your employees need to know how Coronavirus spreads from person to person so that they can decrease the chances of contracting the disease or spreading it in your workplace.
There are two ways Coronavirus spreads:
From person to person
The disease can spread when two people are in close contact with one another (e.g. standing within 6 feet or shaking hands with an infected person). It can also spread through respiratory droplets produced when an infected person coughs or sneezes.
From contact with infected surfaces or objects
Although less common, it is also possible to contract the disease from touching an infected surface or object—then touching one's face.
You should make sure your employees are familiar with these two ways the disease spreads. There are multiple ways to accomplish this. If your company is small- or medium-sized, it's probably worth hosting a company-wide meeting where you go over a few slides explaining how the disease spreads and what your employees should be doing. If your company is larger, a company-wide email may be your best bet.
You should also include information regarding the specific preventative measures they should be taking. For one, all employees should avoid touching their face. They should also be washing their hands frequently and thoroughly.
Make sure your employees know how to properly wash their hands. This may sound silly, but studies show that 95% of people do so incorrectly! For handwashing to be effective, you should use soap and warm water and scrub thoroughly for 20 seconds. (The CDC recommends singing the Happy Birthday song twice in your head.) Researchers estimate that if everyone routinely washed their hands correctly, a million deaths could be prevented every year. Make sure your employees are doing their part.
Do: Monitor Trusted Sources Like the CDC and WHO Websites
You should also make sure you are up-to-date on the newest information regarding Coronavirus. The situation is constantly changing, and you can stay on the cutting edge by monitoring trusted sources.
The first website you should use regularly is the CDC website. Most of the information above is pulled from the CDC's advice regarding the disease. Their website is great for information regarding:
The disease
How it spreads
Symptoms
Prevention
Testing
The second source you should check regularly is the World Health Organization's website. The WHO website is a great source for the impact of the disease worldwide. This includes:
Updates on Coronavirus's spread worldwide
New developments in treatment
Travel advice
Both websites are valuable sources to use to your advantage. Check both regularly to stay up-to-date on the constantly-evolving situation.
Do: Leverage Assets You Already Have in Place
The Coronavirus is obviously a unique threat, and it deserves an individualized response. But it's also important that you not forget about the systems, plans, and tools that you already have at your disposal. The Coronavirus is the perfect opportunity to leverage these assets in new ways.
For example, you have hopefully conducted a business threat assessment using the standard, four-step process. You should pull that assessment back up and re-run it for the Coronavirus. When you conducted the assessment, you may have identified the threat of a disease outbreak already. Read over how you had assessed that risk, and supplement it with what you now know about the Coronavirus specifically.
You also should make sure your emergency communication system is primed to handle the Coronavirus threat. We've talked before about the benefits of notification templates for foreseeable threats. They help you craft quick, effective messaging in the heat of the moment. You should draft communication templates for the Coronavirus as well.
We have created Pandemic Communication Templates for you to download. Tailor these to your business and upload them to your emergency notification system to prepare your organization for the coming weeks.
Do: Appoint a Communications Coordinator
It is also important to designate one person to be specifically in charge of communications. There are obviously multiple aspects to a pandemic response—but communications might be the single most important one. Your communications coordinator should oversee all internal communication regarding Coronavirus.
The Pan American Health Organization (PAHO) lists three important qualities to keep in mind when choosing your communication coordinator. He or she should be:
Confident: Able to follow your organization's chain of command and manage the flow of information
An excellent communicator: Comfortable working with all departments in your organization and able to provide accurate and timely updates
Organized: Able to provide leadership and guidance to your broader emergency preparedness team
They also need to be comfortable using your mass notification system. It will be important to make that system your hub for all Coronavirus communication. This will keep it all in one place, and it will allow you to monitor the messages you send over multiple channels (e.g. text, email, and voice).
Do: Make an Event Page for the Coronavirus
The Coronavirus isn't going away anytime soon. CDC officials warn that a widespread outbreak in the US is basically inevitable.
That means that your response will also have to be long-term. A threat like an active shooter is over in a matter of minutes; a hurricane in a matter of days; a wildfire in a matter of weeks. The Coronavirus, though, will likely be a matter of months.
This means you need to make an Event Page for the Coronavirus. An Event Page is your organization's hub for a long-term threat like a disease outbreak. It is a single webpage where employees can go to for the latest information on the disease and your organization's response. You should be able to host an Event Page through your employee notification system.
When you launch the page, you should upload any relevant Coronavirus resources, your organization's plan to deal with it, and advice for how to minimize your chances of contracting the disease. As the situation develops, post updates to this page. If your organization ever considers closing an office, let your employees know on the Event Page that you are monitoring the situation and will send a notification if you do plan to close an office.
The Coronavirus Event Page should be the one place your employees know to go if they want information on your company's Coronavirus response.
Now that we've covered 5 important things you should do, let's discuss some of the mistakes people make that you make a point not to do.
Don't: Tell Employees Experiencing Respiratory Symptoms to Come to Work
This one should go without saying—but don't tell employees to come to work if they are experiencing respiratory symptoms (e.g. coughing, sneezing, etc.). While it is unlikely that an employee who has a cough has the Coronavirus, it's much better to be safe than sorry.
The Coronavirus appears to be very contagious. While it is unclear just how contagious it is, officials warn that it is much more contagious than SARS (another contagious disease that circulated in China in 2003, killing over 750 people).
Your employees should know that if they are experiencing any of the symptoms of Coronavirus, then they should stay home. Even if they have an illness other than Coronavirus, this will minimize the chance of them infecting other people at your office with that other illness—which is important in light of the potential strain that will be put on US hospitals by the Coronavirus over the next several months.
If you have special concerns that your employee might have the disease, encourage them to contact your state's Coronavirus hotline. You should be particularly concerned if they have traveled internationally recently, or if they are experiencing all the symptoms of the disease. Nearly every state has instituted a Coronavirus hotline at this point; you should be able to find your state's # by searching the web for "[State] Coronavirus hotline."
Don't: Travel to At-Risk Locations
Travel is a critical aspect of almost every business nowadays. You likely already have a travel risk management plan in place—and that's a good thing.
But the Coronavirus epidemic is a big enough threat to override your pre-existing travel risk management plan. Certain countries should immediately be added to your "no travel" list.
Specifically, you should cease all business travel to China, South Korea, Italy, and Iran. You should also advise (or mandate) that all employees not travel to any of those four countries for leisure.
Each of those countries has reported 3,500+ total cases of Coronavirus (80,000+ for China)—and the actual figures are likely much higher. It simply isn't worth the risk.
You can see updated counts each day for the number of reported cases in each country at this site.
Don't: Overload Your Employees With Notifications Regarding Coronavirus
While communication with employees is critical during an outbreak like this, it's also important to be tactful in how and how much you communicate. One of the worst mistakes you can make is actually communicating too much.
For example, in planning your Coronavirus response, you might think that it's a good idea to send all your employees an update every morning—with information about the latest news on the disease and what your company's latest plans are.
That is NOT a good idea. Daily messages will only result in notification fatigue, the phenomenon whereby your employees become desensitized to notifications, so they start to tune them out. (It's a similar phenomenon to the "boy who cried wolf" story.)
Instead, use targeted communication. Limit company-wide communications to only those rare times that there is a message everyone in your company needs to read. If you are closing an office (say, in Washington state) on the other hand—just notify employees in that office. If there are employees on a business trip abroad and you need to communicate with them about what to do when they return, only send your message to the employees on that trip. You can accomplish this by relying on geofencing and dynamic groups in your emergency communication system.
Don't: Rely on a Single Communication Channel
It's also important to carefully consider how you communicate during this epidemic. Your default communication channel, as you may have guessed, should be email.
Email is appropriate for more detailed messages, like information regarding how to recognize the symptoms of Coronavirus. You also should rely on email for updates to company travel policies, or to distribute resources related to the disease.
Make sure you also have the ability to communicate via text, though, for more time-sensitive messages. For example, you should definitely send a message out over SMS if you determine on a Sunday afternoon that the office will be closed the following day. Text is also the most appropriate channel for communicating with employees abroad, if the threat of Coronavirus emerges where you have employees traveling. You need to get in touch with them immediately.
For very time-sensitive and important messages, rely on a combination of the two channels. If you decide last minute to close the office, for example, it is probably appropriate to send a message out over both text and email—and potentially voice as well.
Getting Ahead of the Threat
In the United States, we are lucky enough to have some lead time for this epidemic. While countries like China were blindsided, companies in the US have time to prepare for the inevitable outbreak.
Make sure you are knowledgeable about the Coronavirus as we learn more and as it continues to spread. The tips above are a great practical place to start, but don't ever get complacent. A situation like this one changes by the day.
Also, make sure your company is equipped to respond effectively. If you don't already have a reliable, two-way, multi-channel communication system, let us know. We can get you up and running in a matter of hours so that you aren't caught flat-footed when the Coronavirus threatens your employee safety and business continuity.