Emergency Management
Sep 08, 2023
7 Operational Risk Examples & Mitigation Strategies
Your company may never eliminate operational risk, but you can minimize it. Make this high-stakes process easier by learning from examples and tested steps for managing risk.
Threat Assessment Template
Identify the threats that will have the biggest impact on your organization.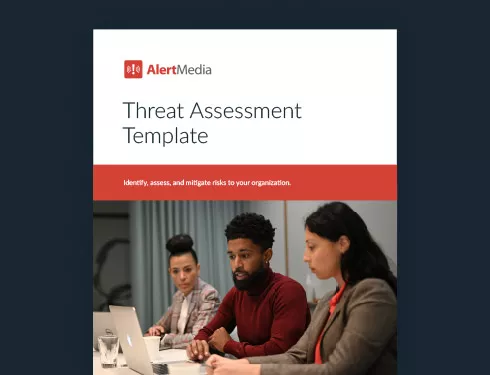 7 Examples of Operational Risk
Operational risk may look different depending on your industry. Here are seven common threats to your company's operational resilience.
1. Internal fraud
The Association of Certified Fraud Examiners estimated that internal fraud cost companies $3.6 billion in 2022. And that total represents only the known cases.
Internal fraud can take many forms, including:
Misappropriating employer assets or funds
Financial statement fraud
Engaging in corrupt activities such as bribes or kickbacks
It might not be worth chasing small amounts of cash missing from a register. But more complex schemes, like falsifying invoices or writing off receivables, can put a big dent in a company's books. Developing proper controls around company finances and assets is critical to fraud prevention.
2. External fraud
Fraud isn't just an internal problem. Bad actors outside your company can also inflict severe damage. The umbrella of external fraud covers:
Cyberattacks that steal data or damage information systems
Financial schemes like check kiting or document forgery
Theft of physical assets like inventory or equipment
Cybercrimes are a particularly urgent class of external fraud. Prevention is vital as hacking and data breaches become increasingly common—and expensive to remedy. IBM estimates that the average cost of a data breach is $4.45 million. Investing in network security and employee training is key to minimizing that risk.
3. Process management failures
A single business day involves countless sets of ingrained processes. Sometimes, process failures can lead to operational risk.
Flawed process: The process can't correctly address its intended use. For example, if a company has a procedure for data entry without any proofreading, there's a high risk of failure.
Misapplied process: A process exists, but employees aren't following it. If a restaurant policy called for throwing out chicken after an hour, but cooks ignored the rule, it would lead to a risk of foodborne illness.
Consider the example of Silicon Valley Bank and their depositor vetting. Time will tell whether the process was flawed or applied incorrectly. However, the operational risk existed, internal controls missed the failure, and the risk materialized, playing a role in their demise.
4. Employment and safety practices
Companies of every size and shape have to follow basic laws. While some industries have specific or stringent regulations, most companies must adhere, at a minimum, to:
Basic safety laws, such as OSHA regulations
Fair hiring and anti-discrimination policies
Compensation rules such as minimum wage, on-time payroll, and taxes
Running afoul of those regulations poses both operational and financial risks. Say, for example, your construction company operates in Arizona. You're trying to finish a massive project in August and decide to skirt OSHA's heat regulations. At best, you're risking penalties or fines from OSHA. At worst, you're putting your employees in potentially fatal danger.
5. Technological failure
Dealing with technological failures is likely already part of your business continuity plan. But it's also a key operational risk in an increasingly digital world. Consider the technology your company needs to run, such as:
Internet access and internal network
Electricity
Phone system
Server infrastructure
Software licenses
Outages can range from annoying to devastating. And the effort you put into mitigating the risk should correspond. For example, if a regional bakery's website goes down for a few hours, it won't have a huge impact. They might lose a potential customer, but investing in redundant web hosting would be overkill.
But for a hospital, losing electricity is a life-or-death situation. Most hospitals avoid that risk by having a robust generator system to sustain them through a power outage.
6. Damage to physical assets
Whether you're a brick-and-mortar chain or an e-commerce brand, you have critical physical assets. From servers, inventory, and real estate to heavy machinery or the business site itself, there are a variety of threats that could damage your assets:
Natural disasters like hurricanes or earthquakes
Vandalism and petty crime
Terrorism or significant civil unrest
Employee negligence or misuse
Risk mitigation plans should focus on the likely causes of damage. For example, an energy company operating in developing countries may need to harden property against unstable civil or political environments. On the other hand, a factory in rural Oklahoma should consider tornadoes and winter storms as operational risks.
7. Business practices
Sometimes, you create operational risks through the course of doing business. An activity could be illegal, immoral, or exist in a gray area. But you're risking negative consequences by undertaking it as a part of normal operations.
Let's say you're running a startup clothing brand. You haven't had time to build an audience organically, but you want to market an upcoming new product. You decide to buy an email list from a data broker and use it for advertising, even though you don't have consent. This action creates an operational risk, opening you to CAN-SPAM complaints and hefty fines.