Communications
Sep 03, 2020
Minimizing Employee Uncertainty and Anxiety ("Coffee With An Expert" RECAP)
AlertMedia recently hosted our first-ever "Coffee With An Expert" —a live Q&A session on minimizing COVID-19 induced anxiety in the workplace.
Key Feature Guide
See how easy it is to identify potential risks, see who is impacted, and inform the right employees—all from a single platform.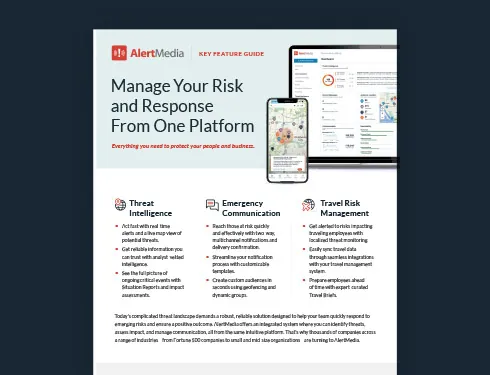 On September 1, AlertMedia hosted our first-ever "Coffee With An Expert" event—a live Q&A session on minimizing COVID-19 induced anxiety in the workplace. This discussion was led by our featured expert Pam Perry, CEO of HR Equity, and Peter Steinfeld, AlertMedia's SVP of Strategic Sales.
Pam kicked off the discussion by answering a few audience-submitted questions about the various challenges associated with employee anxiety. The overarching theme of this discussion was the unprecedented level of uncertainty caused by the COVID-19 pandemic and its effect on employees. If you missed the discussion, you can access the recording here.
Expert Advice On Navigating Employee Well-Being During the Pandemic
Pam and Peter answered attendees' questions and provided actionable advice on:
Easing employee anxiety
The pandemic has resulted in multiple factors that are contributing to employee anxiety and uncertainty. Some of the biggest factors contributing to employees' anxiety and uncertainty brought on by the pandemic include:
Workplace safety
Job security
Sanitation practices and PPE requirements
Pam's advice for minimizing employees' anxiety centers around creating a plan and communicating the details of that plan to your employees early and often.
"When it comes to making your employees comfortable in this inherently uncomfortable environment, it's all about your plan, the details of that plan, and the communication of that plan to your employees." – Pam Perry, CEO of HR Equity
How to inform employees about a positive COVID-19 case within your workplace
Pam made it very clear to never mention an employee's name, department, or any personally identifiable information when notifying employees of a positive COVID-19 case within your workplace.
She also stressed that organizations have a responsibility to inform their employees if there is a positive case reported among their workforce. If they do not, rumors can begin to circulate. Get out in front of any positive case and make sure that your organization is controlling the narrative.
The right communication channels + the ideal frequency of your communications
Pam and Peter provided useful insight into communication best practices that can minimize employee anxiety and uncertainty during every phase of the COVID-19 pandemic.
One attendee asked if overcommunicating can lead to a decrease in employee engagement. Pam emphasized that overcommunicating is only a problem when you are sending the same message over and over via the same channels. If you update your message every time and change who the message is coming from, you will be more likely to see consistent engagement from your employees. She also stated that not every update needs to come from HR—you can have other members of your leadership team provide regular updates. By changing who the message is coming from, you can keep your employees engaged and avoid notification fatigue.
Peter stressed that organizations should be sending updates via multiple channels to ensure that this critical information is received—especially when communicating with a remote workforce. Text, email, voice call, mobile push app, and event pages all can and should be used.
Pam also discussed the importance of remaining transparent and communicating what you know to your employees as soon as possible. Peter added that minimizing employee anxiety starts with building trust between employer and employee. Regular communication is the first step in building that trust. Commit to a regularly scheduled update (i.e. every Friday) and stick to it—even if you don't have any critical information to share.