Communications
Mar 18, 2021
Enhancing Employee Safety for Remote Workers [Webinar Recap]
We recently spoke with a leading expert on remote work to discuss employee safety and communication best practices for distributed teams.
Key Feature Guide
See how easy it is to identify potential risks, see who is impacted, and inform the right employees—all from a single platform.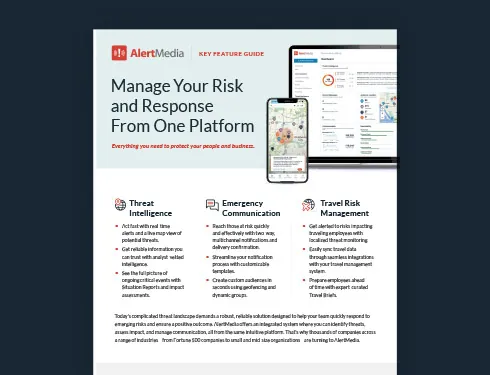 Recently, AlertMedia hosted a webinar in partnership with Disaster Recovery Journal (DRJ) on Evolving Employee Safety for the Anywhere Worker. The webinar featured Mari Anne Snow, CEO of Sophaya, and Peter Steinfeld, SVP of Safety Solutions at AlertMedia.
During the webinar, Mari Anne and Peter took a deep dive into how employers must evolve their approach to monitoring, engaging, and communicating with their teams to fulfill their duty of care and protect their people given the significant increase in the percentage of employees working from distributed home offices. They also discussed the challenges associated with keeping a remote workforce safe, steps employers can take to address common communication challenges with distributed teams, and key benefits of an engaged and connected remote workforce. If you missed the webinar, you could access the recording here.
The Current State of Remote Work
Employers and employees experience remote work differently, with both constituencies citing different pros and cons.
Many employers find that their remote workforce is increasingly collaborative, mobile, and dynamic. As a result of millions of employees successfully adapted to remote work while maintaining (or improving) productivity levels, employers have warmed to the idea of long-term remote work arrangements as a viable business strategy. Still, many employers face communication challenges with their remote workers due to their inability to easily reach employees using existing channels, thus reinforcing the need for a dedicated emergency notification system.
Conversely, employees have experienced a blurring of the line between work and home. After a year (or more) of working from home, some employees want to continue working remotely post-pandemic, and some are anxious to get back to the office.
It is also essential to understand that COVID-19 is not a typical remote work environment—the usual social supports are absent, many remote work arrangements were forced not chosen, and interactions are almost entirely virtual. This atypical situation has a significant impact on both business operations and employee safety.
Engaging and Protecting Your Remote Workforce
As employers refine their duty of care strategies, Mari Anne suggests taking a holistic approach since remote work touches all aspects of your business—from operations and technology to your people and customers. She offers this three-step approach:
Step 1: Assess any gaps in duty of care and communication. Ask your employees!
Step 2: Develop a plan to address the feedback and key findings.
Step 3: Communicate your action plans to all employees with timelines and specifics.
Employers should both connect and engage with their employees. In Mari Anne's experience, organizations that create a culture that values contribution and engagement over physical presence typically outperform those concerned only with micromanaging employees' whereabouts. During the webinar, Mari Anne also highlighted the importance of communication protocols, building in routines and dependable touchpoints, and establishing accountability cycles in order to build team trust.
Ready to Learn How to Protect Your Remote Workforce?
Watch the full, on-demand webinar for more tips and actionable insights about addressing remote worker safety and communication challenges.
Advice for Improving Remote Worker Safety
With potentially thousands of remote workers, it's harder than ever for businesses to protect their people from local emergencies that can disrupt operations and put employees at risk. Protecting remote workers requires fast, effective communication. With an intuitive emergency communication software solution, you can:
Extend duty of care with real-time location data
Increase message visibility with multichannel notifications
Accelerate situational awareness with global threat intelligence
Confirm employee safety with two-way messaging
Assemble leadership teams quickly with conferencing capabilities
Ensure employee wellbeing with surveys
Stay abreast of issues with consolidated reports
Mari Anne and Peter concluded by acknowledging that there are pros and cons to the remote work landscape, but many employers and employees discovered their initial fears about remote work were largely unfounded. The communication between employers and their remote team is vital, and with modern employee communication software like AlertMedia, you can protect your business and people—wherever they are.