Communications
Oct 30, 2020
How to Choose the Right Emergency Communication Software [Webinar Recap]
In this webinar recap, we discuss practical insights on features to consider in a communication system, questions to ask vendors, and how to find a system to fit your organization's requirements.
Key Feature Guide
See how easy it is to identify potential risks, see who is impacted, and inform the right employees—all from a single platform.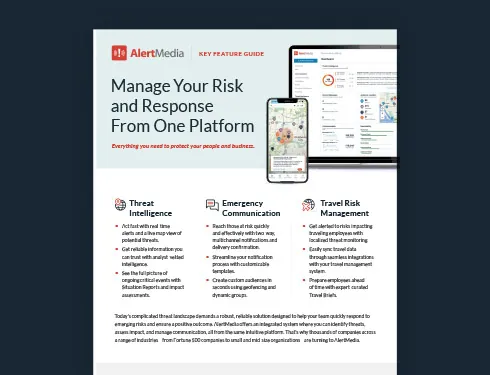 When your business is faced with an emergency or other business-critical events, the last thing that should be on your mind is determining how to communicate with employees that are in harm's way. That's why we are passionate about helping organizations improve their emergency communication and business continuity planning long before there's a threat.
Earlier this week, AlertMedia hosted a webinar on How to Select An Emergency Communication Solution that's right for your business. The conversation was led by AlertMedia's CTO Jeff Branc, a product leader who has built enterprise software for more than 20 years, and SVP of Sales Peter Steinfeld, a 20-year veteran of the emergency communication industry.

During the webinar, Jeff and Peter presented a framework for assessing what your organization needs from an emergency communication solution and discussed specific capabilities to look for when evaluating prospective providers. If you missed the webinar, you can access the recording here.
Here are some of the highlights:
Trends Driving the Adoption of Emergency Communication Software
Peter started the webinar by discussing recent trends and factors driving the adoption of emergency communication software. While emergency preparedness has long been an important consideration for organizations, the unprecedented levels of uncertainty organizations have faced during 2020 has brought the conversation about employee communication back to the forefront.
In addition to historically active wildfire and hurricane seasons, organizations are dealing with a prolonged period of uncertainty due to COVID-19, which has created a slew of new and unique communication challenges. Spurred by the confluence of these critical events, organizations are taking a hard look at existing communication and business continuity plans to assess if they deliver everything needed to respond effectively during emergencies.
Here are a few of the most common organizational pain points Peter highlighted:
Organizational Pain Points During Emergencies
Accelerate Access to Critical Information: We've all experienced the feeling of not having access to information when you need it. In the old way of doing things, emergency communication was siloed—pushed out via email or maybe a phone tree. Today, a modern emergency communication system allows you to send messages on every channel—text, email, voice, app notification, and even chat tools like Slack. Multi-channel communication is a critical need in the current environment when remote employees are inundated with messages competing for their attention.
Improve Communication Precision and Accuracy: Of course, not all emergencies or threats are relevant to everyone in the organization. Whether notifying employees at a particular worksite about a COVID-19 incident or communicating with a subset of offices in advance of expected severe weather, leaders need the ability to easily segment and target specific groups based on the nature of the event.
Reducing Misinformation: In a crisis, stress is already heightened. This is made worse when there is miscommunication or confusion, which is often the case when organizations fail to standardize their communication processes. During an emergency, employees shouldn't be questioning whether or not the information shared with them is valid. They also shouldn't be questioning where to turn for updates.
Reducing Risk of Human Error: Lastly, organizations need the ability to communicate with confidence—especially during an emergency. Any employee communication software should help reduce the risk of error that is prevalent with manual processes and legacy systems.
Assessing Your Organization's Needs During An Emergency
Like any software purchase, your first goal when assessing potential emergency communication solutions is to understand your organization's needs.
You should develop your needs assessment plan with input from stakeholders across the business—from departments such as HR, Facilities, Business Continuity, Emergency Operations, and IT. It's important to consider both current and anticipated needs so your system is one you can grow into—and most importantly, one that will grow with you—over time.
6 Essential Attributes of Modern Emergency Communication Software
Once you identify your organization's needs, you have to also know what to look for when assessing emergency notification system vendors. What are the key differences between providers? What are the key capabilities to look for?
During the webinar, Jeff highlighted six essential attributes organizations should expect from a modern emergency communication solution.
#1 Simplicity
The first and possibly most critical attribute an emergency communication platform must possess is simplicity. You don't need complexity to solve the complex communication challenges you face. In fact, you need just the opposite—especially during critical events. When seconds count, the less complex your emergency notification software, the faster and more accurately you can send the critical message or warning.
"It's incredibly easy to make difficult-to-use software, but it's incredibly difficult to make easy-to-use software."
– Jeff Branc, AlertMedia CTO
#2 Modern capabilities
A modern emergency communication system should not only enable you to reach employees when a crisis event occurs—it should help you identify threats that have the potential to impact your organization and people. This requires both around the clock monitoring as well as the ability to tie events to location data so you can target communication to the relevant people. Additionally, given that the technology landscape is constantly changing, you need a provider committed to continuous innovation and investment in its platform.
#3 Efficiency and adaptability
Seconds matter during critical events, so it's important that your solution streamlines necessary processes to save time and eliminate the administrative burden. An emergency communication platform should automate manual, time-consuming tasks—such as segmenting employees into groups or crafting emergency notifications—so you don't drain resources and waste time during emergencies.
#4 Reliability
When it comes to emergency communications, one failure is too many. If a system is unreliable, it inadvertently exposes employees—and the business—to risks when they shouldn't be. And when a message getting through or not can sometimes mean the difference between life and death, reliable and robust software should be a top priority for anyone evaluating emergency communication software.
"We had a situation where we sent out a mobile communication but half of our employees didn't receive the message because the provider had an unplanned outage. Once you lose confidence in your emergency communications solution provider, you need to find a new one."

– John Hargrove, CIO and VP of IT at Franklin Mint Federal Credit Union
#5 Easy implementation and training
One of the biggest indicators of long-term viability for any software provider is how easy the solution is to implement. A smooth implementation will ensure your investment is usable within days, if not hours. No matter how sleek the solution, if it's difficult to implement, it will impact adoption and ROI. A good system should allow a person with minimal technical expertise to get the solution up and running with relative ease, and your software provider's customer success team should also offer support and guidance as needed every step of the way.
#6 Customer success expertise
Finally, in addition to being reliable, business-critical software should be supported by an expert technical, tactical, and strategic support team trained to help you maximize business efficiency and safety. Having a dedicated team of experts available to help 24/7 when you need to add people to the system, set up your account, manage integrations, provide training, and share emergency communication best practices will ensure both successful adoption and long-term use of your chosen software.
Tips for Evaluating Providers
With your organization's needs documented and a wish list of capabilities outlined, you'll want to make sure you ask the right questions during the vendor evaluation process to select a system that not just meets expectations, but exceeds them.
During the webinar, Peter shared questions to ask prospective emergency communication providers and tips to help you avoid making a mistake when choosing emergency communication software.
Conclusion
Selecting an emergency communication solution that meets the needs of your organization starts with being prepared. A modern solution will help keep people safe, informed, and connected through relevant, streamlined notifications during any critical event. A customer-focused provider will also give you access to an extensive knowledge base and expertly trained customer success resources that can quickly provide you with the answers and guidance you need—anytime, anywhere.
Click here to watch the webinar and hear Peter and Jeff's advice on what to ask prospective vendors and how to make the most of your selection process