Safety and Security
Oct 23, 2018
How to Protect Your Lone Workers In 5 Steps
Consider these 5 tips to make sure your employees are safe when they're not in the office, to help them feel protected, and to improve their focus on the job at hand.
Key Feature Guide
See how easy it is to identify potential risks, see who is impacted, and inform the right employees—all from a single platform.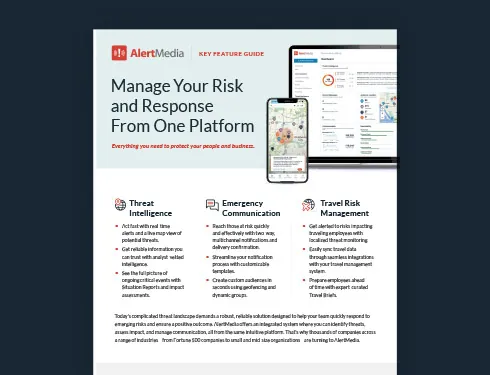 Understanding Lone Worker Safety
You worry about how to protect your lone workers and employees who don't always work in the office. It's understandable—bad things can happen to them, and sometimes they do. Lone workers all over the world face dangers that those in the office probably don't even think about. As such, if you're going to have employees in the field or working by themselves, then lone worker safety must be a priority for your organization.
Smart lone workers must be vigilant in knowing what to do when faced with a serious situation. They will face things like falls, accidents, injuries, personal threats, traffic emergencies, natural disasters, and sudden weather changes.
The most dangerous jobs often require more than one employee to be on-site, specifically for safety reasons. But even a seemingly safe environment can have hidden dangers. Employees should always have a good understanding of the risks and dangers of their job. You have a duty of care to train them specifically in how to stay safe in their particular job.
While nearly 5,000 deaths per year are significant, things have drastically improved over time. As little as 40 years ago, that number was at a staggering 14,000. Thanks to safety standards and an agency that oversees them (OSHA), the workplace has become much safer.
Even with all of the improvements, lone workers must think ahead. When your employees are alone, how will they notify someone if they need help? What do they do if something unforeseen happens? With the right planning and precautions, you can help employees get help more rapidly.
Consider these 5 tips to make sure your employees are safe when they're not in the office, to help them feel protected, and to improve their focus on the job at hand.
Lone Worker Safety Guide
Want to learn how AlertMedia can help you protect your lone workers?
5 Ways to Improve Lone Worker Safety
1. Educate employees on potential dangers
Each day, lone workers face countless dangers. These risks are just part of their daily routine, and they need to be aware of them. Organizations should take an educational approach to ensure their lone workers are safe on the job. First, make your employees cognizant of the dangers they could face by discussing the possibilities that could arise in different situations. Next, schedule trainings with employees on how to react to different types of scenarios. They must know how to deal with falls and accidents, physical attacks, criminal violence, and more. Finally, ensure that employees know both their increased risk of danger and the types of issues they may face.
Accidents
Accidents happen, and lone workers face more of a threat from accidents than workers in a traditional office setting. Think of construction workers, electricians, and other job types that involve a higher risk on the job each day. Their isolation means that there's less likely to be someone around that they can call for help. Lone workers are likely to face delays in response time.
Physical violence
People on their own are prime targets for physical violence and attacks. Some sample jobs include protective service workers, home healthcare workers, and real estate agents. Many attackers who are usually deterred by crowds become bolder when they see someone working on their own. Lone workers are often victims of assaults – from those they may be trying to assist or even those they just encounter on the street.
Criminal activity
Hostage situations are unfortunately a real possibility for lone workers. These hostage situations become more likely if criminals believe the employee is carrying cash. Those working in banks and credit unions are also more at risk of being the victim of a robbery as well. Many organizations have locations in isolated areas or less busy areas and have employees working alone, making them a target for criminals.
2. Prepare employees to respond to critical situations
Assess surroundings
Whether your workers are familiar with their job site or not, they should never begin work without assessing the current environment. What are the hazards? What are the weather conditions? Do they have a weather radar on their mobile device to alert them of lightning or other severe weather? Is their equipment in good working order?
It's easy for workers to become so focused on their duties that they aren't aware of what's going on around them. Your workers should take the time to periodically check their surroundings for unauthorized people on the property, changing weather conditions, fuel levels in vehicles and equipment, etc. Encourage them to report any suspicious activity, faulty equipment, or anything else that raises a red flag. Expect them to remove themselves from any potential dangers until the threat is gone.
Plan for the worst
Planning and preparedness are important parts of preventing serious harm to lone workers. Educating employees about the dangers they face and how to handle those situations can prevent a bad situation from escalating to an awful one.
You should help your staff in the field develop a plan for situations that might arise while on the job. These plans should be detailed and cover a variety of issues that staff face–from a particularly abrasive customer, to a physical attack, to a hostage situation.
Training
Lone workers should have a working knowledge of first aid to help themselves and others in the event of an injury or accident. Your employees should also develop risk defusing skills as well, learning to calm a particularly aggressive individual, and deescalate situations before they become more serious.
Safety equipment
Another part of being prepared is having the right tools with you, including a communication device, first aid, shelter, fire retardant, extra fuel, spare tires, food, and water. You never know how long it will take to get help to an employee in need. Taking a little extra time to think through the necessary provisions may save a life.
Provide them with the right technology
Having lone workers on the go is crucial to the function of many businesses. But just because employees are on their own doesn't mean that they have to be alone. The right precautions and technology can make lone workers feel safe, empowered, and able to do their jobs knowing that someone is there to catch them if they fall.
Even if you have a mobile phone, if you are incapacitated, you may not be able to use it. You may not get cell coverage. You may not be able to accurately relay exactly where you are, even if an address is known.
Additionally, sometimes a situation can't be defused. There are times when a person or situation is so out of control that the best way for an employee to prevent serious harm is to call for law enforcement. However, aggressive individuals usually don't respond well to obvious attempts to contact help, so it's important for your staff to have a way to signal for help inconspicuously, without angering their attacker any further. Duress codes, panic buttons, and personal safety devices can all signal for help silently.
The right technology is incredibly important to lone workers. All workers in the field should have some sort of personal alarm system. There are many of these on the market ranging from low-tech panic buttons to more complete lone worker safety app systems. These mobile app systems can detect their location on a map and call for help if the worker is unable to. Some, like AlertMedia's lone worker solution, offer a timer system that will automatically contact law enforcement if it is not disabled in a set period of time.
3. Monitor your workers in the field
Knowledge is power, and knowing where your employees are and how they're doing can empower you in a crisis situation.
Know where they've been
You should make sure you're keeping a clear audit trail on your employee's location while they're in the field. Knowing where they've been most recently can be vital if an incident happens where they need help urgently.
Conduct regular check-ins
It goes without saying, but lone workers who are at a higher risk of danger – working in more dangerous parts of town or with more hostile people – need higher levels of monitoring. You should treat these employees with special care and attention, making sure you know their location and status at all times and encouraging regular check-ins. All employees in the field should have a check-in procedure.
Modern lone worker safety devices like AlertMedia allow you to automate this process. Before a lone worker enters a potentially dangerous situation, they can start a timed session on their smartphone on the AlertMedia app. Then, if they don't end the session before the timer ends, law enforcement and the employee's supervisors are immediately notified and directed to the precise location (using GPS data from the smartphone).
Regular updates on lone workers' well-being and location keep them safe. If you decide to use a manual check-in process, your check-in person should know your worker's destination, estimated time of arrival, return time, contact information, and mode of travel. If your employer doesn't hear back from you at the prescribed time, they should immediately begin their emergency protocol.
Or, if you're using an automated lone worker safety system like AlertMedia, it will take care of this for you. Accidents happen even in low-risk jobs, and knowing the worker's most recent location and status can mean a world of difference when it comes to aid and rescue efforts. The AlertMedia timer feature is an effective alternative to manual check-ins. Workers schedule a pre-set window of time that will trigger an alert when the session expires.
Tell others where they'll be
It may seem obvious, but unless people know where every employee is during work hours, at-risk employees likely won't be getting any help anytime soon. For employees, telling people where they are, such as co-workers, dispatchers, and family, can go a long way in shaving off the minutes it takes to get help when every second counts.
4. Follow industry-specific safety guidelines
Government regulations stipulate every company must have safety guidelines in place for its workers. The OSHA Act covers all employees except those who are self-employed and public employees in state and local governments. While some of these guidelines may seem obvious or unnecessary to a worker, they are all there for a reason: to protect workers from injuries, illnesses, and accidents.
Understanding safety guidelines is a critical component of the job requirement. For employees, it's not enough to receive a piece of paper with printed guidelines that they then stash away in an orientation folder. Employees must read them, understand them, and feel comfortable asking questions about anything that doesn't make sense. They should fully comprehend what their responsibilities are and what you, as the employer, are obligated to control.
Once you have a good grasp of the guidelines, you must follow them–to the letter. Employees most at risk are those new to the job and those who may have become complacent over the years. While some of the job site deaths were completely uncontrollable, companies could have prevented the majority of them if they had followed the proper safety guidelines.
5. Have an emergency communication plan
For lone workers, the ability to rapidly communicate with others should be absolute. They should never enter a job site without an efficient, effective way to communicate with their employer. Know what types of communication are available and whether they work in all situations, even when workers are away from their vehicles.
We mentioned above that you should provide your lone workers with a tool like AlertMedia, which will allow them to easily call for help. Tools like this will help keep the business informed of their workers' status. But businesses should also have a reliable way of communicating with their lone workers. If schedules change, appointments get canceled, or weather closes down routes, you want to alert your lone workers immediately. You also want to have certainty that your employees got the message.
Modern employee communication software allows companies to push both routine and emergency alerts to their workers. Tools like AlertMedia work across all channels (email, voice, text, and more), and are two-way, which empowers the workers to easily respond to notifications.
Are You Ready to Protect Your Lone Workers?
You have a moral and ethical duty of care to protect your lone workers. Prior planning will allow you to identify and address the main threats to your lone workers. Providing them with the information and tools they need will ensure they can perform their jobs in an efficient and safe manner. Regarding technology, research your options and discuss them with your team and lone workers. Get their input on what features they believe would be most beneficial, particularly in an emergency. Companies are most definitely on the hook to do what they can to keep lone workers protected. But those employees must also take care of their own interests and speak up if they do not feel supported.