Safety and Security
Jun 30, 2022
How to Improve Safety Culture: 7 Workplace Strategies
Creating and maintaining a healthy safety culture is crucial to running any thriving business. In this article, we'll go over ways to improve the safety culture of your organization.
How To Build a Stronger Safety Culture
Learn people-first safety practices that power resilient, productive teams.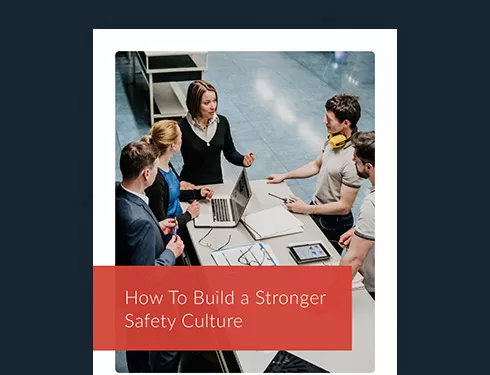 3. Get buy-in
It's not enough to leave safety solely to the Emergency Health and Safety (EHS) department. No matter how effective your safety procedures and incident response plans are, if your people don't participate, cultural change and top safety performance will remain out of reach. But there are plenty of ways to ensure that everyone—from junior workers to the C-Suite and Board of Directors—is committed to implementing and maintaining a strong safety culture at work.
Securing employee buy-in
Employee engagement in your organization's safety culture doesn't have to be a chore. In fact, if done correctly, improving your safety culture will be not only one of your priorities but one of your employees' priorities as well.
First off, you need to make sure that everyone is aware of your safety culture initiatives, including clear goals and plans. Distribute your plans to all of your employees so everyone is literally on the same page. One way to offer additional context for the value and urgency of these plans is to employ quotes about safety from experts in your presentation.
The next step is to show that you truly value the input and experience of your workers. One of the quickest ways to build their trust is by actively including employees at all levels in the committees that make workplace safety decisions. After all, if they have more power and influence on the procedures, they're more likely to be engaged and committed. And employees may be more likely to listen to safety leaders if those leaders are their own coworkers and peers.
Securing leadership buy-in
When a business leader faces evidence that their teams aren't operating optimally, they might feel called out or otherwise unsettled. Plan to reassure your C-suite, board members, and other high-level stakeholders that the problems you're identifying can be overcome—and that you face an opportunity to improve the business' resilience. Present not only the deficits in safety procedures but also a robust plan to get the organization's safety culture back on track.
If executives and other influential people at your company don't believe in or see the value of strengthening safety culture, they won't be committed to your goals. Be sure to tie your safety culture push to the bottom line. For example, if an executive is presented with evidence that there were four serious injuries on the factory floor in the calendar year, without greater context, they might look at it simply as the price of doing business. On the other hand, if a safety champion were able to show that those same injuries lead to manufacturing downtime, higher insurance costs, and other negative metrics, they're far more likely to recognize the well-rounded value and support your safety initiatives.
4. Compare your plan to industry standards
Once you have a draft of your plan in place, compare it against recommendations from experts and authorities. Also known as a "gap analysis," by locating the differences between your proposed plan and those created by other professionals, you can get a better understanding of what your own plan might be lacking. Do not copy any other plan exactly, however, as your needs and safety hazards will be unique to your company.
The unfortunate truth is that emergency situations abound, and simply brainstorming your way to a final plan is likely to result in some things falling through the cracks. Take cues from peer examples, but remember that few health and safety programs are more thorough than OSHA's recommendations.
5. Form a safety culture committee
An effective safety culture isn't something that's created and then forgotten about. It's an ongoing, perennial commitment that requires the consideration of every part of the business, and it has to change with the business itself. This is why a safety committee is key.
Pull in people from all levels and departments at your company. Make sure all roles, responsibilities, and resources are represented at the table. The composition of this committee will differ from company to company, but their purpose will not: To ensure that everyone is working toward the same safety goals.
This team should hold safety meetings regularly to debrief recent safety incidents and near-misses, consider changes to safety management plans, and ensure good incident reporting across the company. The prime goal of the committee should be the continuous improvement of safety procedures, documentation, and outcomes.
This team can and should rotate its membership every now and again to include as many people and perspectives as possible, but make sure that no matter what, all elements of your business and safety administration are represented.
6. Celebrate safety
Set the stage for recognition of excellent safety performance alongside big deals and other awards. Lead the celebration of these efforts that are more often forgotten and taken for granted. Illuminate good safety decisions and incentivize safe behavior.
At some companies, an employee might be reprimanded for "wasting time" if they hit the big red "STOP" button on the conveyor belt when they witnessed something unsafe. At a company with positive safety culture, however, that worker is held up as an example to follow. Delays in productivity don't outweigh the importance of avoiding safety violations—in fact, this diligence often saves more time in the long run.
7. Communicate
Effective, inclusive, proactive communication is inherent to a strong safety culture. It's necessary not only for improving a struggling safety culture but also for maintaining and evolving even the strongest safety culture. Communication is the key to safety planning, executing those plans, and staying tuned in to your people and their safety needs.
When it comes time to update a plan or inform everyone about a significant safety issue, without a proper mass notification system, you'll have to rely on slow, unreliable systems like phone trees to get the word out.
Perhaps the single largest and most important part of safety is communication. In the words of Peter Steinfeld, SVP of Safety Solutions at AlertMedia, "If you can't communicate, you can't recover."