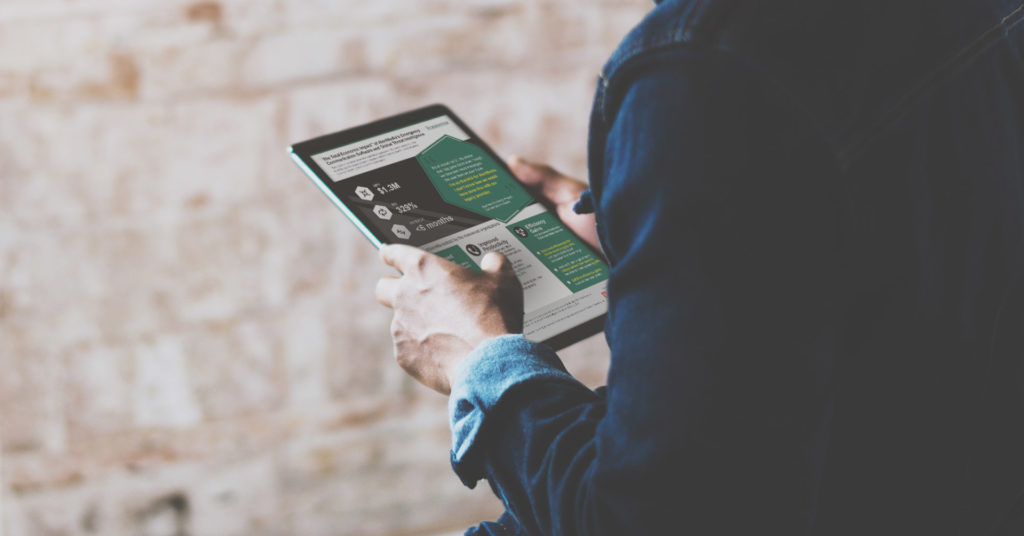 Company News
Apr 13, 2021
Why Investing In a Modern Emergency Communication Solution Is Good Business
This blog post outlines the quantifiable and unquantifiable benefits organizations experience by switching to AlertMedia, according to a recent TEI study conducted by Forrester.
Forrester TEI Study
Learn how AlertMedia's emergency communication solutions help organizations achieve a 329% ROI, according to an analysis by Forrester.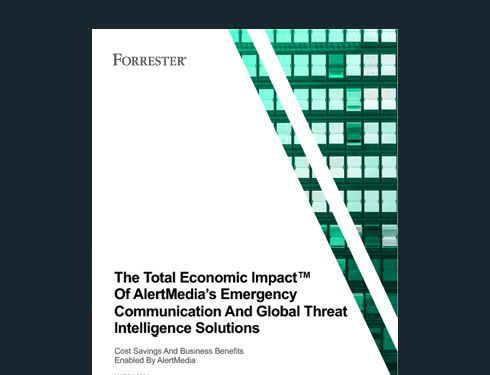 The demand for safer workplaces reached an all-time high last year as the COVID-19 pandemic brought into focus new and persistent risks every employee navigates as part of our daily lives.
Unfortunately, many organizations found their prior safety protocols, emergency plans, and technology investments fell short in light of evolving workplace dynamics and questions about how to best fulfill their duty of care obligations for a newly distributed and remote workforce.
Recent advancements of available emergency communication and threat monitoring solutions— coupled with this increase in the number of threats facing organizations and their people—has resulted in businesses of all sizes actively exploring ways to improve emergency preparedness and support business continuity to minimize loss and ensure employees are safe, informed, and connected during any critical event.
In an effort to better understand how organizations are benefitting from these investments, we commissioned the team at Forrester to conduct a Total Economic Impact™ study of AlertMedia's Emergency Communication and Global Threat Intelligence solutions.
In addition to highlighting real-world employee safety improvements and productivity advantages, the study sheds new light on the significant financial and operational benefits organizations realize when using a modern, intuitive, and flexible emergency communication solution.
In this blog post, we'll dive into each of these benefits in more detail.
Assessing the ROI of Emergency Communication
Based on customer interviews and data, Forrester concluded that organizations that use a modern emergency communication solution experience increased revenue, improved productivity, and efficiency gains, among other advantages. Additionally, Forrester found organizations achieve 329 percent ROI by using AlertMedia.
Check out the below infographic for the study's top takeaways:
The infographic outlines a series of compelling results, and in addition to the few highlights listed, Forrester identified the following quantifiable benefits.
Quantifiable Benefits of AlertMedia
Decreased downtime
Unplanned downtime can have a devastating impact on your business, sometimes costing hundreds of thousands of dollars per hour. It also leads to unhappy customers and frustrated employees, putting strain on business systems. With AlertMedia, however, Forrester found system downtime and other business interruptions decrease by 25 percent. The ability to proactively plan for system maintenance by notifying and preparing employees well in advance reduces any impact on productivity and business operations.
A systems operations professional in healthcare interviewed as part of the study explained, "This is where AlertMedia has just been amazing for us. We use it for business-critical events that we need folks to know about, and we also use it for all things downtime-related. When something happens, we use AlertMedia to notify employees of a downtime event and provide them with some type of interval guidance while the IT team is using the platform to coordinate their response."
Forrester also found AlertMedia decreased IT downtime by 25 minutes per event due to features like automated notification capabilities, one-touch conferencing, and multichannel messaging, which enable IT teams to collaborate more efficiently and resolve critical issues faster.
Faster emergency response
In any emergency, time is of the essence, and seconds can mean the difference between life and death. But the way we communicate today differs from even a few decades ago, and email and phone can no longer keep pace with the speed at which threats evolve.
AlertMedia's modern solution enables the fast, reliable delivery of mass notifications to any size audience, on any device, over any communication channel. As a result, Forrester found organizations using AlertMedia communicate with employees 30 minutes faster than with legacy solutions, and the time saved translates into $396k in increased revenue over three years.
"Getting that timely communication could make the difference between quality care and not, so for us, speed and reliability are crucial," said the systems operations professional in healthcare. "With AlertMedia, we have been able to improve our notifications so they now quickly reach the correct people through the correct channels."
"For us, speed and reliability are crucial. With AlertMedia, we have been able to improve our notifications so they now quickly reach the correct people through the correct channels."
Efficiency gains for business continuity teams
It shouldn't come as a surprise that organizations that deployed AlertMedia also saw efficiency gains and savings of $281k over three years. The solution's intuitive UI, advanced reporting and data management, and robust customer support freed up time for business continuity professionals to focus on more strategic tasks like evolving their organization's resiliency plans to account for changing business demands.
By integrating with HR systems and offering an API, business continuity professionals also reported less IT complexity.
"With our legacy solution, we initially set up an API, which was a lot more complicated with a lot more IT people involved, and it still kept breaking," said an emergency response manager in the airline industry. "We would send out a notification, and I would eventually realize that the contact list data was not accurate, so I then had to contact IT, and they'd go and look at the back end to try to address the issue."
Avoided costs related to legacy solutions
Emergency communication software got its start in the early 2000s, shortly after 9/11, with available solutions built for the pre-digital age. Few innovated over the years, and many had to play catch up as cloud and smartphone adoption ramped up. In contrast, AlertMedia was built for the modern world, offering a cloud-based solution that considers the demands of the digital workplace.
For instance, organizations face an increasing number of potential risks, further exacerbated by the rise in disparate and remote workforces. Forrester found that AlertMedia's fully integrated Global Threat Intelligence solution saves security and safety teams time and effort to sift through disparate sources of unstructured data manually. The combination of threat monitoring with multichannel, two-way communication features means organizations can send more detailed and accurate notifications faster—and via the devices their employees use the most.
The emergency response manager in the airline industry added, "Our legacy solution didn't have an integrated threat map or any of the intelligence that AlertMedia has built-in. We were going back and forth with online maps and breaking news sites to try to piece together an event — where it was happening and who was being impacted."
As a result, organizations switching to AlertMedia experienced cost savings of up to $373k over three years.
Beyond the Numbers
While the above quantifiable benefits outline specific time and cost savings, they don't fully outline how vital a modern emergency communications software solution can be for today's organizations. The unquantifiable benefits that customers shared with Forrester are equally compelling and important.
For example, organizations using AlertMedia recognize improved employee safety by being able to more quickly and easily reach employees through multiple channels during an emergency. This extends to customer safety as well, when timely communications can sometimes be even more critical.
Lastly, while organizations continue to manage the lasting impact of the COVID-19 pandemic, AlertMedia continues to help keep employees up to date, improving the overall employee experience and building trust between an organization and its people. Daily surveys sent via the AlertMedia solution keep a pulse on employee wellness, and event pages fueled by data from Global Threat Intelligence minimize the spread of misinformation and ensure employees have access to constant updates regarding changing work processes, office reopening dates, and even vaccine availability in their area.
In Conclusion
Forward-thinking organizations are increasingly turning to modern emergency communication solutions. They help businesses communicate faster, save time and money, reduce loss, and ultimately protect their employees from harm.
To learn more about the expected benefits and cost savings a modern emergency communication solution can bring to your organization, be sure to tune into our upcoming webinar, "Assessing Emergency Communications ROI for the Modern Enterprise." Guest speaker, Forrester Consultant Nicholas Ferrif will join AlertMedia's SVP of Safety Solutions Peter Steinfeld to explore the study's findings in greater detail and discuss why emergency preparedness and communication have never been more important.