Communications
Jul 28, 2020
What HR Should Look for in an Emergency Communication System
Faced with an increasingly remote workforce due to COVID-19, today's HR teams have their work cut out for them. So, how can HR leaders successfully navigate this challenge? Enter modern emergency communication software.
Key Feature Guide
See how easy it is to identify potential risks, see who is impacted, and inform the right employees—all from a single platform.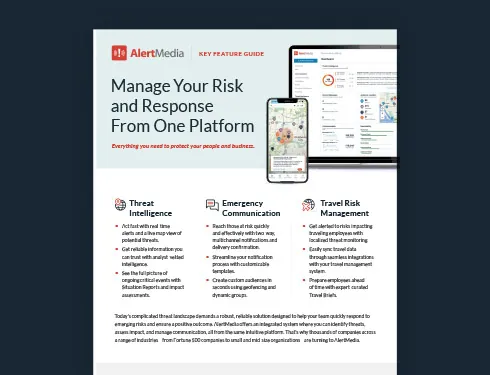 Emergency communication software allows HR leaders to quickly and accurately share time-sensitive information with employees. Within seconds, HR teams can send and receive messages across multiple channels, even from a mobile device. And these systems aren't just for use during emergency situations. Many HR teams also use them to deliver important HR announcements such as policy changes and open enrollment deadlines.
An emergency communication system can improve employee safety, enhance your employer brand, and protect the bottom line. But only if you choose the right system. After all, emergency communication systems are only as powerful as the features upon which they are built.
Essential Features of an Emergency Communication System
Nearly half of organizations today use some form of emergency notification system. These systems, however, are constantly evolving and increasing in number. With so many options, how to choose the right system for your business isn't always clear.
To guide your evaluation process, here are eight features every HR team should look for in a mass communication system:
1. HR system integration
Emergency communication systems need real-time people data to be effective. Automatically syncing with your HR system of record ensures accurate employee contact information. Without this data pulled from your HRIS or Active Directory, message deliverability suffers. HR system integration also allows you to quickly segment and communicate with different groups of employees. This helps you send only relevant, targeted notifications, avoiding the ineffective "batch-and-blast" approach to emergency communication.
2. Real-time location tracking and geofencing
Most events you'll likely need to communicate about will be location-specific. Whether a power outage or winter storm, critical events tend to impact a certain geographical area. With map tracking and geofencing capabilities, you can rapidly connect with all employees within a specific area. You should also be able to layer in multiple known locations for employees, such as their home and work addresses.
3. Two-way communication
Many emergency communication systems on the market only offer one-way messaging. But one-way messaging isn't communication. It's essentially sending a message into a black hole and hoping employees receive it. Your system should include audience communication features such as read receipts, surveys, incoming messages, and "need help" requests. This will give you rapid visibility into who's safe and who might be in need of assistance.
4. Full-featured mobile app
Due to COVID-19, millions of workers around the world have rapidly shifted to working from home. The share of remote work will also likely remain well above pre-pandemic levels for quite some time. With a mobile, distributed workforce, it's important that your emergency communication system has a native mobile app. And be sure it's a full-featured app—not just a slimmed down version of the desktop experience. You should be able to send messages using pre-built notification templates, monitor potential threats, and interact via in-app messaging.
5. Multi-channel delivery
During an emergency, one or more communication channels may become inaccessible. What happens if you have an IT outage and your only mode of communication is email? And do your frontline employees even have regular access to email? Email is not enough. Without multi-channel communication capabilities, employees in harm's way may not get the information they need. Your system should allow you to communicate via text message, email, mobile app, social media, and any number of custom channels.
6. Local threat monitoring
A system with local threat monitoring capabilities automatically monitors for threats around the world. It does this using real-time data from thousands of trusted sources and analysts such as the CDC, National Weather Service, and various news outlets. It then calculates the proximity of those threats to your people, automatically pushing out alerts when it detects threats that are relevant. These real-time updates also allow HR teams to focus on the other critical tasks that need to take place during an emergency.
7. Intuitive experience
In emergency situations when adrenaline runs high, simplicity is power. An emergency communication system must be easy to use. The fewer steps, clicks, and screens required—for both employees and HR teams—the better. When the system is intuitive and easy to navigate, the more it will be used effectively. A system should also be easy to implement with little training or support, allowing you to be up and running within days, if not hours.
8. Outstanding customer support
The quality and speed of customer support you receive has a direct impact on the effectiveness of your chosen platform. To get the most out of your investment, it needs to be supported with expert technical, tactical, and strategic support. Your provider should have an extensive knowledge base and a U.S.-based customer support team available to assist you 24/7/365. Additionally, you should be assigned a single, dedicated customer support contact—and at no extra charge.
Empowering HR With the Right-Fit Technology
While HR professionals today wear many hats, nothing is more foundational than maintaining a safe work environment. And as Mindy Helms, Director of HR at Marquette Management says, "Every company has a baseline responsibility to keep its people safe. But if you want to get and keep the best people, you need to prove you care about them and their well-being."
To create a great place to work, you first need to create a safe place to work. And to achieve this given today's changing workforce dynamics, a robust emergency communication system is needed. While choosing the right system may at first seem complex, it doesn't have to be. By focusing on these eight critical features, you can simplify the selection process, make the best decision, and get the most out of your investment.