Company News
Aug 15, 2019
AlertMedia Ranks No. 285 on 2019 Inc. 5000 List; Named 3rd Fastest-Growing Software Company in Texas
Inc. recognizes the fastest-growing private companies in the nation according to revenue growth.
Key Feature Guide
See how easy it is to identify potential risks, see who is impacted, and inform the right employees—all from a single platform.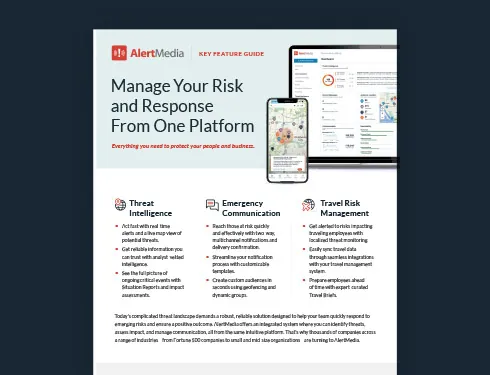 We're excited to announce that AlertMedia was just ranked #285 on Inc. magazine's prestigious annual Inc. 5000 list! We also achieved the #3 spot in the publication's ranking of Texas-based software companies.
About the list: Inc. recognizes the fastest-growing private companies in the nation according to revenue growth.
How Did We Do It?
We credit:
A reliable, easy-to-use product
Near-limitless target market
Passionate employees
An awesome culture
These are just a few of the factors that were key contributors to our impressive revenue growth leading to our Inc. 5000 recognition. As the world's leading emergency communication solution, we're committed to helping keep businesses safe, informed, and connected. And we couldn't be prouder of our team for our recent ranking.
The AlertMedia team isn't done yet.
Our CEO, Brian Cruver, said it best:
"AlertMedia helps companies save lives and minimize loss when disasters happen, from wildfires and floods to cyber and terrorist attacks. In a very short time, we have reinvented how emergency communication happens, and become the technology leader in our industry. Our growth is a reflection of the outstanding team we have built at AlertMedia—people with a passion for making a difference and the skills and experience to deliver amazing products and services to our customers."
A History of Success
Our Inc. 5000 recognition is the most recent accolade for AlertMedia. We've been recognized as one of the top five Best Places to Work by the Austin Business Journal for three years in a row. We were also recently named one of Austin's Coolest Companies by Austin Inno and identified by the Austin Chamber of Commerce as one of the city's most innovative companies in 2018.
"The companies on this year's Inc. 5000 have followed so many different paths to success," says Inc. editor in chief, James Ledbetter. "There's no single course you can follow or investment you can take that will guarantee this kind of spectacular growth. But what they have in common is persistence and seizing opportunities."
Don't take it from us—hear from some of our enthusiastic customers:
"Excellent software, a must-have product. "It's as if the system was built to catch errors, allowing users to forge through during an emergency or crisis with ease." – Chantay M., Corporate Director, Marketing
"Essential tool! Our staff use text for the bulk of their communication, and AlertMedia has been a quick, easy way to communicate with them in the way they prefer." – Frances N., Director of Human Resources
"Outstanding product—does exactly what they say it does." – Tim D., Senior Director, Site Operations
"Working with the AlertMedia team is one of the best customer experiences I've ever had." – Technology Support Specialist, Safeguard
About the Inc. 5000
The 2019 Inc. 5000 is ranked according to percentage revenue growth when comparing 2015 and 2018. To qualify, companies must have been founded and generating revenue by March 31, 2015. They had to be U.S.-based, privately held, for-profit, and independent—not subsidiaries or divisions of other companies—as of December 31, 2018. (Since then, a number of companies on the list have gone public or been acquired.) The minimum revenue required for 2015 is $100,000; the minimum for 2018 is $2 million. Inc. reserves the right to decline applicants for subjective reasons.
About Inc. Media
Founded in 1979 and acquired in 2005 by Mansueto Ventures, Inc. is the only major brand dedicated exclusively to owners and managers of growing private companies, with the aim to deliver real solutions for today's innovative company builders. Inc. took home the National Magazine Award for General Excellence in both 2014 and 2012. The total monthly audience reach for the brand has been growing significantly, from 2,000,000 in 2010 to more than 20,000,000 today. For more information, visit www.inc.com.