Communications
Mar 08, 2016
5 Tools to Drive Audience Interaction through Mass Communications
Communicating with your employees is key to running a successful business. Here are a few ideas for mass communication interactions you can use at your business.
Key Feature Guide
See how easy it is to identify potential risks, see who is impacted, and inform the right employees—all from a single platform.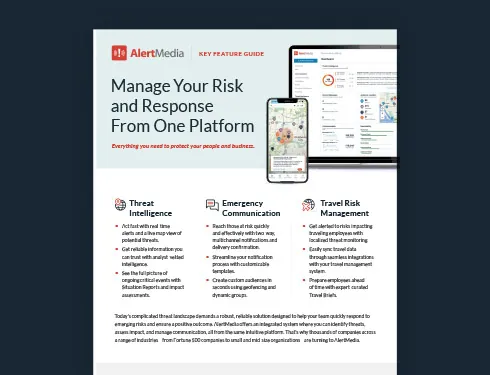 Mass communication in its simplest form means communicating on a large scale.
To some organizations, that means interacting with massive audiences around special promotions, announcements, and events—perhaps asking them to participate in a survey or to "text to subscribe" to sign up to receive communications. For others, it means emergency notification or operational synchronization. No matter the audience or message type, efficient two-way communications optimizes and enhances the audience connection, delivering messages to people quickly, wherever they are, and giving them the opportunity to respond or engage.
5 Tools You Can Use To Drive Interactions and Feedback From Your Audience
1. Audience surveys
Conduct audience surveys and collect responses for scheduling and logistics, voting, audience collaboration, and more.
Managers use the survey functionality to correspond with employees, set goals to modify audience interaction, and finalize job or scheduling assignments via real-time polling.
Event and marketing coordinators encourage real-time audience participation by sending out surveys for the audience to interact with throughout events.
2. Inbound messages
Collaborate instantly by empowering your people to reply to a notification, or send text messages, emails, or voicemails directly to you.
Organizations use inbound messages to collect information about an ongoing event and help facilitate status updates to the entire group.
Audience members use inbound messages to share important information or report events, or updates to events. They can also signal for help or request assistance.
3. Opt-in subscriptions 
Create custom opt-in experiences for your audiences—members, customers, employees, third parties, etc.—through text-to-subscribe or a public registration page.
Using a custom text-to-subscribe program, large companies keep their customers in the loop with delivery status alerts, important announcements, network enhancements, and special promotions.
Nonprofit organizations offer their members and supporters the option to stay connected through regular schedule updates and event notifications.
4. Read receipts 
Request read receipts to confirm a recipient opened and read a notification.
Organizations use read receipts to track the delivery status of their notification and to ensure their people received a critical message.
5. Conference bridge
Coordinate a conference call, assembling a discussion, within seconds.
When instant phone discussion is crucial, organizations use the conference bridge to connect to their team, or audience, instantly.
Two-way communication is essential in keeping your audience safe, informed, connected, and efficient. When you are in control of keeping your audience in the loop, efficient mass communication is your most powerful tool.