Emergency Management
Mar 10, 2022
The Main Types of Workplace Violence and 6 Steps to Mitigate Risks
There are many types of workplace violence, from verbal abuse to homicide. This post discusses the four primary types of workplace violence and covers six steps your organization can take to improve employee safety.
Active Shooter Readiness Checklist
Use this checklist to assess your organization's ability to react and respond to workplace violence.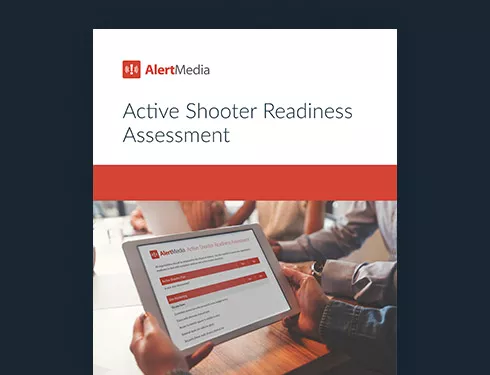 On a cold Friday in February 2019, dozens of employees were hard at work performing their typical duties at a manufacturing plant in Illinois. Everything was normal until roughly 1:20 that afternoon when gunfire erupted in the offices. A disgruntled former employee returned to seek revenge against the company that fired him weeks prior, and in the process, took the lives of five of his former colleagues. One was a 21-year-old intern working his first day at the company. Only after a gunfight with local law enforcement was the perpetrator stopped. Sadly, this senseless act of workplace violence is just one of millions that occur every year across the country.
No business wants to think about the types of workplace violence that might occur at their workplace. But each year, more than 2 million American employees report having been a victim of various types of workplace violence. According to the U.S. Bureau of Labor Statistics, 841 workers were fatally injured in work-related attacks and physical assaults in 2019. To put that into perspective, that's nearly 16 percent of the 5,333 workplace fatalities from the same year. These incidents, which occur coast-to-coast and impact virtually every industry, drive home how important it is for businesses to stay vigilant against violence in the workplace.
In this post, we'll discuss the primary types of workplace violence, various risk factors associated with acts of violence, and six steps you can take to combat violence at your workplace.
What Is Workplace Violence?
Workplace violence is any threat of or act of harassment, intimidation, dangerous disruptive behavior, or physical violence at a workplace. Examples of workplace violence include physical assault, robbery, and theft or destruction of private or company property.
Workplace violence is unique among threats to businesses in that a person causes it, be they a coworker, contractor, customer, or former employee, and it can happen anywhere inside or outside the office. It can also happen at any time and manifests itself as anything from verbal harassment to homicide. These incidents can cause serious physical and mental harm to your employees, hurting morale and productivity. Businesses need to be aware of these variables to prevent workplace violence and protect their people
In order to be able to address and prevent workplace violence in your organization, you need to know what to look for.  Here are the different types of workplace violence and what each might look like at your office or worksite.
Statistics of Workplace Violence
According to the U.S. Department of Labor, the statistics of workplace violence include 841 workers who were fatally injured in work-related attacks in 2019. To put that into perspective, that's nearly 16 percent of the 5,333 workplaces from the same year. According to one study, women, members of minority communities, trans people and other marginalized people are more likely to experience workplace violence and are often less likely to report it. And while nearly 70 percent of victims of workplace assault in 2019 were women, over 80 percent of the victims of workplace homicide during the same period were male.
Types of Workplace Violence
Workplace violence can come in many forms, and knowing those various types can help you recognize them in the real world and work to prevent them. While there are acts of workplace violence that might fit in multiple or none of the following categories, they can help as a framework to prevent and respond to any incident. The National Institute for Occupational Safety and Health classifies the types of workplace violence into four buckets:
Criminal intent: These are crimes that are committed against a business and its property. The people committing the crime have no relationship with the business or its employees.

Examples: A masked assailant uses force to demand a cashier open the register; or theft of a company vehicle.

Customer/client: A customer or client becomes violent while interacting with the business. According to the NIOSH, employees in the healthcare industry are at the highest risk for this type of interaction. Law enforcement officers, teachers, and flight attendants are also at a heightened risk.

Example: A restaurant patron becomes irritated with waitstaff and starts a fight with employees.

Worker-on-worker: This type of workplace violence is perpetrated by a current or past employee who attacks or threatens another employee.

Example: An employee is upset because they believe they're not being treated fairly by management, and decides to lash out violently against one of their team members.

Personal relationship: Generally, this perpetrator has a personal relationship with the victim (but not the business). Women are overwhelmingly victims in this category. This type of workplace violence can also be considered domestic violence if the parties live together.

Example: A person is served divorce papers and out of anger goes to their spouse's place of work and attempts to hurt their now ex-partner.
Workplace Violence Risk Factors
Workplace violence incidents are not experienced evenly across all businesses.
According to the Occupational Safety and Health Administration (OSHA), workplace homicides are most common in retail workers, followed by service providers and government workers. Businesses are affected differently by violent acts depending on their risk factors. Some of these factors include exchanging money with the public or working with unstable, volatile people.
It is especially important to know who enters your work environment as most workplace homicides (85%) involve a perpetrator who has no known relationship to the business or its employees. Other scenarios that place employees at higher risk include workers leaving late at night and businesses located in high-crime areas.
Additionally, professionals who provide personal services such as customer service reps, lawyers, social workers, and health care providers may be at an increased risk of violence. Healthcare and social workers are especially targeted—NIOSH data suggests as much as 73 percent of roughly 25,000 assaults in the workplace were in health and social service environments. Taxi drivers ahttps://www.alertmedia.com/blog/target-hardening/nd police officers face fatal injury more often than most other professions, but perhaps surprisingly, so do hospitality managers. It is important to know what risk factors are relevant to your business and employees in order to prevent workplace violence.
6 Steps You Should Take to Combat Workplace Violence
Striving to prevent workplace violence is every business owner's duty and responsibility. According to the OSHA Act of 1970, workers have a right to labor in an environment that does not pose a risk of serious harm. Below are six steps your organization can take to reduce the risk of workplace violence and help provide a safer environment for your people.
Step #1: Create a workplace violence prevention program
The first step toward preventing workplace violence is to create policies for employees that outline what is acceptable behavior and what is not.
These policies can include the most common types of workplace violence, non-discrimination, racial or sexual harassment, drug and alcohol use, and safety procedures. Distribute the policies to all levels of the workplace, including employees, managers, leadership, and contract workers. In addition, make sure you carefully establish a complaint process and communicate this process in your policies.
One important example of such is a zero-tolerance policy. This means that violent behavior will not be tolerated in the workplace in any way. These kinds of policies empower employees to raise their concerns about potentially violent individuals and stop violence before it starts. By incorporating a zero-tolerance policy into your emergency plan, you reduce the risk of violent incidents.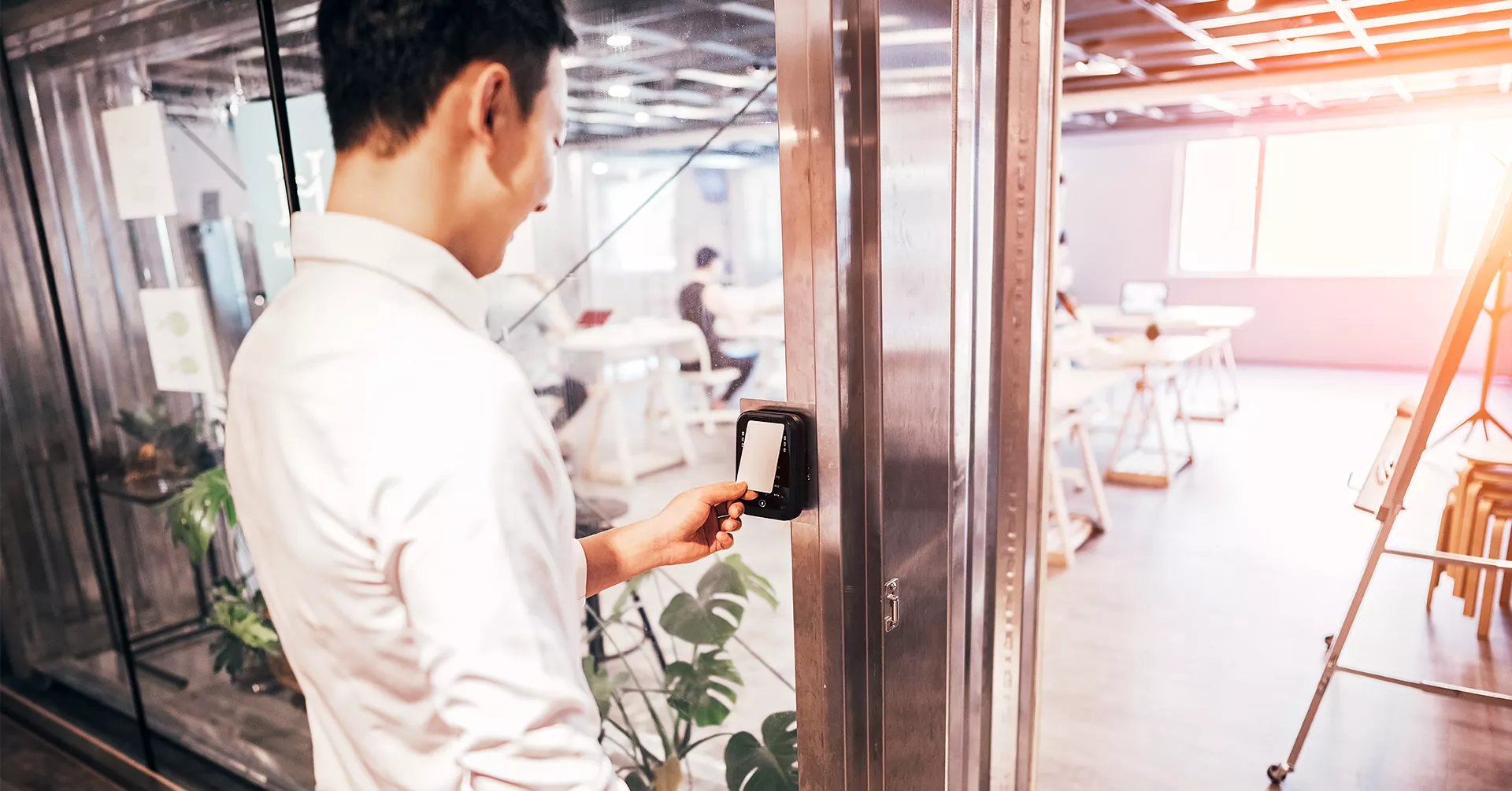 Target Hardening Techniques for Businesses
Learn how to improve the physical security of your business with target hardening.
Step #2: Assess and improve physical security
In addition to policies, employers can work to prevent workplace violence by improving security measures such as property lighting, premises security, and even data security (to prevent unauthorized use of employer computer systems).
Employers should conduct a risk analysis to understand potential vulnerabilities that could be exploited to gain access to your facilities. Ensure exterior areas are well lit to deter and detect potential intruders. Pay particular attention to areas that are naturally darker than others. When installing or adding security cameras, look for opportunities to improve sightlines to maximize coverage for each unit you install.
Step #3: Limit access to non-employees
Strangers—with no relationship with the company—commit 85 percent of workplace homicides. Employers should limit visitors who have no business being on-site to avoid violence entering the workplace from outside. This step also helps prevent "crimes of opportunity" where violence occurs because a door or gate was left unsecured.
Step #4: Train employees on situational awareness
Set up training sessions to help employees understand the threat of intruders and the very real risks they present. In addition, encourage employees to report suspicious visitors or potential acts of violence. For instance: Who should employees notify and what details are important? This type of reporting should be specific. Every minute counts when a potentially life-threatening situation is occurring.
In some situations, employees can also help defuse dangerous situations by de-escalating the conversation and dispersing tension. This can avoid violent confrontation before it starts.
Step #5: Ensure lone workers are protected
Lone workers such as real estate agents, social workers, and health care workers should be equipped with life-saving technology. Look for modern, mobile-friendly software designed to enhance lone worker safety in life-threatening or dangerous situations.
Step #6: Communicate effectively
Relating critical information is vital in preventing workplace violence. Make sure teams are meeting regularly to discuss their work and to air any unresolved tensions or disagreements. By doing so, employees can ease strained relationships that might one day boil over into violence.
For example, after the Aurora shooting mentioned above, several employees recounted that the shooter made violent threats to employees and police before being fired. Those incidents were not reported since they were considered "typical" behavior for that employee. Those small details might have been able to make a difference between life or death in that case.
To avoid this, teach employees to discuss their differences appropriately and encourage each employee to be open-minded with their fellow team members. Human resources should monitor teams and step in if tensions are so high that violence is possible. Work toward a quick resolution of conflicts.
Finally, a reliable employee notification system with two-way communication is a must-have when keeping your people informed of potentially dangerous situations.
Final Thoughts
While the vast majority of cases do not make the news, millions of organizations are affected by workplace violence every year. It is every employer's responsibility to put plans in place to prevent all types of workplace violence. Take steps now to mitigate the risk of danger and improve overall workplace safety.
Download Our Active Shooter Readiness Checklist
Use this checklist to assess your organization's ability to react and respond to workplace violence.