Safety and Security
Aug 04, 2020
How Local Threat Monitoring Can Protect Your People During a Hurricane
Modern threat monitoring capabilities can show you the storm as it's approaching and help you identify and communicate with at-risk employees.
Key Feature Guide
See how easy it is to identify potential risks, see who is impacted, and inform the right employees—all from a single platform.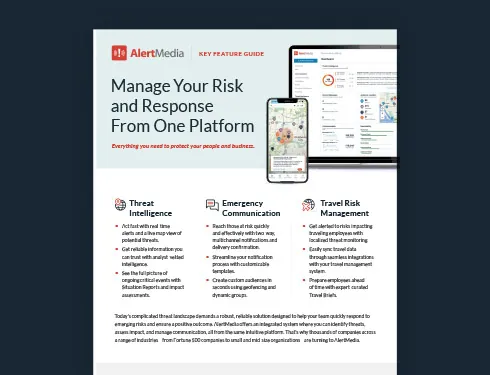 An effective hurricane response requires a lot. You need to be quick to identify the storm as a threat. You need to plan accordingly—and update that plan as the forecast changes. And you need to communicate that plan to your employees, so that they know what is expected of them and what your organization is doing to keep them safe.
AlertMedia's threat monitoring capabilities bring all those aspects together—to create a hub that your organization can use as the centerpiece of its hurricane communications.
Real-Time Threat Warnings
The first step in any effective response is early identification of the threat. The more time you have to prepare, the better your plan will be. Early identification allows you to discuss contingency plans with all stakeholders and adjust accordingly as you become aware of new information.
Threat warnings ensure that you don't have to stay glued to the TV, or keep the weather.gov tab open in your browser, to maintain situational awareness throughout the entirety of hurricane season. Our industry-leading threat monitoring system does that work for you.
AlertMedia ensures that you will be the first to know of an incoming storm by using proactive threat warnings. Leveraging up-to-the-minute threat data from trusted sources around the world, the system watches for threats—like hurricanes—that could impact your people or locations. Once it identifies that one or more of your employees may be in the path of an approaching storm, the system will automatically send you a threat warning with details about the severity of the hurricane and which of your people or assets may be impacted.
Hurricane Visualization
AlertMedia also allows you to see the storm as it unfolds, on the system's interactive map. Hurricanes are an inherently visual threat. Turn on the news as a hurricane approaches, and you will inevitably see a visual showing the path the storm has taken, along with a forecast of where it is expected to go. For hurricanes, these visuals are invaluable, so that individuals and organizations can see how far away the storm is and whether it is expected to reach them.
The problem is, most organizations have to look at a forecast on a site like weather.gov, and then cross-reference that with a list of office locations and (especially important during a period of widespread remote work) employee home addresses. This can be a time-consuming and frustrating process.
AlertMedia solves this problem by putting all the relevant information on one interactive map. Companies can see the approaching hurricane and its forecast—along with markers for office locations and employee addresses.
Organizations can see everything they need to know to make an informed decision at a glance.
Up-to-Date Details and Forecast
A good visual is almost worthless, however, without details alongside it. You may see that you are in the path of a hurricane…but how severe is it? Is it a tame Category 1 or a deadly Category 5? Is it fast-moving or slow? What damage has it caused already? These are all questions that a forecast image cannot show you.
For this reason, AlertMedia also includes comprehensive details on every hurricane. The map is just one click away from the latest details on the current state of the hurricane. You can determine where it is currently, when it is projected to reach different parts of the US, and how much damage experts are forecasting.
Threat details allow you to assess the severity of a given storm before it ever reaches landfall.
Impact Assessment
Sometimes the most difficult question to answer when assessing an approaching hurricane is: how does this impact my organization? Especially for large corporations with multiple offices, it can seem like a herculean task to determine which employees and which offices are in the path of the storm—especially during a period of widespread remote work.
AlertMedia solves this problem by automatically assessing the impact of every hurricane on your business, and adjusting this assessment as the forecast changes. Each threat is assigned a threat radius, which the system then cross-references with your organization's locations. AlertMedia will quantify the impact to your:
People — Mobile users' real-time locations
Locations — Offices, employee home addresses
Assets — Data centers, supply chain hubs, etc.
AlertMedia's impact assessment engine ensures that no one slips through the cracks.
Targeted Communication
The final step is to get the word out to all of your at-risk employees. AlertMedia makes this easy by combining threat monitoring capabilities with our industry-leading mass notification system. As soon as you receive an automated threat warning (as described above), you can immediately jump into action.
Pressing the "Send Notification" button on any threat on the map immediately drafts a notification to only those employees or groups who are within the threat radius. Or, you can simply use the geo-fencing tool to circle an area on the map—drafting a message that will go to any employees in that area. These are both critical tools for getting the right message to the right people (especially for large, geographically dispersed organizations).
From that point, you can adjust how the message is sent (text, voice, email, etc.), its contents, and whether to create an associated event page (a dedicated webpage that employees can visit for the latest updates on the situation). You can also base the message off of a pre-existing template, if your organization already has hurricane notification templates in place.
AlertMedia is the only solution on the market that brings threat monitoring and emergency communication together—making it the only system that your organization can trust as its hub during hurricane season. You cannot afford to waste time following news across the country, switching back and forth between multiple windows to try to assess a hurricane's impact, and then communicating with your people from a separate, unreliable system.
Employee safety and business continuity are at stake. Make sure your technology is up to the task.