Emergency Management
May 17, 2022
The Fallout After Landfall: Hurricane Impact on Non-Coastal Businesses
Hurricanes can impact businesses far inland. Read this article to learn the various precautions your business should take regardless of where your offices are located.
Key Feature Guide
See how easy it is to identify potential risks, see who is impacted, and inform the right employees—all from a single platform.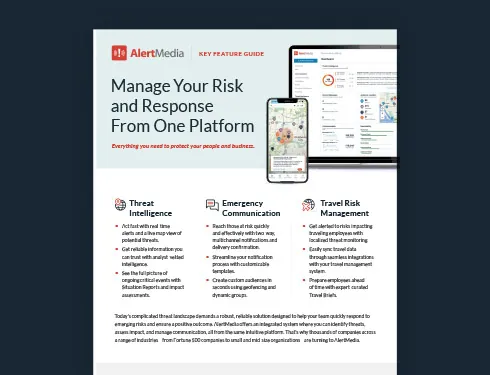 Most people are familiar with the brightly colored cone of a hurricane's projected track on a radar map. Weather experts are able to pinpoint a storm's trajectory with increasing accuracy as it approaches land. But it's easy to forget that the damage a major, or even minor, hurricane unleashes can reach far beyond its initial point of impact.
Businesses and residents far inland will often still feel the impact of major hurricanes — whether directly through wind damage and flooding or indirectly as the result of a disruption to shipping routes, commerce, and unforeseen issues. When evaluating potential hurricane damage to your business or residence, the narrow scope of a storm's path can be misleading.
It's important to look beyond the outline of a hurricane's projected path you see on a weather map. The following repercussions represent some of the ways a hurricane can produce damage far inland and well-removed from the storm itself.
Hurricane Communications Guide
Explore the platform designed to keep your people safe, informed, and connected during a hurricane.
Hurricane Impacts on Travel
Inland flooding
In 1959, The Weather Bureau (now the National Weather Service) made efforts to combat hurricane damage by promoting a new model for hurricane planning. They emphasized emergency communication as being one of the most effective ways to stay safe during a storm. But the agency's focus was coastal.
When the Weather Bureau released its precautionary measures, it overlooked the series of events a hurricane could trigger further from the coast. A slow-moving storm can end up swelling river systems far inland with torrential rainfall. This can cause road closures and structural damage, putting lives at risk.
Certain geographic terrains create ideal conditions for inland flooding. The Appalachian Mountains, for example, are capable of producing large volumes of rain due to lingering clouds from a hurricane's swirling bands. The mountains funnel the rain through the region's valleys, leading to swollen rivers. This can cause flooding and inaccessible roads far from a hurricane's path.
In fact, Weather Underground reported that Hurricane Florence resulted in five all-time records for river crests. And hurricane category doesn't necessarily dictate damage level. Hurricane Harvey in 2017 was only a Category 2 when it made landfall. But it ended up causing catastrophic flooding after stalling inland 100 miles from the coast—directly over the Houston area.
If your business has physical locations near rivers, lakes, or levees that could overflow, you'll want to proactively warn employees. Mass communication software should come equipped with two-way messaging that allows workers to respond with status updates.
Airport delays
Days before a hurricane makes impact, airports start to shut down in anticipation. Anyone who has traveled much knows that delays at one airport can affect flights around the country.
Most businesses have some degree of business travel. This means that delays can impact organizations hundreds or even thousands of miles from a storm. Employees who plan to return at a certain time might be delayed indefinitely. Having a reliable way to stay in touch with business travelers is critical to ensuring management has the information they need to maintain business operations.
Evacuation gridlock
When Hurricane Rita took shape in the Gulf of Mexico, it quickly strengthened into the fourth-most intense Atlantic hurricane on record. Already a frightening system, the fear was compounded by a recent devastating storm: Katrina.
A few weeks prior to Rita, Katrina breached the surge protection levees in New Orleans. These events ended up taking the lives of over 1,800 people. The Houston area, where Rita was projected to hit, was primed for panic. Residents launched into evacuation mode, which ended up gridlocking the interstates leading out of town.
Hurricane Rita weakened before making landfall and largely missed the metro area. But the Houston evacuation came to be more harrowing than the storm itself. In total, 3 million people ended up evacuating, many of them trapped on highways for over 24 hours.
This event impacted a number of local and national businesses. With personnel either based in or working out of the Houston area who ended up trapped, those businesses suffered a major operational hit. It ended up taking over 48 hours for the traffic to fully dissipate.
Organizations with a reliable mass notification system in place would have been able to quickly inform their employees with the latest updates. As Hurricane Rita approached, weather experts reversed their position and urged residents to hunker down at home. But because many people were left without power, they missed this crucial update.
Hurricane Impacts on Shortages
Gas crises
As Hurricane Rita barreled towards Houston, Valero Energy Corp, the nation's largest refiner, was bracing for major potential fallout. They issued a statement warning that Rita could cause gasoline prices to rise over 25 cents per gallon.As the mass evacuation took shape, many gas stations on highways leading out of Houston ran out of fuel altogether—leaving many cars stranded on the road.
Shortages like this often result in a ripple effect. A few years after Rita, Hurricane Harvey led to a gas shortage that could be felt hundreds of miles away.
The storm ended up shutting down a large percentage of the U.S. gasoline refining capacity. Gas shortages could be felt as far inland as Dallas, located nearly 250 miles north of Houston.
The implication is clear: a hurricane's damage extends well beyond the narrow outline of its immediate path.
Product shortages
When Hurricane Maria devastated the island of Puerto Rico in 2017, every resident was affected in some capacity. But even though the island is situated in the Eastern Caribbean, over 2,000 miles from the mainland of the United States, the storm ended up having a direct impact on the U.S. economy.
Puerto Rico is a major manufacturer of medical devices and pharmaceuticals, representing 30% of its economy. After suffering severe damage and reduced production at its manufacturing plants, the U.S. experienced a months-long shortage of medical supplies.
Low supply can also impact national pricing. Cotton, eggs, nuts, and produce can all be negatively impacted in the aftermath of a storm. Again, clear communication throughout a hurricane extends beyond safety initiatives. Organizations need a way to keep business decision-makers in the loop on any financial repercussions.
Hurricane Impacts on Logistics
Shipping delays
Following Hurricane Harvey, a logistics company in Washington state found itself struggling to complete shipments due to port closures in the Houston area, located over 2,300 miles away. Various freight and logistics concerns have been top of mind recently due to the catastrophic damage unleashed by more frequent and more intense storms.
In 2018, The Federal Motor Carrier Safety Administration (FMCSA) issued an emergency declaration in the hours leading up to Hurricane Michael. The notice included Florida, Georgia, South and North Carolina, Tennessee, Alabama, and Louisiana. Many of those states were not directly in the path of Michael, but the FMCSA knew that a major storm would have far-reaching consequences.
Transportation route closures
Hurricane damage has a major ripple effect on the wider economy. While a storm typically lasts for around nine days, the impact can extend for weeks or even months. If a shipping route is rendered inaccessible, employees need to be made aware of open roads in order to minimize delivery disruption.
The Federal Aviation Administration issued air reports during Hurricane Florence, sending notice of the suspension of air traffic operations directly impacted by the storm. They also issued alternate routes for delivery—essential information for any business to relay to key shipping and transportation stakeholders.
Proactively keeping truckers and shipping personnel informed of open routes can help minimize the impact to a company's bottom line.
What Inland Businesses Should Do During Hurricane Season
There are some precautions businesses should take regardless of where their offices are located.
Even if you're not in the path of a potential storm, your response plan should still include investing in emergency communications, establishing alternate shipping routes, and defining a protocol for how to defend against the economic repercussions of a hurricane.
Monitor every storm:
Businesses should treat all approaching hurricanes with caution. Best practice is to keep an eye on all developing systems so you can quickly notify key decision-makers in order to keep your people safe and your operations running smoothly.
Some emergency communication providers, like AlertMedia, offer advanced threat monitoring capabilities. Approaching hurricanes automatically appear on AlertMedia's interactive threat map, along with threat details that describe the path of the storm and its expected impact. This allows AlertMedia customers to stay informed about which storms pose a direct or indirect threat to their operations—even if it isn't on the local news.
Communicate with staff:
Effectively notifying your employees before, during, and after a hurricane is essential to keeping everyone protected and safeguarding your assets. You'll need a solid hurricane communication plan to prepare.
You'll also want to look for an emergency communication solution that offers a central hub or "Event Page." These pages serve as a valuable resource during an unfolding event (such as major flooding), giving the business a place to post disaster updates, upload videos/photos, and communicate road closures.
Adopt a Reliable Emergency Communication Solution
Regardless of where your organization and offices are located, every storm could mean a potential interruption to your operations. Hurricanes are not isolated disasters. They might not affect your immediate surroundings, but they can have very real implications on your ability to maintain business continuity.
AlertMedia is the leader in emergency communication software. Thanks to two-way messaging, an intuitive user interface, and 24/7 customer support, you can rest easy knowing you're prepared for any storm.