Communications
May 13, 2021
Assessing Emergency Communications ROI for the Modern Enterprise (Webinar Recap)
A new commissioned Total Economic Impact™ study conducted by Forrester Consulting shines a spotlight on the ROI organizations can realize by migrating to AlertMedia's modern emergency communications solution.
Forrester TEI Study
Learn how AlertMedia's emergency communication solutions help organizations achieve a 329% ROI, according to an analysis by Forrester.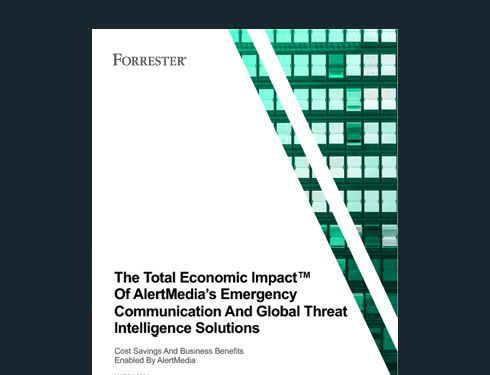 Recently, AlertMedia hosted a webinar in partnership with Disaster Recovery Journal on Assessing Emergency Communications Return on Investment (ROI) for the Modern Enterprise. The webinar featured Nicholas Ferrif, Consultant at Forrester, and Peter Steinfeld, SVP of Safety Solutions at AlertMedia.
During the webinar, Nicholas presented the findings of Forrester's Total Economic Impact™ (TEI) study commissioned by AlertMedia. He also discussed the challenges associated with outdated legacy systems and the financial benefits enterprise organizations could realize by implementing a modern emergency communications system. Peter provided insights into the current state of emergency communications, how to identify the right time to implement a new emergency communication tool, and what to look for in a provider.
If you missed the webinar, you can access the recording here.
The Growing Need For a Modern Emergency Communication Solution
With concurrent challenges like COVID-19, remote work complexity, and numerous historical weather events, it's clear that organizations must remain vigilant and prepared for critical events that can impact their people and business. In addition, with extended and simultaneous disruptions becoming the "new normal," enterprise organizations need a robust, easy-to-use, easy-to-implement system that can handle the growing needs of their businesses.
The COVID-19 pandemic is a perfect example. Last March, many companies were caught completely off guard as the threat of the virus became more apparent by the day. Specifically, they were not well-equipped to communicate with their employees or address business continuity challenges like the sudden shift to remote work.
This disconnect fundamentally changed the employer/employee communication dynamic. After a year or more of change and uncertainty, employees desire transparent, consistent communication from their employer—especially when it relates to major events.
These factors demonstrate that a modern emergency communication solution is now a "must-have" for businesses instead of a "nice to have."
"Modern" is the operative word here as many organizations currently have a solution in place, but are discovering that not all tools or providers are created equal. Many enterprises don't have time for a system that is too difficult to use or set up, has limited capabilities, doesn't offer the best possible support services, or doesn't meet their needs in other ways.
When to Switch & What to Look For in a Provider
To accomplish the organizational readiness that is critical for enterprise companies in 2021 and beyond, it is vital to assess any gaps in your current emergency communication solution. It is also necessary to address any perceived challenges or anxiety about switching and achieve buy-in from leadership for a more modern tool.
Key challenges of legacy systems
Forrester interviewed and surveyed four AlertMedia customers of varying industries, regions, and relative sizes as part of their TEI study. The customers shared several common challenges with their legacy systems and concerns about the customer service they received from their former providers.
Organizations interviewed by Forrester that have gone through the process of switching providers identified these four primary obstacles they were struggling to overcome:
They wanted to identify and alert employees of critical events or threats sooner than their solution allows
They experienced complicated data management and difficulty scaling legacy emergency communication solutions
Poor user interfaces and non-intuitive design led to stress and notification delays during critical events
Poor customer service from legacy providers led to wasted time and insufficient resolutions
Overcoming switching anxiety
As VP of Safety Solutions, Peter often speaks with organizations looking to switch to a more modern system. During the webinar, Peter explained how many companies express a desire to address the obstacles outlined in the section above and feel a modern solution would help; however, they struggle to make the business case or align internal stakeholders with migrating technologies.
Some of the perceived challenges of switching most commonly cited by organizations include:
"Our current system was difficult to set up and is finally up and running properly."
"It is too expensive to switch."
"My organization has unique needs/integrations/complexity."
"Retraining on a new system is tedious and time-consuming."
"The pros do not outweigh the cons."
These pain points can be demystified by understanding the key features of a modern emergency communication solution that can benefit any organization, no matter how unique or complex its needs are.
Achieving buy-in from leadership
Peter suggests that leadership at enterprise organizations ask themselves important questions about their provider and their current tool's capabilities.
If the answer to any of the following questions is "no," it is time to reevaluate and possibly switch providers.
Is it easy to use/implement across the organization?
Will it work if our digital infrastructure breaks down or standard communication channels become unreliable?
Is my provider helping to monitor the globe for any physical threats that may impact our people or business?
Am I confident my provider can innovate at the pace the world is changing?
Does my provider offer 24/7 immediate support?
Do I feel like I'm getting fair value?
The Massive Upside of a Modern Solution
The four customers who participated in the TEI study ultimately selected AlertMedia because of its intuitive web/mobile UI, advanced features, seamless data syncs/integrations, robust global infrastructure, and straightforward, all-inclusive pricing. In addition, system administrators reported that AlertMedia's tools increased their confidence, improved notification speed, and enabled new use cases beyond what their previous providers could support.
Forrester's findings
Based on an analysis of AlertMedia's customer feedback, survey results, and factors like quantified benefits, cost, risk, and flexibility, Forrester identified these high-level financial results:
ROI (Return on Investment) of 329%
Benefits Present Value (PV) of $1.7 million
Net-Present Value (NPV) of $1.3 million
Payback period of fewer than six months
Forrester's study uncovered several operational benefits of using AlertMedia's Emergency Mass Notification and Global Threat Intelligence solutions, including increased revenue from faster emergency response and improved productivity from quicker and more streamlined business communications. Organizations can also avoid excess costs related to their legacy solutions, gain efficiency with business continuity, and their IT teams can experience reduced downtime.
The Bottom Line
It's abundantly clear that the ROI enterprise organizations can realize by switching to AlertMedia is significant, and the many benefits identified by Forrester's TEI Study speak for themselves.
Luckily, it has never been easier to switch to AlertMedia. Thousands of organizations of all sizes and industries have already made the switch, including some of the world's largest organizations. For example, a company with 350,000 users and 5,000 administrators fully migrated and trained in just two months.
To learn more about Forrester's findings and why companies are turning to AlertMedia for their most critical communications, watch the entire on-demand webinar.
More Articles You May Be Interested In