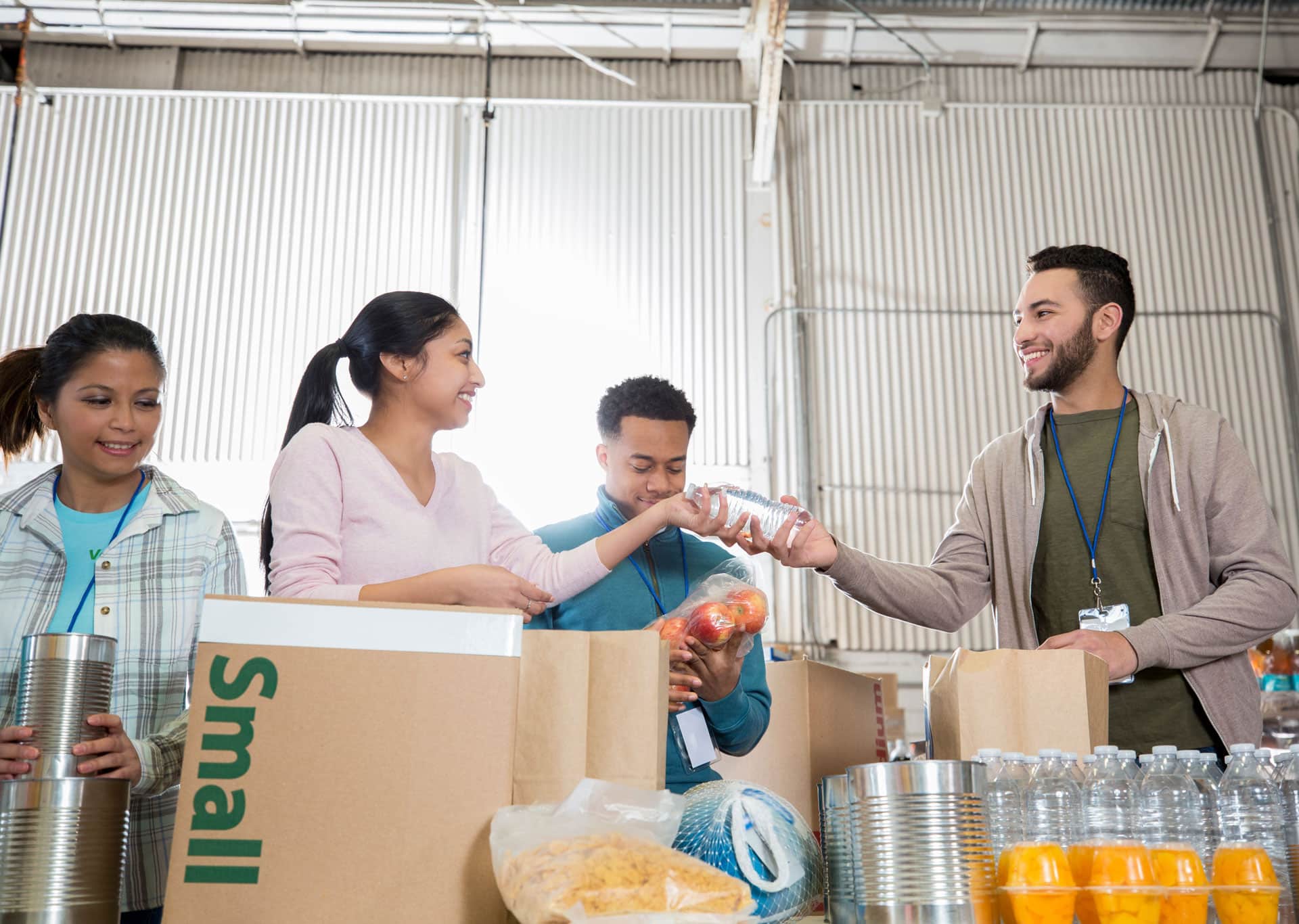 Emergency Management
Aug 11, 2020
Hurricane Response and Recovery: The Role Businesses Play
Preparing your people for impending damage and responding to community needs after a storm can help you overcome far-reaching consequences for your business.
Key Feature Guide
See how easy it is to identify potential risks, see who is impacted, and inform the right employees—all from a single platform.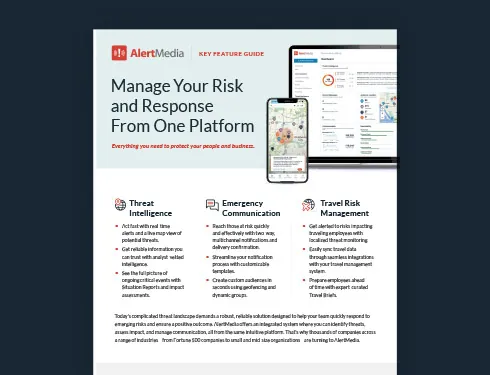 "All too often, lives are shattered unnecessarily because of poor working conditions and inadequate safety systems. Let me encourage everyone to join in promoting safety and health at work. It is not only sound economic policy, it is a basic human right."
–Kofi Annan, Former Secretary-General of the United Nations
When a hurricane sweeps through an area, the devastation to the community can be overwhelming. How your business prepares your people for impending damage and responds to community needs in the aftermath of a storm has far-reaching consequences.
Beyond an organization's local, regional, or national reputation, there is the issue of consumer confidence in your community. The more at ease people are following a disaster such as a hurricane, and the less concerned they are about finding shelter and personal safety, the sooner they'll feel comfortable conducting normal commerce.
Whether you're a small, independent shop or a larger enterprise, you have a responsibility to protect your people and help restore your community. The concept of Corporate Social Responsibility (CSR) can be found in many mission statements across industries. But enacting that promise is a different story.
Adopting a reliable emergency communication system to keep both staff and the public informed throughout a dangerous hurricane is crucial to instilling peace of mind and building trust in your community. Breaking down how a business can translate that obligation into policies and procedures can benefit everyone impacted by a hurricane.
What is Your Corporate Social Responsibility During Hurricane Season?
Also referred to as "corporate citizenship," Corporate Social Responsibility is a business model that promotes community accountability. This can apply to the business itself including all staff and personnel, to stakeholders, and to the surrounding community.
When a damaging hurricane makes landfall, there are financial, social, and environmental repercussions. The role a business plays throughout an emergency can have negative implications. For example, failing to properly communicate with employees or the surrounding community regarding office closures can put lives at risk.
Some ways a business can support its community during a hurricane:
Hurricane Preparedness Plan: Developing a proactive hurricane preparedness plan with explicit instructions helps protect your people and their loved ones.
Mass Notification System: Investing in emergency communication software allows you to quickly and easily notify employees and the public.
Philanthropic Activity: Contributing time and money to help your community recover, especially when victims need resources, builds trust in your business and consumer confidence.
The benefits of supporting your community in the aftermath of a hurricane will have a lasting impact. Participating in philanthropic work, for example, has the added bonus of painting your brand in a positive light.
How to Be a Best-in-Class Business During Hurricane Season
There are key differentiators between an organization that looks out for its own interests and those that make a concerted effort to help mitigate the trauma a hurricane can unleash on their community.
In August of 2017, H-E-B Texas Grocery found itself facing a nightmare situation: a hurricane system stalled over their region dumping torrential rainfall. That storm was Harvey, and over the course of 48 hours it caused catastrophic flooding in the Houston area. It became one of the costliest natural disasters in U.S. history.
How H-E-B responded to an emergency situation stands out as an exemplary use case for what a business should do during hurricane season.
H-E-B Texas Grocery
Over warm Gulf waters, Hurricane Harvey strengthened into a powerful Category 4 storm. Although it had weakened by the time it made landfall, the system was slow moving and produced deadly flooding that took lives, destroyed homes, and damaged some businesses beyond repair.
H-E-B was prepared for the worst. They enacted their pre-set emergency plan and notified employees of store closures ahead of time. They knew they needed to get their stores back open as quickly as possible to provide valuable resources to their community (supplies, water, and canned goods).
In addition, H-E-B employees around the state volunteered to travel to Houston and help keep stores open. This allowed impacted employees the ability to take time off and assess damage, attend to their families, and recover from the storm. The grocery chain went above and beyond the obvious actions of keeping their stores open. They also contributed $100,000 to relief efforts and helped organize donations from customers. They even set up mobile kitchens in affected communities, giving away three meals a day to those unable to access food.
H-E-B wasn't solely focused on their bottom line—they knew that restoring business continuity as quickly as possible would benefit their staff, their customers, and the larger community.
Best-in-class businesses like H-E-B reach out to employees before an emergency takes place. They clearly communicate with the public and initiate programs to help restore their communities and lift the spirits of everyone impacted by the effects of a hurricane.
Duty of Care During Hurricane Season
Beyond the social and ethical obligation a business has to its employees and community, there is also the concept of duty of care. Every business has a legal responsibility to avoid behaviors that could put their employees in harm's way.
Also known as "business judgment rule," duty of care requires management to make decisions that are in the best interest of their people. While the laws vary by state and country, it's best to familiarize yourself with specific laws in every area your employees might be working.
An organization can ensure they're fulfilling their duty of care by planning ahead, investing in a reliable emergency notification system, and going above and beyond to ensure the safety of every employee throughout a crisis.
Business Best Practices for Hurricane Season 
A hurricane presents businesses with an opportunity to boost company morale, test and reinforce safety protocols they have in place, and uplift their communities. But management might wonder what specific actions their organization can take to meet these goals.
While the following best practices are by no means an exhaustive list, they do provide businesses with a helpful starting place for employee and community engagement throughout a hurricane:
Emergency Response Plan: Prepare your business for a hurricane ahead of time. Even if your business isn't in a hurricane zone, a plan is useful in any emergency and will ultimately benefit your people and community.
Effective Messaging: Communicate your plan across the organization including staff, customers, and the wider public. Again, emergency notifications with two-way messaging help keep everyone safe, informed, and connected.
Testing: Run tests to ensure your safety measures are up to date and make necessary improvements based on the results.
Focus on the Larger Community: Response in the aftermath of a damaging hurricane isn't just about your assets—it's about all of the people you serve. Supporting the larger community will strengthen your organization's brand as a trusted leader by employees and customers alike.
In addition to the main buckets above, there are also specific actions every business can take if a hurricane strikes. Providing shelter, taking donations, delivering medical supplies, and lending a hand with recovery efforts are a few ways an organization can respond to a hurricane with a community-centric focus.
Adopt an Emergency Communication Solution 
As discussed, one main component of an organization's hurricane response plan is effective messaging before, during, and after a hurricane. Communicating quickly with everyone impacted by a dangerous storm is essential to ensuring safety.
As a hurricane approaches, you won't have a minute to spare. Having pre-set messaging in place will alleviate stress and ultimately help protect your people and the wider community. AlertMedia's hurricane communication templates provide businesses with hurricane messaging across devices and through all phases of a storm.