Emergency Management
Feb 09, 2022
What Employees Should Do in a Workplace Fire
A workplace fire can become a nightmare scenario for any organization. This blog will provide you with tips on how employees should react during a fire or emergency.
Download Our Fire Safety Checklist
Use our fire safety checklist to ensure your bases are covered in advance of a fire.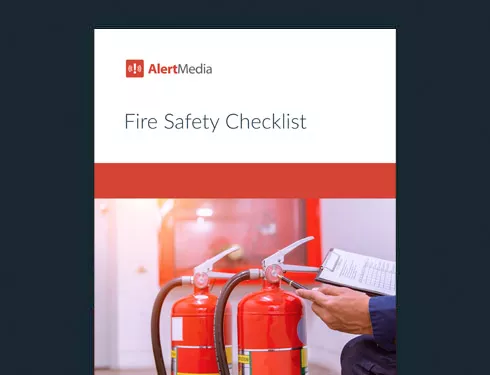 A workplace fire can quickly become a nightmare scenario for any organization. One second, it's business as usual. The next: an alarm is blaring, ceiling sprinklers have triggered, and employees are in a state of panic. Total chaos.
"When automatic detection systems trigger a general alarm, the occupant's response is anything but automatic."
– Guylène Proulx, SFPE Task Group on Human Behavior in Fire
Fear is a natural reaction to any life-threatening situation. But there are precautions every business can take to prepare its people. Running routine fire drills, educating staff with workplace fire tips, and clearly communicating throughout an evacuation drill or fire can ultimately save lives.
Fire Alarms Only Work if Employees Respond
The Society of Fire Protection Engineers (SFPE) is the authority on human behavior during a fire. Their mission: understand the psychology behind what influences decision-making when a fire or evacuation occurs in an effort to inform safety programs.
Before we dive into workplace fire do's and don'ts, it's helpful to understand some common reasons for the lack of response to an alarm. In addition to your list of behaviors, you'll want to educate employees on the importance of quickly reacting when an alarm is triggered.
The SFPE has discovered that people often ignore fire alarms for four main reasons:
Not recognizing the signal as a fire alarm
Being unaware of the proper response
Feeling a loss of confidence in the system because of nuisance alarms (false alarms triggered within a short period of time)
Difficulty hearing the signal
Regular fire drills will help employees associate a specific pattern of sounds with the need to evacuate. When it comes to proper response, education is key. The SFPE recommends thorough training and implementing an emergency notification system to effectively inform employees that a real threat is present.
Nuisance/false alarms are typically the result of a system malfunction. If more than three occur in one year, they can undermine trust in the alarm system. Businesses should conduct routine inspections to ensure that systems are fully functional (and false alarms are kept to a minimum). Alarms should also be audible enough to hear over ambient noise and inside closed offices.
In addition, the alarm should not be shut off until the emergency situation has concluded. Studies have shown that occupants will assume there is no longer a threat if an alarm is turned off after five minutes.
Ensure your organization is prepared to address a workplace fire.
Workplace Fire Education
Once you've thoroughly communicated to your people the importance of fire alarm response, leadership should then educate every employee on what to do (and not to do) during a fire or evacuation drill.
The following list of employee do's and don'ts can be customized to fit the specific needs of your organization. You'll want to post them in common areas, distribute them to fire safety wardens in preparatory meetings and send reminders to review the list throughout the year.
In a workplace fire, DON'T:
DON'T panic: While it's understandable employees will be frightened during a fire, maintaining a level head is crucial to survival. Fortunately, running fire drills should help ensure a calm reaction since everyone will understand exactly what to do.
DON'T gather personal belongings: Fires spread fast. In as little as 30 seconds, a small flame can blaze out of control. Beyond grabbing your mobile device (if nearby), leave items behind. Immediate evacuation is the top priority.
DON'T take the elevator: Because a fire can quickly disable a structure's electrical system, a stalled elevator can end up being a death trap. Employees should be instructed to use stairwells, fire escapes, or alternate routes.
DON'T attempt to extinguish an out of control fire: Containing a large fire should be left to properly trained firefighter professionals.
DON'T leave doors open: Oxygen fuels fire. Instruct your Fire Wardens to shut doors as they enter/exit them in an effort to keep the fire contained.
DON'T remain in the building/facility: There are numerous (sometimes invisible) dangers present during an office fire. Carbon monoxide poisoning and structural failure can jeopardize workers who remain in place.
DON'T ignore the company plan: Fire drills are designed to provide everyone with a shared plan for safety. By going rogue, employees put their own lives at risk as well as endangering their coworkers.
DON'T return into a burning structure: While it's human nature to want to ensure the safety of all employees, re-entering a dangerous fire could mean two lives lost instead of one.
DON'T ignore status check-in: Leadership needs to account for every employee. If you receive a mobile check-in requesting your status (and you're in a safe location), respond immediately to expedite the process.
DON'T flee the scene once safe: It might be tempting to get as far from the site as possible. But if you're a safe distance away, workers should stay in place until they receive further instruction.
In a workplace fire, DO:
DO remain calm: Part of every organization's fire drill should be to instruct their people not to panic. While there will be a certain level of anxiety during a fire, reminding everyone to remain calm is always an evacuation best practice.
DO take only a mobile device: As mentioned, fleeing from the fire should be everyone's top priority. If a worker's mobile device is immediately accessible, they should grab it in order to stay informed and reply to status check-ins.
DO listen to your leader: A designated company Fire Warden should provide necessary instruction as they help guide all employees to safety. If an individual has questions, they should direct them to the company's fire safety team.
DO immediately notify proper authorities: Someone on the fire team should be tasked with notifying the fire department of the first signs of a fire. Don't assume that systems have triggered alerts.
DO assist mobility-impaired coworkers: Whether an employee has a sprained ankle or a permanent mobility issue, some workers will need extra assistance to make it out of the structure safely.
DO close doors behind you: As mentioned, open doors can exacerbate an already dangerous fire. This task should be part of the fire team's checklist after all employees are safely out of a particular area.
DO use evacuation routes: During the evacuation, remind everyone where the nearest exits are (established during your fire drills) and what routes should be avoided.
DO gather in a safe location: Your fire drill will have established a safe meeting place some distance from your building/facility such as a parking garage or lot.
DO account for everyone: Have the Headcount Manager communicate missing or injured employees to first responders/law enforcement.
DO check in with leadership: Once everyone is safely away from the danger, there will undoubtedly be questions surrounding the next steps. In order to minimize the risk of false information spreading, the fire team should relate all information.
As a reminder: All employees should be educated on fire safety behaviors and the list of do's and don'ts should be posted in visible locations. It's only a useful asset if employees are thoroughly aware of how to react during an incident.
Clear Communication During a Workplace Fire
Both during a fire incident or evacuation, in the immediate aftermath, and as your organization begins the recovery process, how you communicate with your people is essential. When an emergency happens, it's difficult to find the time or clarity of mind to craft coherent messaging.
Some emergency notification solutions offer Workplace Fire Communication Templates that provide pre-set messaging applicable to all phases of a fire. This allows organizations the ability to quickly inform their people across channels (text message, email, voice call, and mobile app pushes).
Because immediate communication is critical throughout a workplace fire, every organization should include fire templates as part of their fire evacuation plan.
Looking for a way to protect your people throughout the entire duration of a dangerous workplace fire?
AlertMedia is the leader in emergency communication systems. Thanks to two-way messaging, an intuitive user interface, and 24/7 customer support, you can rest easy knowing you're prepared in the event of a workplace fire.
Download Our Fire Safety Checklist
Use our fire safety checklist to ensure your bases are covered in advance of a fire.