Company News
Jan 03, 2019
AlertMedia Announces New $25 Million Investment
AlertMedia announced a $25 million investment from JMI Equity, read more about what that means for our company here.
Key Feature Guide
See how easy it is to identify potential risks, see who is impacted, and inform the right employees—all from a single platform.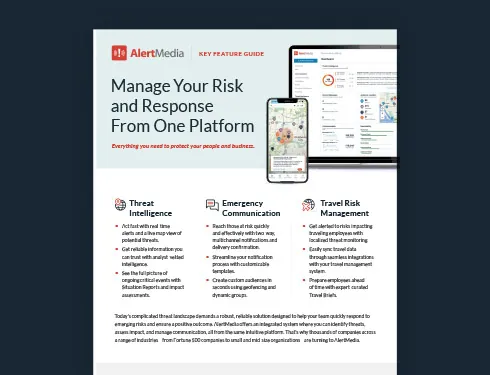 Today we announced a $25 million investment from JMI Equity, a firm known for investing in outstanding software companies. JMI meets with over 500 software companies annually and makes only a handful of investments each year. They invested in AlertMedia because they recognize us as the emerging leader in a critical industry. And because they're excited about the way AlertMedia's software helps organizations keep their people safe and informed during all types of events.
""In 2014, we launched with a mission of helping organizations keep their people safe, informed, and connected. This remains our company mission today, and our commitment has become even bigger and more global than ever before.""

Brian Cruver AlertMedia CEO & Founder
What This Investment Means
For AlertMedia, the investment serves to magnify our commitment to our customers, both current and future. This means expanding in all parts of the business. It means growing our development team to build new innovations in our product, expanding our customer success team so we can continue to deliver unparalleled customer support, and of course, hiring more people in sales and marketing so we can spread the word about what we do.
It's an exciting time to be part of AlertMedia:
If you're a customer, expect to continue receiving the world-class support you are used to—along with exciting new features and services we will offer. You selected AlertMedia because we have the best product and support available in the market, and you can trust we're investing heavily in product innovation and exceeding your expectations.
If you're thinking about becoming a customer, we would love to talk to you about the ways AlertMedia can help your organization. We're the fastest-growing provider in the world because we have a reliable product that is easy to use and a dedicated support team that will ensure your success.
If you're looking to join a dynamic team at one of the best places to work in Austin, there is no better time to join than right now.