Emergency Management
May 26, 2016
7 Must-Have Features of an Emergency Notification System
As you're evaluating emergency notification system vendors, be on the lookout for these seven must-have features of an emergency notification system that will make your communications easier.
Key Feature Guide
See how easy it is to identify potential risks, see who is impacted, and inform the right employees—all from a single platform.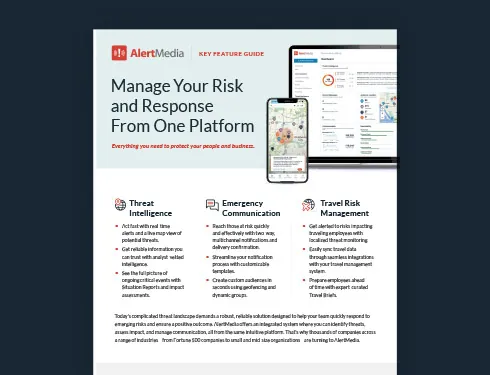 When you start to evaluate emergency notification system vendors, you'll need to narrow in on your organization's specific needs. Which features matter the most? And are they easy to use? As you're looking for a vendor to best fit your emergency notification requirements, be on the lookout for these seven must-have features of an emergency notification system that will make your communications easier.
The 7 Must-Have Features
1. Monitoring
Make sure monitoring is included in your emergency notification system. It is an essential first step to be prepared before a critical event even happens. It allows you to be aware of everything that is important to you – ranging from people to inventory levels to data trends. By monitoring the world around your organization, you'll be one step ahead when an emergency strikes and you need to use your emergency notification software to communicate across all channels (text, voice, email, mobile app, social, etc.).
2. Groups
Groups are the lifeline to any emergency notification system. They give you peace of mind that the right people are receiving the right message at the right time during a dangerous situation. By strategically segmenting your audience into groups ahead of time, you will be able to reach any size audience securely and reliably within seconds.
3. Templates
When you're in a rush, in the middle of an emergency, or just simply need to get a message out fast, templates are a crucial feature to have at your fingertips. With just three clicks, you can easily send out an emergency notification from AlertMedia's platform. Templates are key to making complex communication challenges simple.
4. Surveys
Surveying your audience is a valuable tool to have access to in your emergency notification system. It gives you the power to collaborate and coordinate around an important event, equipping you to make more informed decisions. The survey functionality has reshaped how we approach notifications by allowing our audience to interact and provide useful feedback when it's needed the most.
5. Maps
Maps are a fundamental tool to have within your emergency notification system. They're a significant part of any effective communications strategy because of the breadth of functionality they have to offer. Not only can you track your people (either by mobile app or group), but you can also instantly communicate with them with one click. A lot of our customers use the geofence feature to ensure they notify everyone within a certain geographical area about potentially harmful situations or inclement weather.
6. Emergency notification app
In today's world with everyone on the go, it's more important than ever that your emergency notification system has a mobile app to effectively communicate with your audience. We all know disasters are never planned and you will not always be at your desk when they occur – that's why you need to be able to notify your audience whether you're out at lunch with colleagues or traveling to meetings across the country. A best-in-class emergency notification app not only enables you to quickly send messages, but it also allows you to interact with your audience and monitor potential threats on the fly.
7. Incoming messages
Empowering your people to send messages to your dedicated emergency phone number is the best resource to facilitate real-time audience interaction during a critical situation. It allows your people to send feedback or tips on important activities that can help form your emergency action plan. Every emergency notification system should include an emergency phone number where you can record critical updates for your people to hear from the beginning to the end of an event. By investing in an emergency notification system that enables your audience to interact, you're expanding the eyes and ears of your organization to protect against emergency situations.
Conclusion
With hundreds of customers across all industries and all over the world, AlertMedia has all the necessary features of an emergency notification system. That's why we're the leader. Our innovative approach to emergency mass communications has led us to not only develop an easy-to-use platform with the highest customer service in the industry, but also the features that matter most to our customers.