It's Safety First for Marquette and Its Property Managers
This customer spotlight describes how property management company, Marquette, uses AlertMedia's lone worker safety solution to ensure the well-being of their employees.
Key Feature Guide
See how easy it is to identify potential risks, see who is impacted, and inform the right employees—all from a single platform.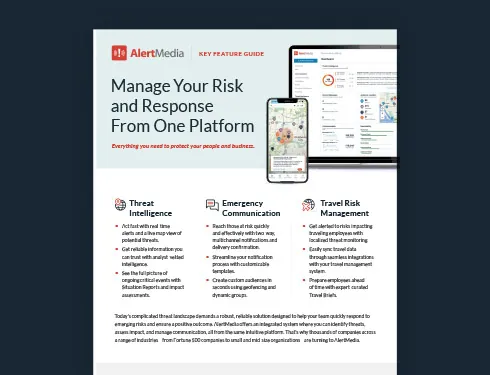 For employees of property management companies, meeting strangers and showing them empty apartments, homes, or commercial spaces is simply part of the job. For real estate agents, home healthcare employees, maintenance and repair employees, and utility workers, lone worker safety is a major concern.

Keeping employees protected is also a serious responsibility for property management organizations. And their people are aware of the dangers—a large percentage of real estate agents feel vulnerable while conducting their work. In fact, a report published by the National Association of Realtors shows that over 40% of realtors have been in a situation that made them fear for their personal safety.
This is a profession where meeting members of the public each day is standard. And the threats are very real. According to the Bureau of Labor Statistics, 49 real estate agents were fatally injured on the job in 2018. Implementing a thorough safety plan, especially for lone workers who are often at risk, is critical.
A Property Management Company With Safety Concerns
Marquette Management is a real estate management company that employs 100 leasing consultants in Illinois, Indiana, Michigan, Minnesota, and Texas. The organization's consultants are responsible for showing properties throughout the day. In addition, depending on the size of the property, they may work alone or put in late hours in the evening.
Marquette's properties often consist of multiple upscale apartment buildings. Some of the organization's safety concerns include knowing where consultants are when they leave the leasing office and keeping them out of harm's way when showing apartments.
A Zero-Button Safety Tool 
Marquette needed a reliable and easy-to-use technology solution for its leasing consultants. AlertMedia's employee safety monitoring solution is a user-friendly monitoring solution that keeps employees protected in life-threatening situations. This hands-free lone worker safety app works in conjunction with a timed session that the lone workers start when they are about to enter a potentially dangerous situation. As a result, lone workers can quickly signal for help from law enforcement if an incident occurs.
"Our goal was to find a solution that reassured our consultants—and actually had the capacity and technology to keep them safe," said Mindy Helms, Director of Human Resources, Marquette Management.
Now, when Marquette consultants leave the leasing office, they have their phone in their hand or pocket, with the AlertMedia app downloaded. To use the system, they simply start a timed monitoring session in the app. To call for help during a potentially dangerous situation, consultants can simply press the panic button or allow the timed session to expire, even if the phone is locked. Using either method—the panic button or timed session—the device sounds an alarm and immediately prompts AlertMedia's monitoring team to call and dispatch local authorities to the scene.
"AlertMedia is what we needed to provide an additional layer of safety for our consultants," said Helms. "It's user-friendly and easy to learn."
Ease of Rollout
Marquette notes that the AlertMedia rollout went off without a hitch. First, they emailed an introductory video to employees to explain the product and how it works. Then, Marquette hosted webinars for consultants that provided instructions for use and to set expectations. As a result, all 32 of their properties enthusiastically embraced AlertMedia's lone worker safety solution.
Keep Property Management Consultants Safe
No worker ever wants to feel alone and vulnerable. When a Marquette consultant begins a timed session, it immediately signals to the consultant and anyone they are with that someone else is looking out for the employee.
Marquette consultants can rest assured that AlertMedia's lone worker solution is far more than just a "panic button" simply blaring noise. Their monitoring session is connected in real-time to AlertMedia's Monitoring Center that will send law enforcement immediately to the person's location using GPS coordinates.
Another advantage AlertMedia's lone worker solution has over personal safety devices that require a login or a multi-step process: the app and timed session combine to make AlertMedia a "hands-free safety solution." If there's a threat to the consultant, they only have to press the panic button or let the timed session expire—that's it. The worker does not need fine motor skills to enter a passcode or send a text message.
A Safety Solution for Your Lone Workers
It's every employer's responsibility to keep their lone workers safe. Your property management consultants should always have a way for lone workers to signal for help. Organizations also need to ensure someone reliable is monitoring their employees in real-time.
Great employees are more likely to stay on the job when they feel safe and valued as they work. Having a reliable, easy-to-use safety device helps provide that peace of mind. AlertMedia, the leader in emergency communication software, offers a hands-free safety tool that can protect your property management consultants wherever they are.
Read more here about Marquette Management's employee safety program.