Safety and Security
Mar 18, 2020
Prioritizing Caseworker Safety: Interview With an Expert
This interview with a Texas Department of Family and Protective Services (DFPS) program development expert gives in-depth advice on how the State of Texas is prioritizing caseworker safety.
Key Feature Guide
See how easy it is to identify potential risks, see who is impacted, and inform the right employees—all from a single platform.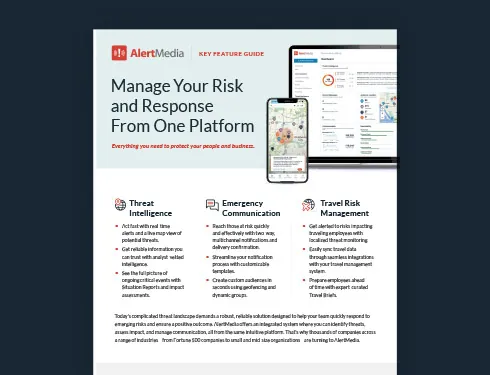 When most of us think about going to work, we think of desks and coffee machines and copiers. However, for many lone workers (especially social workers) the workplace looks much different. Every day, social workers in the field knock on strangers' doors and walk into unfamiliar homes without knowing what's inside. Just by doing their jobs, they're putting themselves at risk on a daily basis. For this reason, organizations with lone workers across the country are looking for ways to keep them safe and connected.
Prioritizing Case Worker Safety In Texas
Texas Department of Family and Protective Services (DFPS) addressed this problem by developing a comprehensive worker safety support initiative that includes AlertMedia's employee safety monitoring solution, a tool designed to keep caseworkers and other lone workers safe while on the job. We spoke with Penelope Doherty, the former Worker Safety Support Manager for Texas DFPS, to get her insights on how organizations can prioritize their workers' safety.
Penelope Doherty, a program development expert at Texas Department of Family and Protective Services for more than 15 years, developed the agency's innovative Worker Safety Support initiative after two caseworkers were severely injured during home visits. She now assists other groups with lone workers to establish or enhance safety support processes.
How did you get involved with caseworker safety?
Penelope: I was with DFPS' Operations Special Projects in 2009 when DFPS was required to navigate a highly controversial case in West Texas involving the removal of hundreds of children.
It was all over the news and our managers and workers began to receive death threats; several staff members' homes were vandalized, and other staff members were being followed. I was asked to assist the Texas Rangers in coordinating a response. In our line of work, staff can't just refuse to go into the field because of potential danger—they must still work the case.
Not surprisingly, this complicated the situation for law enforcement. We worked out a "safety net" for involved staff including physical and psychological support strategies and regular reports to leadership. After that, I was asked to help provide support any time we got a report of unusual or severe aggression—and it was happening more and more.
Why do lone workers need a safety support program?
Penelope: It's the nature of the job. Typically, we are in someone's life because a complaint has been filed, and they're rarely happy to see you. Emotions run high and things can escalate quickly. In order to get out of the car every day and walk up that sidewalk, workers need to feel—they need to know—their safety is a priority, and that their manager cares that they return safely.
Setting up safety support can be as simple as defining an incident reporting process or providing an emergency notification tool. Or it could be as advanced as creating a worker safety support team to run alongside local staff when someone is under threat or has been assaulted. DFPS set up a team because we had over 7,000 workers on the front line—and the severity of threats and assaults was escalating.
Could you give us some examples?
Penelope: Caseworkers have to deal with all kinds of threats and hostile situations. One worker woke in the middle of the night to men banging on her windows and doors. They left and returned a few minutes later to do it again. A new worker had her tires slashed and sugar put in her gas tank while parked at her residence. A worker in a small town was in the grocery line with her four-year-old when two people behind her said, That's the woman who took "Candy's" kids. Let's mess her up! One worker received a text of a picture of her kids walking out of school, with the message: How would you like it if someone took your kids? It's a critically important job, but it's extremely risk-heavy.
Any time they're dealing with families–in the field, the courthouse, and even in the office–workers need to have their head on a swivel. As law enforcement says, danger is not around every corner, but it could be. Our workers were frequently held hostage, particularly in family-based safety cases or adult protective situations.
In 2013, a worker was chased into an enclosed patio by a client's dogs. The client couldn't get them out, and they mauled "Jenny" until a neighbor jumped the fence and beat them off with a broom. She spent weeks in the hospital, then months in rehab regaining the use of her hands. A few weeks later another worker was attacked by three adults; they jumped her as she entered the house and began to choke her. She had just hung up with her supervisor and, by sheer luck, she was able to hit redial. Her supervisor heard the scuffle and called the police, otherwise "Sharon" wouldn't be with us today.
It was at this point our then-Commissioner said, "no more—not on my watch." He directed us to set up the safety support initiative and to find a safety tool that could have helped those two workers.
If someone wants a tool to help keep their caseworkers safe on the job, what kind of capabilities should they be looking for?
Penelope: I can't speak for everyone, but for us, it came down to three main criteria. There are many apps and technologies for worker safety out there, and I looked at everyone I could find.
First, it needed to work through a locked smartphone. Every caseworker has their phone with them on the job, and most of them lock up quickly because of sensitive information. In an escalating situation, they won't have time to pull out their phone and unlock it. Thinking of Sharon, the solution simply had to signal for help through a locked phone.
Second, the solution couldn't depend on other staff receiving the call—it needed to be professionally monitored. This saves time and confusion in an emergency, allows a highly trained person to send critical information to law enforcement, and ensures the call won't go unanswered because someone wasn't at their desk.
Third, the tool couldn't rely solely on GPS. GPS sometimes gets it wrong, and at DFPS, caseworkers were going to large, multi-floor apartment complexes. GPS can't report which apartment they're going to—so workers needed to be able to correct or add to GPS information.
Once you select a tool, how do you go about implementing it?
Penelope: Communication is key. A safety tool can't be seen by your workers as just another task they have to do. It's important they understand you're providing this system because you value them and their safety. After all, you want every tool in their pocket to do its job and help get them home safely at the end of the day. And good training is important. If the worker isn't comfortable with a new tool or system, they may have trouble using it when panicked.
In your experience, how do caseworkers respond when you roll out something like this?
Penelope: They're very excited. They feel valued. I frequently heard "it feels like I have law enforcement in my pocket." Implementing a solution specifically to help keep people safe shows them you do care about their safety. It also gives them more confidence and control when heading into a visit or meeting.
Any final advice for someone looking to prioritize their workers' safety?
Penelope: It's important to remember that a tool by itself is not enough. In my opinion, they do need a tool—it's crucial to keeping workers connected to backup while in the field. But they also need a process for after an incident occurs. Should they report it? Do people care what happened? Does the staff need to follow up? What's the plan for the next time we visit this house or client? It doesn't need to be elaborate—you probably already have something you can tweak. But affected workers need acknowledgment that something happened, and they need a clear path for safe forward movement. They deserve that, and so much more.
Penelope Doherty has seen the dangers caseworkers face every day, and she has also seen firsthand the impact of implementing a safety tool to help lone workers.
AlertMedia Brings Peace Of Mind
Today, caseworkers in over 35 states are protecting their workers with AlertMedia's lone worker solution. The AlertMedia emergency communication system and lone worker safety capabilities help deter crime and violence before it happens, improve law enforcement response times, and reduce costs related to employee turnover.
For caseworkers, having law enforcement in their pockets brings peace of mind. Make sure your social workers have a connection to law enforcement when they're heading out into the field.