Company News
Jun 26, 2018
AlertMedia Named Austin Best Place To Work Second Year In A Row
For the second year in a row, AlertMedia has been named one of the Best Places to Work by the Austin Business Journal.
Key Feature Guide
See how easy it is to identify potential risks, see who is impacted, and inform the right employees—all from a single platform.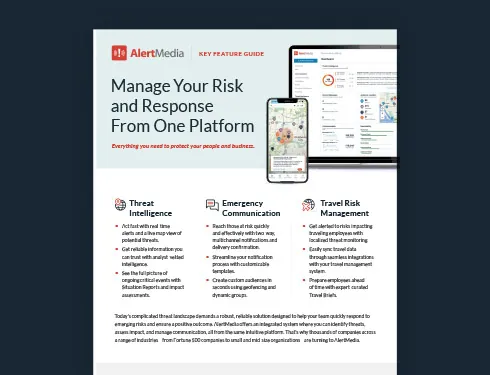 For the second year in a row, AlertMedia has been named one of the Best Places to Work in Austin by the Austin Business Journal. Last year, we finished in fifth place in the Small Business category. After a year of rapid growth and increased fundraising, we moved to the Medium category this year, where we were named the third best workplace for 2018!
About the Award
The award recognizes the top workplaces in Austin across many industries—from technology to real estate to education. The rankings are based on confidential feedback from employees across several dimensions, including communication, resources, manager effectiveness, personal engagement, team dynamics, and trust in leadership.
""I'm proud of so much about this company: our world-class product, the incredible people who work here, our amazing customers – but today I'm proud that we're a place where so many people absolutely love to come to work.""

Brian Cruver AlertMedia Founder & CEO
Why We Won
At AlertMedia, we have plenty of the perks associated with a fast-growing technology startup: breakfast tacos, happy hours, massages, and a company-wide annual bonus pool. But in particular, we emphasize activities that bring the team closer together—such as weekly team lunches and off-site volunteering.
At the end of the day, what sets AlertMedia apart is our mission. Our sole focus is to save lives and minimize loss by facilitating timely, accurate, and relevant communications when an emergency event threatens personal safety and business continuity. This mission is the real reason we drive to work every morning.