Company News
Jun 03, 2016
AlertMedia Philanthropy: Giving Back to our Austin Community
AlertMedia is committed to being the leader in the emergency mass notifications market, and also to being leaders within the Austin community.
Key Feature Guide
See how easy it is to identify potential risks, see who is impacted, and inform the right employees—all from a single platform.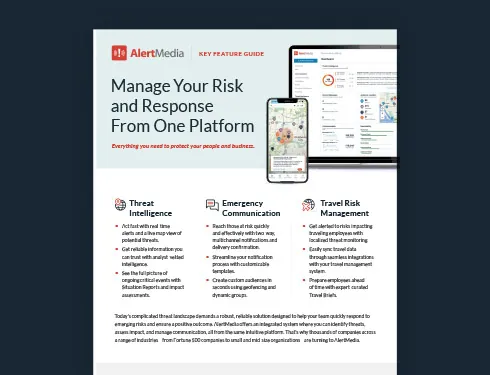 AlertMedia's company values not only reflect our commitment as a team to be the leader in the emergency mass notifications market, but also to be leaders within our community by volunteering and helping to serve those in need. We strongly believe that an important part of giving back includes getting out in your city and pitching in to make an impact on the community and beyond.
AlertMedia Partners with the Entrepreneurs Foundation of Central Texas to Restore Winn Elementary
AlertMedia is partnering with the Entrepreneurs Foundation of Central Texas to support and give back to the Austin community. Entrepreneurs Foundation was founded by former entrepreneurs and venture capitalists giving local technology companies the opportunity to share their time and money with the surrounding community. Through EF, AlertMedia has been able to expand our philanthropic contributions, most recently during a Spring Service Day at Winn Elementary School and an annual bowling tournament, the Austin Cup.

The AlertMedia team getting ready to work at Winn Elementary in North Austin
In May, the AlertMedia team headed to Winn Elementary in North Austin to lend a hand in restoring their campus. This school was in desperate need of some help both inside and outside of the building in order to provide an acceptable environment for young kids to learn. The day began with Winn Elementary School's principal telling us the story of how long they have waited for a building makeover and how excited they are to have help in improving the conditions around their campus. We were also welcomed with creative signs from current students expressing their gratitude for all that we were going to help them with throughout the day.
Along with other local technology companies, the AlertMedia team got started with a variety of impactful projects. We began with helping some of the most grateful teachers clean out their classrooms to prepare for the internal remodel of the building and then we headed outside to help build a brand new, beautiful track. From painting (buildings, murals, fences, playgrounds, etc.) to revamping all of the gardens – you wouldn't have recognized the school after we were all done! The kids will be proud of their new campus to kick off the school year in August.
AlertMedia Participates in Benefit for Center for Child Protection
Another community event we participated in was the Austin Cup, a bowling tournament that benefits the Center for Child Protection. A cause that's important to the AlertMedia team as we provide technology to keep social workers safe in potentially dangerous situations. In our debut year at the Austin Cup, we finished in the top 15 and our very own VP of Product, Jeff Branc, finished top 5 in the executive division. Our matching Hawaiian-themed outfits were definitely a hit—arguably the best costumes on the alley (at least we think so!).

AlertMedia at the Austin Cup supporting the Center for Child Protection
In a city like Austin that has given so much time and attention to its technology companies, we're excited to be able to give back to the local community in different ways. The whole team at AlertMedia looks forward to our next service day in the fall and continued partnership with Entrepreneurs Foundation!